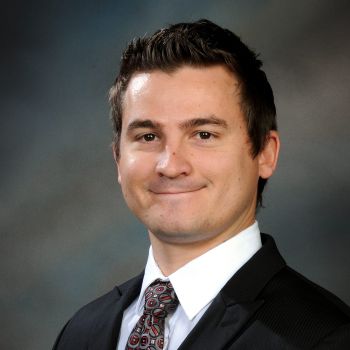 Nate Hayes, DC
Team Chiropractor
Biography
Dr. Nate Hayes started his education at Rock Valley College before earning his Doctor of Chiropractic Degree, graduating Summa Cum Laude, from Palmer College of Chiropractic in 2011.
He is currently practicing at Hulsebus Rockford Chiropractic, starting in early 2014. Upon graduation from Palmer College of Chiropractic, he practiced for three years in Chicago, Ill, with an emphasis in training of corrective chiropractic care working to reduce the effects of scoliosis. Dr. Hayes is a Certified Chiropractic Wellness Practitioner emphasizing education of patients on how to keep their bodies well through evidence based protocols. Practice ranges from infant care, to adolescents in school, to occupational athletes, to geriatric patients. Along with his work with the IceHogs, he is also Team Chiropractor for the Rockford Aviators professional baseball team.
His hobbies include golfing, boating, and spending time with his family. He is an avid sports fan of the Chicago Blackhawks, Chicago Bulls, Chicago Cubs and Chicago Bears. Dr. Hayes enjoys spending time attending many varieties of live sporting events whenever possible.
Dr. Hayes was born and raised in Rockton, Ill., and returned to the Rockford area in 2014 after the birth of his son, Hunter. He currently resides in Roscoe, Ill. and married his wife, Lindsay, in 2010 in the Dominican Republic.
Click Here to view Dr. Hayes' extensive profile.