WIN CASH, ICEHOGS PRIZES AT ANYTHING THAT FLOATS RACE ON AUG. 12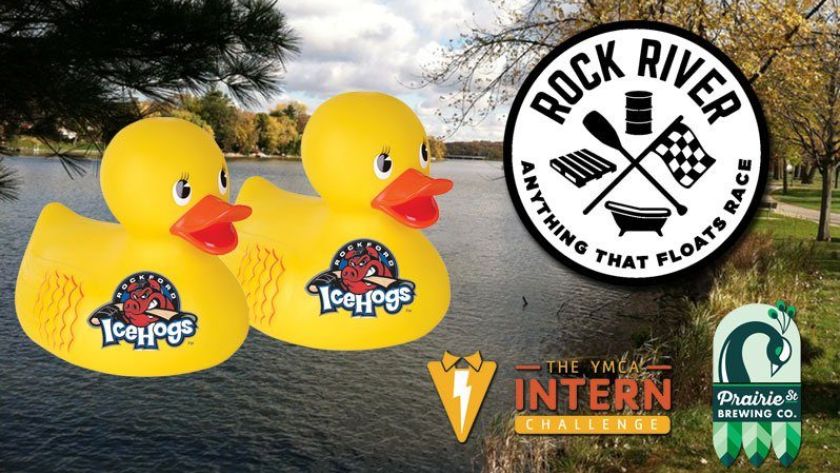 ROCKFORD, Ill. – The Rockford IceHogs today announced they are sponsoring the second annual rubber duck race at this year's "Anything That Floats" event down the Rock River on Sunday, Aug. 12. Rubber Ducks for the race can be purchased at $5 per duck or $20 for five ducks, with proceeds benefitting local charities. The participant whose duck finishes the race first will receive a grand prize of $1,000.
Tickets for duck purchases can be purchased at select locations in Rockford, including the BMO Harris Bank Center Box Office, Prairie St. Brewhouse (including Dinner on the Docks) and Owley Oop. Participants have the option of purchasing individual ticket entries into the rubber duck race for $5, or a pack of five ticketed entries for $20.
The race will be held on Aug. 12 at approximately 3 p.m. The rubber ducks will be dropped into the river off Whitman St. Bridge and will float towards the Prairie St. Brewhouse. Cash prizes of $1,000, $500 and $250 will be awarded to the first, second and third-place finishers of the duck race, respectively, and additional prizes for participants will include an IceHogs suite for one game during the 2018-19 hockey season, game-worn memorabilia, an autographed IceHogs stick and several tickets to Hogs home games for the upcoming campaign.
A portion of this year's proceeds will benefit local charities, including Rockford Fourth of July and Holiday Lighting efforts, the Rock River Trail Initiative and the Ski Broncs.
The "Anything that Floats" event, which returns for a third year this summer, will begin along the Rock River near Whitman St. Bridge in downtown Rockford and culminate in front of the Prairie St. Brewhouse.
For additional information or ticket purchases, contact the IceHogs front office at (815) 986-6465 or visit rratfr.com.
Season Tickets for 2018-19 on Sale Now:
Don't miss a moment of the action by reserving your seats for the IceHogs' 20th season of professional hockey in Rockford and 12th as the top AHL affiliate of the Chicago Blackhawks. The IceHogs' home opener is set for Oct. 13 and ticket packages begin as low as $105 for a seven-game mini pack. Please contact us at (815) 847-6399 or visit icehogs.com to claim your spots for this upcoming season.