RYAN HARTMAN Q&A - LIFE AS A ROOKIE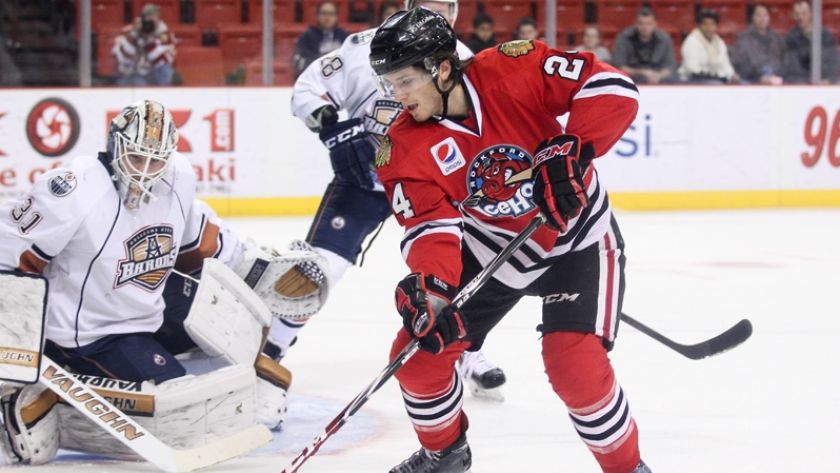 With one more game on the schedule before the Rockford IceHogs hit the All-Star break, rookie forward Ryan Hartman answered some questions for icehogs.com about his first professional campaign thus far and the Pink in the Rink game on Saturday, Jan. 24.

You're just over the halfway point in your rookie season, how would you assess your performance so far?

Ryan Hartman: Pretty good, I know our team has had their ups and downs but I think we're coming along. I think the team is going to be ready for a big second half. Personally, I feel more comfortable out there.

What has been the biggest challenge to get acclimated to the professional game?

RH: Probably just the number of games. I played 68 games last year but there are a lot more midweek games, and then after a game you have to recover to prepare for a game the next day. It's definitely a little bit different but after playing 40 or so games it feels a lot more natural now.

You're one of only a few rookies on the team, have there been any pranks pulled on you guys this season?

RH: No, I haven't had anything major. I got root beer for my secret Santa gift from Brens [T.J. Brennan] but besides that, nothing I can really think of.

Have any of the other rookies had any pranks pulled on them?

RH: Surprisingly, they've been pretty easy on us. The older group is pretty good at associating everyone together so there are no real differences between a rookie and a vet. Obviously, there is a difference in experience but they treat everyone similar.

Are there any sorts of tasks that the rookies are assigned to on a daily basis?

RH: Some little things like making sure the older guys get their food before you. Then, just loading the bus, picking pucks up after practice, and being the first one on and last one off during practice and pregame skates.

Saturday's Pink in the Rink game might be extra special for you and your family as your mom has battled through cancer, how difficult was that?

RH: She was diagnosed when we moved to Ann Arbor, Michigan for the U.S. Development Program. It was like a month into our stay there; she went and got checked just out of the blue because her friend was just diagnosed. They caught it really early though which was real good. It's been a little over five years now that she's been cancer free so she's doing well.

Will she be at the game this weekend? How special will it be to have her in the stands on Saturday?

RH: I'm sure she is. She makes it to pretty much all the games here and Chicago. It will be great to have her here. She dropped the puck when I was in Plymouth [Whalers of the OHL]. She's a strong woman to be able to overcome that, especially since she tried to make it easy on us. She was in and out of the hospital within a month and back to her normal self. She tried not to let us see the signs of it.

Having played on a night for cancer awareness in Plymouth, was it emotional for you?

RH: Yeah, you see the survivors and the people who fight it. It's obviously a terrible disease and it's cool to be a part of the night and help with something more than just hockey.

You grew up in West Dundee, which is about 50 miles away from the BMO Harris Bank Center, how often do friends and family come out for games?

RH: A lot – my aunts and uncles make it, my grandparents make it out constantly. My grandpa hunts in the area so he is always looking for an excuse to get out here. My brother has made the trip when he doesn't have games, a few friends from home and old hockey friends have come too. I have a few friends that have gone up to Milwaukee too to see those game so it's cool to see and nice to have that support.

Is there any added pressure when you know you have your family and friends in town?

RH: I think it is more motivation. I want to have a good showing in front of them. Obviously, they are making the trip you don't want to disappoint them. Not really any added pressure just motivation.

Do you have any personal goals for the rest of the season?

RH: Just to keep getting better every day. At practice and even off the ice. I just need to continue to work on my game. That's why we're here, we're here to develop as hockey players and that's what I am trying to do.

How do you see this IceHogs team faring the rest of the season?

RH: I see great things for the team. We're such a deep team throughout the lineup. We're powerful defensively, have great goaltending, and offensively we're struggling a little right now to get goals but there is so much upside and potential with the forwards so I see big things. I think we can make a playoff push. We just have to get to the playoffs and see where it goes from there.