ROSS AND DENT ON HOG TALK FINALE TONIGHT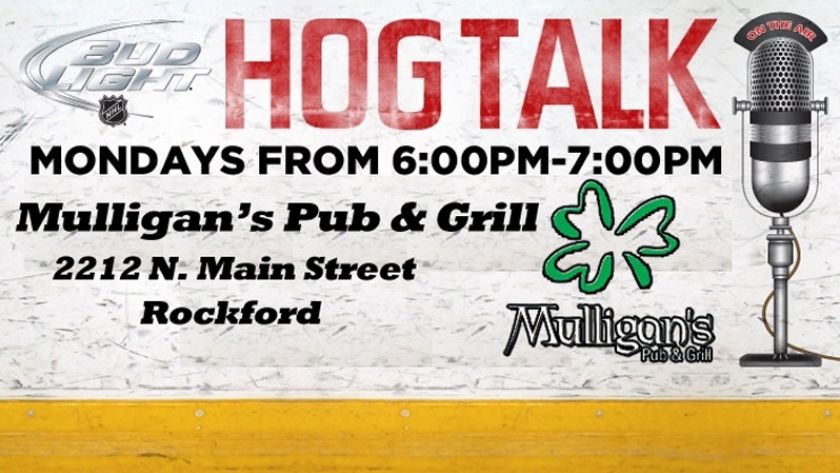 Rockford, Ill.- The Rockford IceHogs weekly talk show "Bud Light Hog Talk" returns to Mulligan's Pub tonight from 6-7 p.m. for the final show of the season.

The popular talk show which features IceHogs play-by-play announcer Mike Peck or color commentator TJ Hogan hosting players and coaches, will be broadcast live from Mulligan's Pub most Monday nights throughout the season from 6-7 p.m. The show returns tonight with forward Garret Ross and head coach Ted Dent as the guests.

Each week Peck and Hogan will get to know each player and coach, along with reviewing the previous week's games and looking ahead to the IceHogs next opponent.

The live show is a great chance for fans to meet the players and coaches, ask questions, sign up to win prizes courtesy of the IceHogs, and enjoy some great food and drink specials at Mulligan's. Mulligan's Pub & Grill is located at 2212 N Main Street in downtown Rockford.

For those that can't make it to the show, it will be aired on WIFR's 23.2 "Antenna TV" on Tuesday from 7-8 p.m.

This season fans will be allowed to ask their favorite players and the coaching staff questions. To submit a question for the show, log on to Twitter and use #HogTalk or comment on the IceHogs Official Facebook page.

For a complete list of Bud Light Hog Talk show dates, visit the IceHogs community calendar on IceHogs.com or by clicking here.