ROOKIE REPORT: HARTMAN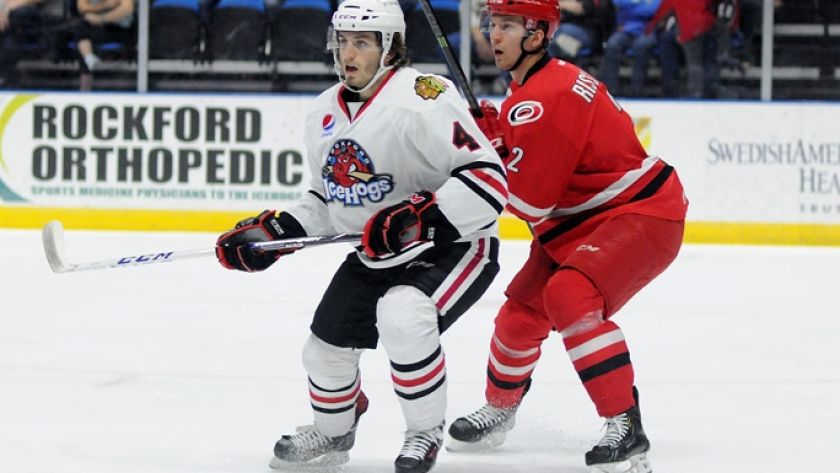 From packing the bus for road trips to dressing up as Harry Dunne from "Dumb and Dumber," rookie forward Ryan Hartman has quickly learned what it means to be one of the new guys on the Rockford IceHogs. Although the 2013 first-round draft pick experienced a few pro games at the end of last season, this is his first full year in the AHL.

Like on any team, the IceHogs rookies have a few duties that the veterans have passed along.

"We're the ones picking up the pucks after practice, packing the bus and cleaning it up after road trips," Hartman said. "It's nothing too crazy, just the little things."

All of those tasks can be expected, but it's never certain how the rookies will be accepted by their new teammates. The IceHogs have a fairly young team, which makes it easier for the new guys in the locker room.

"The older guys, like Cody Bass and Pierre Cedric-Labrie, are good with the rookies, helping us in any way they can," Hartman said. "I came from being one of the oldest guys last year [on the Plymouth Whalers] to being one of the youngest this year, so that in itself is an adjustment. Really, from the oldest to the youngest, everyone gets along. We have a tight group."

This great chemistry so early in the season can be attributed to several team-building activities and road trips.

"The first road trip to Toronto really brought everyone closer together. We went to a place where they had a ping pong tournament. That was really fun, playing against each other, and everyone got really competitive."

Hartman notes that the intense practices and faster games have been an on-ice adjustment, but there are many more changes for him off the ice this season too.

"Last year I was still living at home, so I had home-cooked meals all the time," he explained. "Now I realize everything my mother has done for me."

Luckily, the 20-year-old's family lives close enough – in Chicago's western suburbs – that he has been able to go home from time to time.

With his busy schedule, Hartman has seen his teammates more than his family. It's been a trend on the IceHogs that the young guys not only stick together, but also live together. Last year, rookies Alex Broadhurst, Phillip Danault, Mark McNeill and Garret Ross lived together, and now Hartman and fellow rookies Matt Carey and Stephen Johns share a place.

In addition to being able to make short trips home when he has the time, Hartman also talked about the extra support he gets at games when family and local fans come out to show their support.

"A lot of times I get messages on Facebook or Twitter from people who say they're from the same area as me and wishing me good luck," he said. "It's nice to know people are watching me and even looking up to me."

Being in a new league and new system, Hartman still has a few areas of his game he wants to improve.

"My main focus has been on speed and quickness," he said. "The game is faster in the NHL, so if I want to take the next step, I'm going to have to work on my skating."

Hartman has been working closely with Blackhawks Skating and Skills Development Coach Kevin Delaney since the summer, breaking down his stride to improve his speed. Delaney often brings the camera out so they can watch Hartman skate in slow motion and target the small details.

The one aspect of Hartman's game that does not need tweaking is his aggressiveness on the ice. Known as an agitator, Hartman affirmed that it's his style and a big part of his game – it's always been the way he has played, something he attributes to his father.

"He has really helped me be a tough player to play against, by simply being tough on me," Hartman said. "I have a younger brother who is 13, and I may have passed that trait on to him because he's the same way."

Being in a very talented system with so many high draft picks can intensify the competition, but Hartman looks at it from a different angle.

"We know everyone likes a winner, so if we're winning as a team and doing well, we're all going to succeed. This mindset is what will get us far as a team and as individuals."

Hartman's versatility has allowed Rockford Head Coach Ted Dent to play him up and down the lineup, and he's compiled four goals and four assists through the first 19 games of the season. Hartman had a breakout game on Friday, Nov. 21, tallying both the tying and winning goals in a 4-3 overtime win against the Iowa Wild.

Although it's all business in the rink, Hartman said his highlight of the season happened off the ice earlier this month.

A few weeks ago, the IceHogs had a Halloween party where the new players were paired up to coordinate a costume. Hartman and rookie defenseman Ville Pokka went as Harry and Lloyd from "Dumb and Dumber," sporting replica orange and blue suits.

"We had to go down a walkway and do a little dance to show off our costume. I'm not a dancer, so that was a little awkward for me, but it was fun," Hartman laughed.

While the changes may never end, this rookie is adjusting well in his first professional year. Right now, Hartman's main goal is to make overall improvements on the ice and help Rockford win as many games as possible – and that includes team ping pong tournaments.