Q&A: BRANDON HAGEL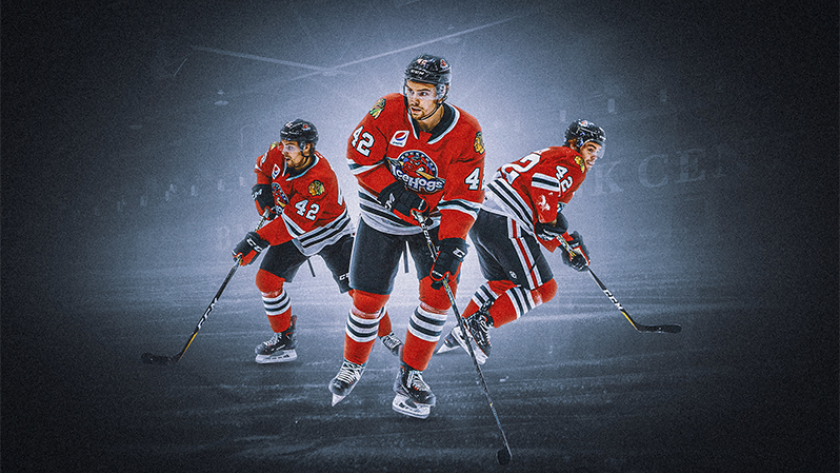 ROCKFORD, Ill. – After a hot start to his fourth season in Juniors last year, Brandon Hagel jumped to the forefront of a talented Western Hockey League with 28 points over his first 15 games. And from the pool of NHL teams showing interest, Hagel opted to stick with the club that reached out before anyone else: the Chicago Blackhawks.
IceHogs.com caught up with Hagel at Blackhawks Development Camp last week at Fifth Third Arena:
---
IH: How do you feel you played throughout the course of the week here at Fifth Third Arena?
BH: Yeah I thought it was pretty good. It's obviously a long week, a lot to take in. But other than that, I thought it was a really good week, a really good development camp for me. I mean, it's my first time here, so I got to get to know everything and I'm excited to get back.
IH: It seems like a lot of you guys get along real well here at camp, are there any players that you're looking forward to getting more playing time alongside?
BH: I don't know, I'm just hoping that the coaches put me in a role and I'm going to stick to that role and play how they need me to play for our team to be successful. That's all I want to do here.
IH: You had the opportunity to get some games in with the IceHogs late last year, do you think that gave you a better feel of the pace of play coming into camp this week?
BH: Yeah definitely. Obviously, it's going to give me a little bit more confidence knowing the trainers, all the people around here if I do end up going back there. So, I mean I know what my strengths are, I know what my flaws are in the pro game, so it gave me the summer to work on those things.
IH: What are some of the things you looked to improve over the offseason in order to separate yourself from other prospects.
BH: I think my strength is one thing I want to improve on. Obviously, as you get older and move up to the pro level everyone is bigger and stronger, so I think if I can get my strength up to par I'll be able to fit into the NHL and I think that's one big thing that will make my game better and better as long as I get stronger.
IH: Going off of that, what do you think sets you apart from other players in your position? What's something you think you bring to the team?
BH: I think my speed is one of my best qualities. Being a smaller guy, I think that I need to be able to be quick out there and transition and use my hockey IQ. There's a lot of players out there that are the same skill level, so I mean there's the little things that you have to pick out and take to the next level.
IH: Growing up and playing junior hockey in Canada, was there anything different that really stood out to you when coming over to play in the U.S. for the first time?
BH: Not really. I mean it's a little bit different in different aspects, but I played for Brett Sutter in juniors and he's played many years in the NHL. So, I mean he was good about preparing you to come to the U.S. and helping to know what to expect. He did a really good job of preparing me to come over.
IH: What was the biggest factor that swayed you into signing with the Blackhawks organization last fall?
BH: I thought it was a good opportunity, they were the first ones to jump on it, and obviously if you're the first team to jump on it they're probably the most interested. And overall, their organization with their past and what's coming up, it's really exciting.
IH: Last year in junior you saw quite a bit of a point increase compared to previous years, what do you think lead to that?
BH: I think there was a little downfall; I didn't sign with Buffalo when I was drafted there a few years ago and I felt like I needed to take my game to the next level. So, I worked as hard as I could, worked on specific things. I wanted to score more goals and I think I did a pretty good job at that.
---
Season Tickets for 2019-20 on Sale Now:
Don't miss a moment of the action next season. Reserve your seats for the IceHogs' 21st season of professional hockey in Rockford and 13th as the top AHL affiliate of the Chicago Blackhawks. The IceHogs' home opener is set for Saturday, Oct. 12 vs. Grand Rapids and ticket packages begin as low as $132 for an eight-game mini pack. Contact us at (815) 847-6399 or visit IceHogs.com to claim your seats for this upcoming season.