NEW OT RULES: SKATERS LIKE IT, GOALIES WANT TO SCRAP IT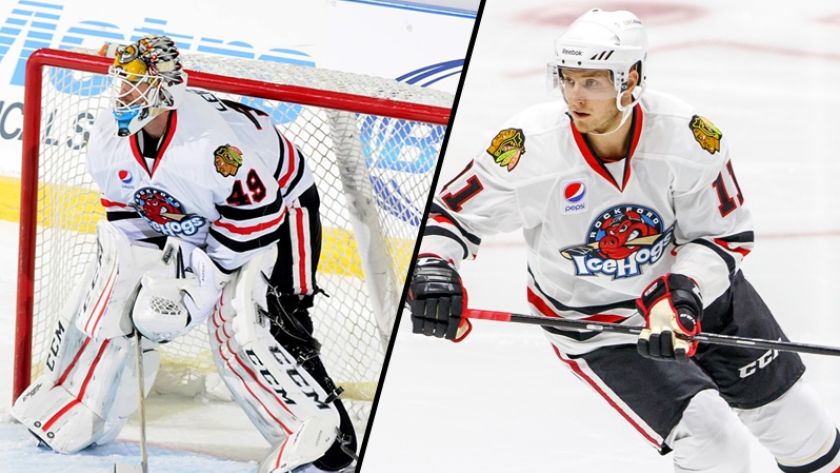 The 2014-15 American Hockey League season is in its third week of the regular season and through the first two weeks, the league has featured just two shootout games. That's an average of one shootout per week, meaning the AHL is on pace for just 27 shootouts this season.

Ok, so there will probably be more than 27 shootouts in the AHL this season, but probably not too many more than that. A year ago, the league featured 178 games that ended with the skills competition, or 6.36 shootout games per week.

The AHL implemented a seven minute overtime this season, extending it from five minutes. Starting at the first whistle after the clock passes 4:00 (or the three-minute mark of the OT), the teams skate 3-on-3 for the remainder of the extra session. A couple other tweaks to the rule include the teams changing sides, a complete dry scrape of the ice between regulation and overtime and a three-round shootout, down from a five round shootout like in years past.

The shootout has been around minor league hockey for a long while now, but the novelty of it has worn off a bit in the NHL. It's still a good way to break a tie as nobody, fans or players alike, want to leave an arena without a winner being decided. But over the past few years, overtime has not proved to be an effective way of deciding the outcome of a game.

It seemed more and more play in overtime was conservative with teams almost waiting for an opponent's mistake or for the five minutes of extra hockey to expire to get to the shootout.

The AHL schedule features 1,140 games each year. Last season, 275 of the contests extended beyond regulation (24.1%) and of those tilts, just 97 of them (35.3%) finished before reaching the shootout.

So the league addressed the issue by implementing a new set of overtime rules and the results have been staggering so far.

Through two weeks of the regular season, the AHL has showcased 54 games and 16 (29.6%) of them tied after three periods. Of those 16 overtimes, just two went into the shootout, meaning 87.5% of the AHL's overtime games have been decided in the OT so far.

The skaters would much rather decide the game when the puck is in play, rather than in a one-on-one skills competition.

"I think it's been pretty cool," said IceHogs forward Peter Regin. "It's open out there and I think there is going to be a lot of odd-man rushes. There aren't going be too many shootouts which I think is a good thing. It's fun to be out there on 3-on-3."

Regin, a veteran of 239 career NHL games, ended Rockford's first OT contest of 2014-15 in Hamilton last Saturday when he scored while the teams skated 3-on-3. Regin ended a Rockford odd man rush moments after the Bulldogs had one back the other way in the IceHogs zone.

Another veteran skater on the IceHogs squad, defenseman Kyle Cumiskey, agrees with Regin's take on the new rules.

"I think it has opened up the game a lot," said Cumiskey. "I think it's better than having the games end in a shootout as I like ending it with the 4-on-4 or 3-on-3, so I've liked it so far in our first two games."

Oh, but not everyone is thrilled with the AHL's new overtime format. Position players might love buzzing around the rink, short four skaters, but goaltenders have a little different take as overtimes might make them lose a little sleep at night.

"I don't have any problems with the 4-on-4, but I do have a problem with the 3-on-3," said Rockford goalie Scott Darling, who picked up the OT win for Rockford in Hamilton on Saturday.

"Luckily I came out victorious in my 3-on-3, but it's not beneficial to goalies. But it does eliminate a lot of shootouts, so we'll see how it all works out."

Goalie Michael Leighton is one of the winningest goalies in AHL history and recently moved into third on the league's all-time shutout list, recording his 37th career AHL shutout on Sunday. To do so, Leighton and the IceHogs had to battle through one of the league's 52 overtime games so far this season and participated in one of the AHL's two shootouts.

"I don't personally like it," said Leighton. "It's a shootout, you get down to the 3-on-3, the skill does come out. But it's more or less when the guy goes to change and he's tired and that opens up to a 2-on-1. It's just 2-on-1, 2-on-1. I watched Hamilton and Toronto the other night and it was back and forth, 2-on-1, breakaway, 2-on-1, breakaway. From a goalie standpoint, that's not fun."

But from a fans standpoint, the thrill is back in overtime. When play opens up, the pace can be relentless. It wasn't uncommon for a team to play an entire 76 game regular season and never find themselves in a situation where they were playing 3-on-3 hockey.

Now, it's almost happening on a nightly basis in the AHL.