MICHAEL LEIGHTON Q&A - BEHIND THE "MINION MASK"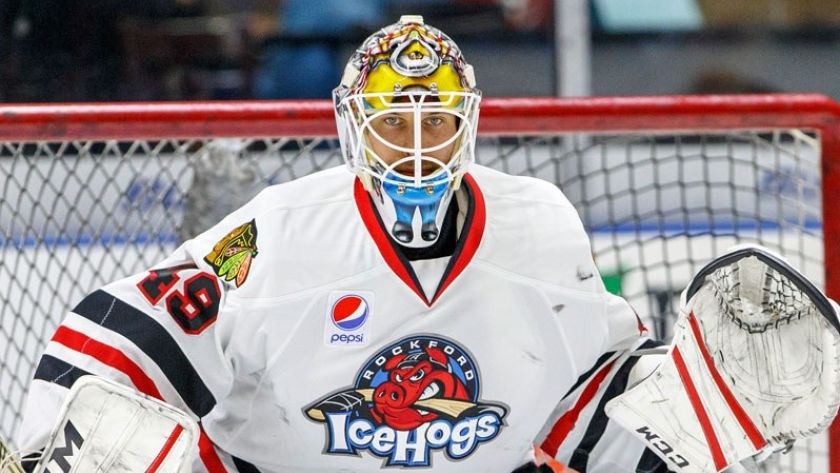 A goaltender's mask is one of the more unique pieces of protective equipment in all of sports. It is equal parts functional and expressive. Ever since Gerry Cheevers had the idea to put stitches on his mask every time he took a puck to the head, goalies have transformed guarding their faces into a literal art form.

Recently the AHL celebrated this artistic body armor with their Masked Madness competition on Facebook, where they pitted each goalie in the league, and their individual helmets, against one another with winners emerging based on the number of Likes each contestant collected. Roaring bears were pitted against majestic eagles, who faced off with grinning demons, but in the end every mask was looking up at the rankings to… a children's cartoon character.
The "Minion Hawk"
Michael Leighton's "Minion Hawk" mask, featuring one of the mischievous henchmen from the Despicable Me films, was crowned the winner of the Masked Madness competition last week. So in the wake of his triumph, we caught up with the Rockford goaltender to get the scoop on where his winning idea came from, and what his take on mask art is.

Brent Hollerud: How does it feel knowing that your mask was voted as the best in the AHL?

Michael Leighton: Yeah it's really cool. It's something that obviously I didn't expect; I almost did the mask as kind of a joke. I've always stuck to team themes and team symbols but this year I wanted to do something different.

Actually my wife came up with the idea, and I thought my kids would love it and that other kids would like it. Deep down I wasn't going to do it, but then I thought that I liked the Minions, so why wouldn't everybody else?

BH: Did you pay attention to the competition as it was going on and keep tabs on how your mask was doing?

ML: My wife found it online, and my kids were keeping up with it. It was pretty cool to see I was winning, and now winning the whole thing is a great feeling.

BH: Who did the artwork on the mask?

ML: His name is Tim Allen. He did my first Windsor Spitfires mask. I usually have DAVEART do my mask work which is overseas, but [this year] I needed something fast so I sent it to Allen and he did a great job.

BH: How did the whole concept of the "Minion Hawk" come about?

ML: I think we watched Despicable Me that day, and we were watching the Minions at the end and there was one with a headdress on. [My wife] threw the idea out there of putting the Minion on the mask, and we laughed. Like I said, I wasn't going to do it and I almost took it as a joke, but then I eventually said that I would see what [Allen] could come up with. So I sent him the idea, and he thought it was a good idea, and Tim did a great job.

BH: Did your kids have a hand in the design process?
Leighton's 2010 Winter Classic Mask
Leighton's "Angry Duck" Mask
Felix Potvin
ML: No, we just showed them the idea and they said that it would be really cool. I knew all the kids would like it, but I was actually expecting to hear a couple of the guys ask me why I would put a Minion on my helmet. But you know I am getting older, and I want to make my kids happy, and something little like that made them happy.

BH: Have you had a specific style for your past masks or were they designed on a team-by-team basis?
ML: I always sent my mask to DAVEART, and whatever team I'm with I'm just doing something with their symbol, or something around the city, or something that is associated with the organization or the town. I've always stuck with the team theme so this is my first time going off the charts a bit and doing something different.

BH: Do you have a favorite mask from your career?
ML: I liked the one I had in Philadelphia during the Winter Classic. It was very simple; I liked the designs and colors of it; it was one of my favorites.
[DAVEART] also did a really good Anaheim one, called "The Angry Duck". The colors and the way he did it all looked great, but I only got to wear it for two months and then I was shipped on waivers so I didn't get to use it very long.

I have my helmet collection at home, and when I'm done playing that's something that I will have and hopefully get up in my basement for show.

BH: Do you have an all-time favorite mask?

ML: I was always a Felix Potvin lover, he was my favorite goalie growing up. His mask had the classic cat, and I tried to do something similar with the colors, but it's hard to replicate that one without getting the exact same mask.