MARK BERNARD Q&A PART 1: RECAPPING ROCKFORD'S STANDOUTS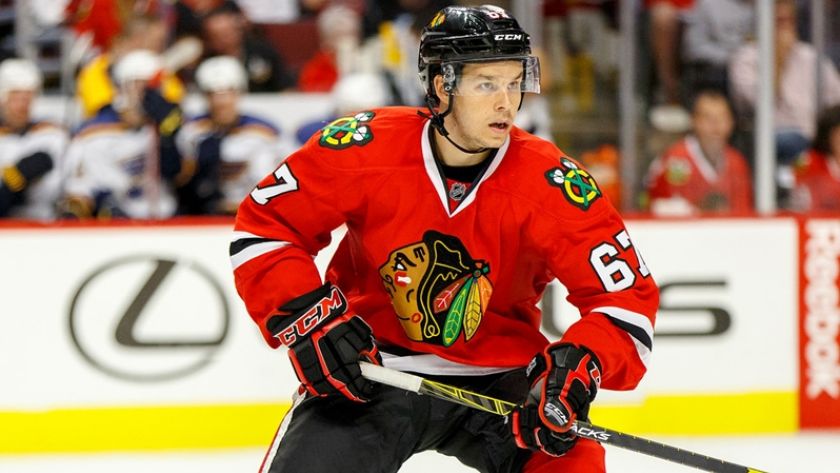 It's been a summer of change for the Blackhawks, with several forward spots opening up and a fierce battle for those jobs looming. While the majority of roster decisions will be made at training camp, which begins Sept. 23, this weekend's Rookie Tournament will offer hockey operations brass an opportunity to evaluate some of the team's emerging talent as they go up against other teams' prospects in Traverse City, Mich. Director of Hockey Administration/GM of Minor League Affiliations Mark Bernard joined chicagoblackhawks.com for a lengthy chat, with Part 1 covering the prospects who stood out in Rockford last year.

Last year featured a lot of recalls from Rockford to Chicago, and a lot of players were able to get their feet wet in the National Hockey League. What effect does a recall have on a prospect's development in terms of confidence and gaining experience?

When a young player gets recalled to Chicago, it does tremendous things for his confidence. First of all, they wouldn't be getting recalled if they weren't prepared or ready. One of the things we tell all the young prospects here is, the players who are deserving are the ones who are going to get recalled, so every player who gets called up is deserving. And usually, when they return you can see a difference. They have a little more swagger, they're a little more confident, and their game really elevates. We try and make sure that they play at the NHL level once they return to the American Hockey League level; we want them to play at the NHL pace, NHL speed, keep their game at that level, and they're excited.

One of those recalls was Vincent Hinostroza, who led the IceHogs in points in his AHL debut season and went to the World Championship with Team USA. That's a pretty good season.

Vinnie had a tremendous year. He had 51 points, which is the highest ever for a Rockford rookie. He scored 18 goals, but he didn't get his first until about mid-December. After he scored his first goal, he really had confidence and just took off. In the second half [of the season] he generated a lot of offense for us, and was very deserving of the opportunity to go play in the World Championship with Team USA. That's a big step for him: the confidence of knowing he can play at that level. Hopefully he can come into camp this year and earn a spot with the Blackhawks.

Tanner Kero and Ryan Hartman also made it up to the NHL for a stretch, and they both seemed to have good seasons down in Rockford.

Tanner Kero set our franchise record as the first rookie to come in and score 20 goals. He got off to a really hot start [at the end of 2014-15] when he joined us out of Michigan Tech, had five goals in six games. Last season he came out flying and earned a recall to Chicago. He was up for quite a long time (17 games), and when he returned to us, he went through a little bit of a dip and picked it back up. He's another one of those guys; he just quietly goes about his business, he's very consistent, makes great decisions with the puck, he thinks the game very well, very defensive-minded, and he's a great penalty killer. He's one of the first guys over the boards for Head Coach Ted Dent, and he's really going to compete for a spot in camp this year.

I thought Ryan took another step in his game. He was in year two of being a professional, and although he went through some periods where he didn't score, he was very effective in other areas. That's the key. You're not always going to score goals, not every night, so you have to have other areas of your game that are going to complement that, and Ryan brings that. He's an aggressive type of player. He's a player that other teams do not like; you want him on your team, but you don't want to play against him. He's very annoying out there, he's a pest, and that's what we need him to bring—that energy, that excitement and that physicality. When he's doing that, he's a very effective player.

On the defensive end, Ville Pokka not only led the team with 35 assists and 185 shots on goal, but he was the only player to dress in all 76 games for Rockford. How important is that last stat?

That's not looked upon enough. When a player is able to play in every one of the games, it shows they have that warrior-type mentality. They play through anything—little injuries, sickness. It's hard to go 76 games and not be banged up or not feel your best, and Ville brings it every night. He's got tremendous work ethic, is another player who played very well at the World Championship [with Finland], and he's going to the World Cup of Hockey, so he should be in a really good state of mind when he comes to Chicago for training camp and tries to make the team. He was great for us. He led all defensemen on our power play, so he was a big piece of our offense last year and a very consistent player.

Ville told me at our exit meeting that he wanted to earn a spot on the World Cup team; there were a couple spots open, he wanted to earn one of them, and he did just that. I know our scouts watching over there were impressed with how he played, and hopefully he brings that same game into training camp and makes things interesting.

Mark McNeill led the team with 25 goals and seems to have established himself as an AHL vet with Rockford. How would you evaluate his season?

Mark continues to get better every year. He had 18 goals in year one, 23 in year two and 25 this year, and the amazing thing is, in both years two and three he missed about a month with an injury due to his willingness to block a shot. He's a big, strong player who can skate well, he defends well, he's got some toughness, and he can shoot the puck. He has a knack for scoring goals, and big goals at that. He's been a great player in Rockford for us these last three years, and again, he's another guy who I look to see fighting for one of the open spots this year at training camp.

Was there anyone else who stood out to you despite maybe not showing up on the scoresheet as much as other players?

I thought Kyle Baun had a very good year. He had a really tough injury at the beginning of the year where he was out about 12 weeks. It took him awhile to come back, because it was an injury in his forearm, very close to his wrist and hand. But when he came back, I really liked his game. There was no lack of work ethic in Kyle Baun's game. He works 100 percent of the time, every shift, every period, every game, every day in practice, and he brings it. If he continues to work on his game, he's going to be a guy who is going to battle for a spot, because coaches fall in love with those types of players. They'll do anything that's asked of them, they're high-energy, and they don't need a lot of babysitting.