LANKINEN ADJUSTING TO HOCKEY, LIFE IN NORTH AMERICA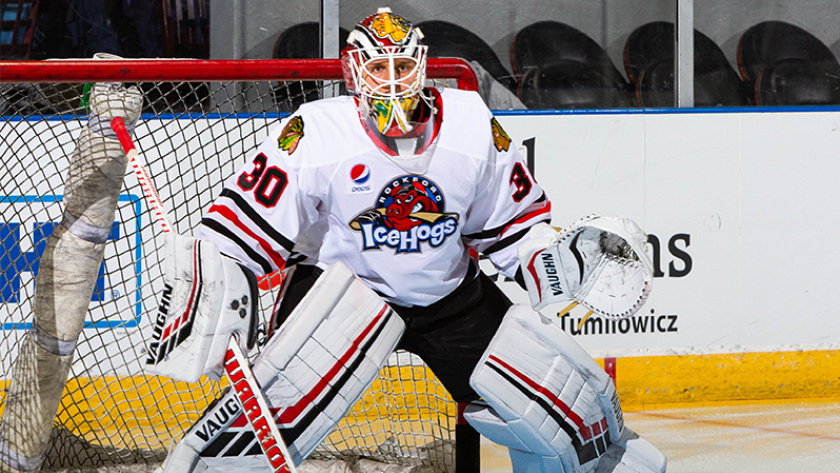 ROCKFORD, Ill. -- Before the National Hockey League's annual Prospect Tournament, Kevin Lankinen had yet to play a minute of professional hockey in North America, let alone live here. But when the Finnish goaltender opted to sign with the Chicago Blackhawks organization in May, he knew both would change.
Just months after making this decision, Lankinen is playing for the Rockford IceHogs and is faced with acclimating to these changes on the fly in order to take the next step in his career.
For a 23-year old seeing his first professional action outside his native country, Lankinen has a wealth of experience to build on. The young netminder has played in SM-liiga, Finland's top professional league, since the 2014-15 season.
"Playing four years pro, it's [taught] me a lot," Lankinen said soon after he arrived at IceHogs training camp. "I'm not a junior anymore. I feel like it's a good time for me to take the next step here."
Despite already being a veteran of the professional game, there are certain aspects of North American hockey that Lankinen has needed to adapt to, particularly the smaller rink size. Though a smaller ice surface most notably slows down skaters by giving them less room to maneuver, it can affect goaltenders in other ways.
"The game is a little bit different with the smaller rink." Lankinen said. "There's a lot of traffic in front of the net. Guys drive the net hard. I think the traffic is the biggest thing. You've got to be alert and find the puck all the time."
Lankinen's biggest resource in acclimating to these changes is IceHogs developmental goaltending coach Peter Aubry. Aubry has been working with Lankinen every step of the way since he joined the Blackhawks organization. Before, during and after every Rockford practice, Aubry and Lankinen break down and dissect Lankinen's tendencies and habits.
Aubry stresses that although the smaller rink adds some different elements to the game, the fundamentals remain the same for goaltenders so the adjustments come naturally.
"The skills are the skills," Aubry said. "Inside the dots, the dimensions are the same… Outside the dots, maybe you need to be a little bit more prepared because pucks do get thrown at the net a little bit more than in Europe. The walls are closer to the net than they are in Europe. But I think [Lankinen's] past that in terms of adjusting."
A new face in the Rockford locker room, Lankinen also has the benefit of working alongside fellow IceHogs goaltender Collin Delia. Though Delia is just a year older than Lankinen and in his sophomore professional season, he can offer lessons from a full year of AHL work and a taste of NHL action.
"[Lankinen and Delia] are both pretty young guys," Aubry said. "I think they've already started a good friendship and help each other. There's communication between the two, asking questions about each other's games and what they're doing and what they're seeing. And I expect that to grow further."
Beyond exchanging lessons, Delia impacts Lankinen's role in Rockford simply from a personnel standpoint. Though Delia has started for three of four IceHogs contests this season, he has already been recalled by Chicago on the eve of an IceHogs matchup, thrusting Lankinen into a likely unexpected starting role.
With such call-ups a possibility for Delia throughout the season, Lankinen must constantly be ready to be between the pipes even on nights he may not ever enter the game. But Lankinen says this uncertainty has no impact on his mindset.
"I haven't [thought] about it that way," Lankinen said of the uncertainty stemming from Delia's status. "I just kind of try to do my best at practice every day and when the game comes see who's in net, and when it's my turn, do my best."
It did not take long for Lankinen to get his turn. When Delia was recalled the day before the Hogs' season debut against the Cleveland Monsters, Lankinen suddenly became Rockford's season-opening starter.
Lankinen ultimately took the loss in the contest, stopping 18 of 21 shots in his debut. The outcome wasn't the exact start he had envisioned for his career, but he took away plenty of positives.
"First of all, it was fun," Lankinen said. "It was a new experience for me to play in my first pro game in North America. I had a lot of shots in the first period and got well into the game and got some good stops. Unfortunately, it couldn't' help the team to win, but I think there was a lot to build on."
Aubry, too, was pleased with Lankinen's performance.
"He got quite a bit of work early [in the game] and he was pretty big for us," Aubry said of Lankinen's debut. "We had some penalties, we went down on a three versus five [and he] came up with some solid saves for us.
"He got some work right off the hop. He talked about being a little bit nervous before that so I'm sure that helped him, but I was happy with his first performance."
In addition to taking the next step in his career, Lankinen has had to start a new life in a new country. The promising young goaltender faces the same challenges anyone has when going through a big move, from finding a place to live to figuring out how to get around a new town.
"We're talking about real life stuff," Aubry said. "You're living in a foreign country. You're moving into your apartment. You're getting your cable and internet set up. You're meeting new people."
I think he's doing a real good job with that. [Lakinen is] a cultured kid. He speaks a few languages so he's well prepared for dealing with change and adapting to what's going on."
Lankinen has been more than prepared for these major changes in his life, both on and off the ice. In fact, he has enjoyed excitement of all the new experiences. But the young Finn is ready to focus on the real reason he left his home country.
"It's been fun finding apartments, finding cars and all kinds of stuff," Lankinen said. "It's a lot happening outside the rink, but I think now it's settling down a little bit. [I've] found my place and everything is settling down, so [the focus is] all hockey now."