IceHogs Community Fund Awards Grant to Rockford Razorbacks Lacrosse Club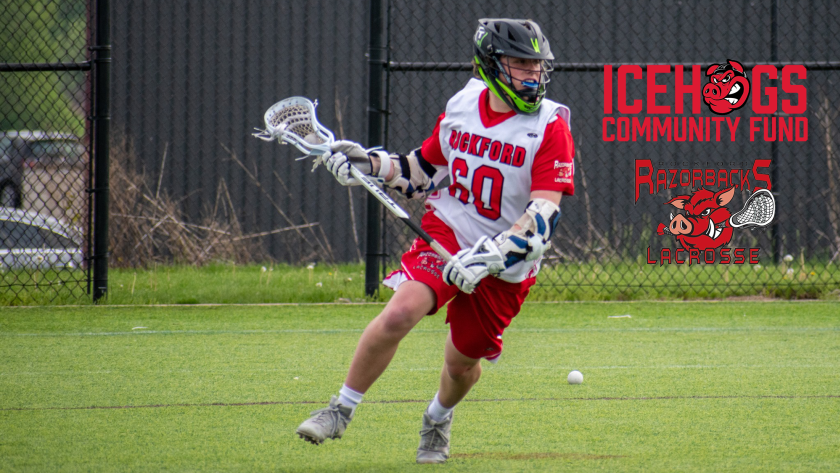 The Rockford IceHogs Community Fund has awarded a $10,000 grant to the Rockford Razorbacks Lacrosse Club as part of $127,000 being awarded for this year's grant cycle.
The Rockford Razorbacks, the only lacrosse program in the greater Rockford area, was founded and began teaching lacrosse to local youth players in 2012 and began competing against other clubs in 2013. The club competes in five different divisions from 3rd-4th Grades/U10 through high school with players from 24 different schools currently competing. The Rockford Razorbacks' focus has been on introducing new players to lacrosse and developing skills with an overall mission to grow youth participation locally. The ultimate vision for the club is to turn the high school program over to the local high schools as soon 2024. The transition of current club players to competing at their high schools will, in turn, allow the Razorbacks to focus additional efforts on recruiting younger players and preparing them to compete by the time they reach high school.
The Rockford Razorbacks are funded exclusively with player dues. To make the sport accessible to as many youths as possible and remove financial barriers, the participation fees are held artificially low. As a result, the dues for the current number of players do not cover the club's operating costs.
"This grant from the IceHogs Community Fund will provide dues and equipment assistance to 15 underserved kids in the community who would otherwise not be able to afford to participate in lacrosse, while helping us host learn to play clinics in the region," said Robert White, President, Rockford Lacrosse Club. "We could not be more appreciative of the generosity of the IceHogs Community Fund and its commitment to youth sports."
"The Razorbacks are another organization that aligns perfectly with an IceHogs Community Fund priority of increasing participation in youth sports in the Rockford region," said Dave Costello, Manager of Marketing and Community Relations for the IceHogs. "Certainly, there are some parallels between lacrosse and hockey so we also see a unique opportunity here to possibly help grow local interest and participation in youth hockey through this partnership with the Razorbacks."
In total for this year's grant cycle, the IceHogs Community Fund and Chicago Blackhawks Foundation have awarded $127,000 in grants to support nine Rockford area organizations and 10 unique programs. The awards include $100,000 from the IceHogs Community Fund and $27,000 from the Chicago Blackhawks Foundation. Previously announced awards included:
$10,000 (IceHogs Community Fund) to VanVleet Family Foundation to fully fund participation costs for 67 kids to attend Fred VanVleet's Summer Camp


$34,000 (IceHogs Community Fund and Chicago Blackhawks Foundation) to Rockford Park District to support "Junior StreetHogs" outreach program focused on reducing barriers and increasing youth participation in hockey


$10,000 (IceHogs Community Fund) to Rockford Park District to support its first ever "Buddy Hockey" program that seeks to help eliminate barriers that often prevent youth, teens, and adults with disabilities from learning to play the sport of ice hockey


$10,000 (IceHogs Community Fund) to Rockford Hockey Club to help reduce season fees for players at the 8u level and increase participation at all levels


$10,000 (IceHogs Community Fund) to Rock House Kids (RHK) to help serve a larger number of kids during RHK evening programs, including providing more meals and nutritious food options for all kids being served


$6,500 (IceHogs Community Fund) to The Greg Lindmark Foundation to generate awareness in the community about the no-cost special services the Foundation offers to local first responders
$6,500 (IceHogs Community Fund) to Easterseals Serving Chicagoland and Greater Rockford to conduct full ASD diagnostic assessments for children ages 3-12 who are currently on a 12-month waiting list
More details on additional grants awarded by the IceHogs Community Fund and Chicago Blackhawks Foundation will be revealed throughout the summer.
About the IceHogs Community Fund
The IceHogs Community Fund (ICF), supported by the Chicago Blackhawks Foundation, is invested in making a positive social impact by supporting initiatives that will help make the Rockford region a better place to work, live, and play. Through partnerships with local organizations, the ICF is dedicated to growing the game of hockey by working to broaden exposure and reduce barriers to the sport.
The ICF raises funds throughout the year in a variety of ways, including specialty jersey auctions as well as gameday sales of 50/50 raffle tickets and Chuck-A-Pucks.
About Rockford Razorbacks Lacrosse Club
The Rockford Razorback Lacrosse Club is a 501(c)(3) charitable organization that relies 100% on volunteers dedicated to teaching and promoting the sport of lacrosse to youth in the Greater Rockford Community. It is a developmental club dedicated to teaching the fundamentals of lacrosse and preparing players for competition. The organization strives to develop student athletes of character, integrity and sportsmanship who will utilize their skills in a team environment to help create a winning program.