ICEHOGS COMING TOGETHER AT THE RIGHT TIME IN PLAYOFF PUSH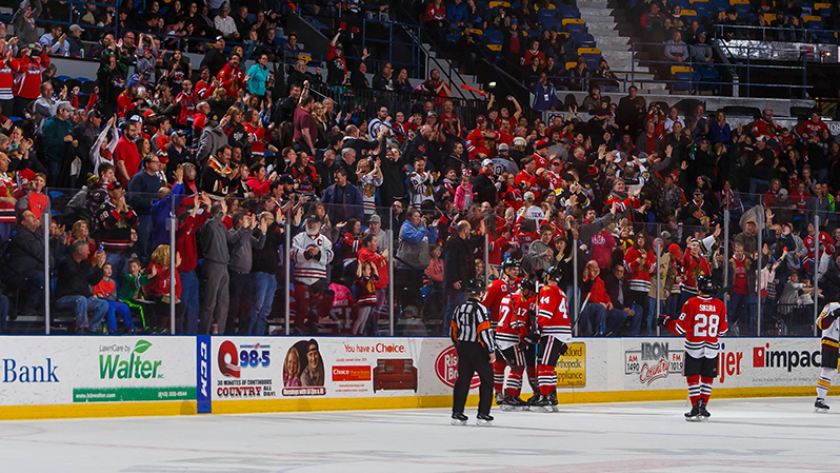 ROCKFORD, Ill. – A quick glimpse at the current American Hockey League standings reveals a few things. For one, the Central Division playoff race is tight. Like "three teams playing musical chairs with their rank on the ladder every single night" kind of tight. But look closer, and you'll notice that the Rockford IceHogs are hastily picking up steam, and at just the right time to do so.
With points in eight of their last nine outings and a record of 9-3-1-1 since Feb. 18, the IceHogs have rediscovered their early-season form to put themselves in a strong position to earn one of the four available Calder Cup playoff berths in the Central Division. And though they remain mired in a back-and-forth race with the Iowa Wild and Grand Rapids Griffins, Head Coach Jeremy Colliton knows his team is up for the challenge of separating from the pack in the team's final regular season games.
"They're playing hard, competing hard. It's big games every night, playing teams we're fighting with for playoff position," said Colliton, prior to this past weekend's split with Milwaukee and Chicago, "We say it before every game, this is fun, this is why you play through what sometimes feels like a grind earlier in the year so that we can be in these types of games. It's tough and there's a price to be paid to win, but it's worth it in the end."
Rookies have carried this year's IceHogs team for much of the season. A total of 11 different first-year skaters have suited up for Rockford, and five have notched 10 or more goals. And according to Colliton, the drive for a playoff berth could further spur their personal growth.
"I think for the development of our young players, it's really important that we're in a battle right to the end. That's a great development opportunity, no matter how big your role is, just to be around it and start to understand what it takes to be a winner and have success in big situations. Playoff-wise, same thing. What an experience it could be to get this group in and go as far as we can go. I think that makes you stronger in the end, and then hopefully when you do get that chance at the NHL level, you're a little bit more battle-hardened," he said.
Despite their youth, many of those rookies, such as defenseman Darren Raddysh, are no strangers to the intensity of playoff atmospheres. The former Erie Otters standout totaled 57 postseason appearances with his junior club and helped the Otters to an Ontario Hockey League championship in 2016-17.
With his sights now set on earning his first trip to a professional postseason, Raddysh says he and his teammates are loose and ready to work as their 76-game slate winds down.
"All the guys are pretty happy coming to the rink every day. All of these games really mean something, so getting up for the games and practices has been really fun," he said, "We're just riding the momentum. We got a couple big wins a couple weeks ago and we've just been riding that lately."
But even with the energy provided by the youth movement in the Forest City, Rockford has relied on veterans to help right the ship when things haven't gone according to plan. Reinforcements from the Chicago Blackhawks like Cody Franson and Lance Bouma have provided welcome guidance over the last several weeks to the blue line and attacking corps, respectively, while AHL veterans like Jeff Glass and Viktor Svedberg continue to provide valuable leadership and expertise in navigating the season at this level.
Svedberg, one of four current IceHogs players to have partaken in the team's last Calder Cup playoff appearance in 2015, is excited about the prospect of having another crack at the AHL's top prize.
"This time of year is the most fun to play hockey. You always want to end up in the playoffs, and I think we've got some games left to show that we really want to be in," he said.
In goal, the veteran Glass – a 13-year professional with 48 games of playoff experience across his time in juniors and overseas in the Kontinental Hockey League – is looking to make his AHL playoff debut this season, and believes the Hogs can make the most of any chance they earn.
"Playoffs are the best time of the year and I've never made playoffs at this level, so that's my major focus, that's what's pushing me right now through these practices and these games. Once we get there, I think anything can happen," he said.
Uncertainty will likely reign for the remainder of the season regarding Rockford's playoff pedigree, but Glass knows that getting on a roll at the right time is key to success.
"We obviously feel really good…it's a funny thing, when you don't have momentum, you're trying to get it. Now that we have momentum, you want to keep it, so we're not going to change anything we've been doing. We feel good in the dressing room, we have a lot of confidence as a group right now in the way we play, and if we keep to our systems and play the way we can, we're going to win hockey games. It's not a feeling of climbing a mountain or trying to do something we can't – it's just going out and doing what we do every day, and we're going to get rewarded."
After inspiring hockey fans worldwide with his long-awaited NHL debut at 32 years old, Glass manned the crease in Chicago for a total of 14 games before being reassigned back to Rockford. But his return required a few adjustments as he again acclimated himself to the AHL.
"It's a matter of small details. For whatever reason, when I got back from Chicago, my timing was off just a little bit. Those things happen and it's just a matter of working through them. I had a great chance to work with (Blackhawks Developmental Goaltending Coach) Peter Aubry here and work on a few small things, and the small things make a big difference on the ice. Once you start to feel good, it's all habit and it seems to roll in the right direction. It feels good right now, so hopefully we can keep pushing forward," he said.
Now, Glass and rookie Collin Delia are the starring tandem during this home stretch. Glass has won three of his last four outings, while Delia is 6-0-2 in his last eight appearances. And though personal successes are certainly worthwhile, Glass notes that both players have one goal in mind: getting the IceHogs to the postseason.
"I'm obviously trying to help (Delia) and he's trying to push me to be better as well, but I think in the bigger picture, we both want to win for this team. That's our major focus right now. I know when he gets in the net, he's doing everything he can to win. I'm likewise, I know I'm a competitive guy that wants to play and wants to win, but most importantly right now I want to get into the playoffs," he said.
The IceHogs as a group have made a few adjustments of their own, as well. Special teams have been a point of weakness for the squad this season, but power-play strikes in two of their last three outings and crucial penalty kills along the way have helped the team edge out close victories.
Forward Anthony Louis, who boasts two goals and eight helpers on the man-advantage this season, mentioned that the Hogs have streamlined their strategies in the name of generating more scoring chances.
"I think we're a little simpler on the power play. Before we were trying to make the perfect play, now we're getting a few more shots through which is forcing the defense to kind of run around, and then the plays open up," said Louis.
Svedberg echoed Louis' sentiments, noting the timeliness of the team's power-play goals or penalty kills as key to their success as they hunt down gutsy wins to bolster their chances of earning a playoff berth.
"I think our special teams have been really good. We've gotten a couple goals on the power play at good times in the game when we really needed them, and we've been able to keep from getting scored on at key times in the game and I think that's been our key lately," said Svedberg.
Coach Colliton, on the other hand, suggests that veteran guidance has also helped turn things around in that facet of the game.
"I think for the last month or so, we've been better on both sides of our special teams. I think it's a combination of getting a bit older, a bit more experienced – that's where those guys really shine – and we've just been sharper, and that's what's necessary for us to win. I think we've got a good group, we know what we need to do. It's just a matter of executing."
Looking ahead, the IceHogs have dates with divisional opponents in five of their nine remaining contests. But with just two of those coming on home ice, they will have to put in the work in some hostile environments to get the chance at a few more outings in front of their loyal fans at the BMO Harris Bank Center during the Calder Cup playoffs.
"Regardless of whether we're at home or on the road, we know we've got to get points every night, and it's been like that for a while," said Colliton, "I think February was kind of our last real chunk of games at home, so since then we've known that you have to grind out points away, and we have done that. But I don't think the approach (to games) should change because we're home or away…just play the same way."
Playing the same way – grinding out close wins against heated rivals – has catapulted the Hogs into contention, and will be a perfect template for them to use to find success come playoff time.