Happy Holidays from the IceHogs!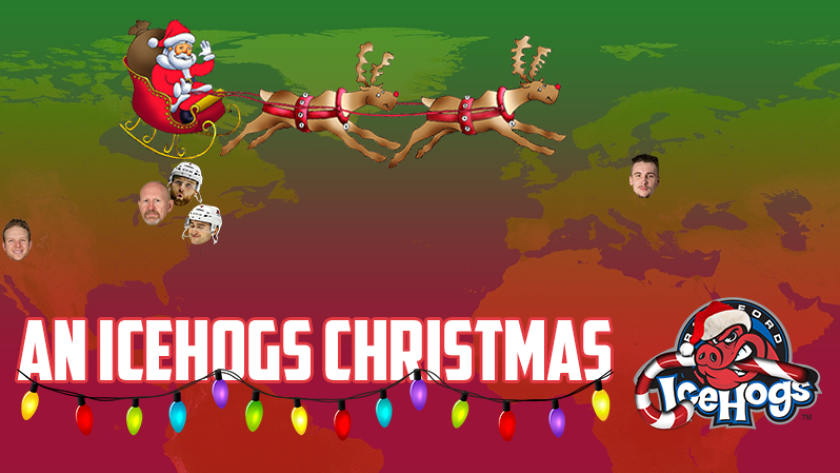 The Rockford IceHogs are wishing all fans a merry Christmas and happy holidays. As people from around the world gather to celebrate the season in their own ways, some IceHogs players shared a few of their own traditions for the holidays.
The Panel:
Collin Delia - Goaltender from Rancho Cucamonga, California
Derek King - Head Coach from Hamilton, Ontario
Chad Krys - Defenseman from Ridgefield, Connecticut
Nick Moutrey - Forward from Toronto, Ontario
Dmitry Osipov - Defenseman from Moscow, Russia
Does your family/culture have any unique holiday traditions?
Delia: "Every year we would go to my stepmom's family's house for Christmas Eve and do tamales with everyone over. Then on Christmas morning I would go to my mom's parent's house and have a huge family gathering."
King: "We're pretty simple. The biggest thing for us is just getting our family all together cause my oldest is away and the boys are busy, so it's just good to hunker down and do some family stuff, play board games, go for a skate and it's just nice to have everybody home."
Krys: "When I was a kid, my dad, my brother and I would always build a small outdoor rink around Christmas time. Just some plywood, a big tarp and some water, and usually Christmas time was the first time you could really skate on it, so that's what I remember from Christmas growing up."
Moutrey: "The night before Christmas we watch Jack Frost as a family--it kind of hits home for our whole family. Other than that, just spending time with family and enjoying the food coma, for sure."
Osipov: "We have three Christmas trees in our yard that my mom planted when she was alive. So, together we put lights and decorations on. Then, since Christmas is like our New Year's, we'll go outside and do the countdown."
What's the best present you received when you were growing up?
Delia: "I was a huge LEGO fan, so anything LEGO was the best. Oh, and G.I. Joe. One year I got a G.I. Joe helicopter and that thing was pretty sweet."
King: "Well, besides getting married and having my kids (laughs). I always wanted my own hockey net when I was a kid because the kids down the street had a net but had to take it with them when they went in for dinner. My family always had the gifts laid out when we came downstairs on Christmas morning, but I didn't see my net so I was kind of looking around. My parents made me put some garbage out and there was my net standing there with a bow on it. Plus, my dad was happy that there wouldn't be any more ball marks on the shed."
Krys: "I think when you're a kid just getting a hockey stick and looking forward to that every Christmas. Honestly, I like getting new clothes at Christmas too. Now that I'm a bit older, I'm pretty fired up when someone gets me some clothes or a gift card to Starbucks or something (laughs). I get pretty fired up about that."
Moutrey: "My dad bought my brother and me both snowmobiles one Christmas. We woke up and my dad told us to look outside and there were two snowmobiles out there waiting."
Osipov: "It wasn't exactly at Christmas, it was actually in the summer, but my mom told me it was my Christmas gift and bought me my first motorcycle."
What's the best present you've given?
Delia: "Last Christmas I gave somebody my heart...but the very next day they gave it away (laughs). Anyway, two years ago my mom didn't think I was coming home for Christmas and she called me from work on Christmas day pretty upset. I had come home to surprise her and was just chilling on the couch with my brother, so when she got home she just started bawling. It was a pretty good Christmas."

King: "I think all my gifts are good. I can't say the vaccuum I bought my wife (laughs). I don't think I have one in particular, but just the fact that you see your kid smile because they got something they put on their list to Santa. That's the gift right there."
Krys: "I like to think this year I've gotten some pretty good presents for everyone. I'll just say I tried to up the ante this year with the presents I'm giving."
Moutrey: "My grandma--my mom's mom--passed away a few years ago from cancer and her favorite animal was a red robin. So, the following Christmas I gave my mom a nice picture of a red robin and she loved it. It was a piece of art with a quote about missing her."
Osipov: "I think the best one so far was when I gave my wife 100 reasons why I love her written by hand. The second best one was when I was in kindergarten, I drew a portrait of my mom and said how much I love her and merry Christmas."
What are some of your standout holiday memories?
Delia: "I think just spending time with my grandparents and all of our cousins. When you're smaller and younger, everything seems so large and bright, so having everybody there is so cool because they're such a big part of your life. Obviously, these guys [in Rockford] are a second family, but there are good things about taking breaks."
King: "I think more or less just time off. Having family together and kicking back for a few days to enjoy everybody's company."
Krys: "Just spending time with my extended family. They're not from very close to where we live so it's nice to see them and spend the entire day with family and friends. That's the best part about it."
Moutrey: "The past two or three years I started dressing up as Santa and giving the gifts out on Christmas (laughs)."
Osipov: "Every time the countdown goes on there are fireworks or whatever. But one year, after the countdown, my friends and I came across this guy with a huge metal pipe and a massive ball of snow. It was actually a cannon and when he lit it up, the snowball shoots up out of the pipe and explodes. When it exploded, it shook the entire district so hard that glass shattered and car alarms went nuts. He told us later it took him two months to create. It was crazy."
Happy holidays from our IceHogs family to yours!