FOURNIER READIES FOR 2015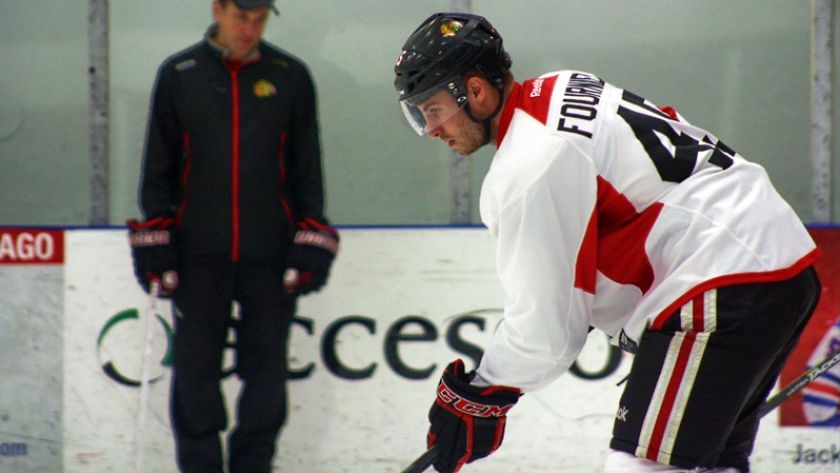 Rockford, Ill. - Following a rookie season that resulted in splitting time between the Rockford IceHogs and the East Coast Hockey League's Indy Fuel, defenseman Dillon Fournier chatted with IceHogs.com during Chicago Blackhawks Prospect Camp at Johnny's Icehouse in Chicago to reflect on his first campaign, the offseason and his expectations for the upcoming season:

Fritz Stillings (IceHogs.com): How would you assess you first pro season?

Dillon Fournier: I think I learned a lot. It was my first season in the pros, and there were definitely some highs and lows, but you got to learn how to keep your game steady. It's a long season and I've got a lot to build off of heading into my second year.

FS: Were there any surprises for you during your first year?

DF: Not really. I knew some of the guys coming in and they helped manage my expectations and keep my head pretty level. We had a good group of guys in Rockford, especially some of the older guys who'd talk to me a lot. It was a great environment to be in.

FS: How's the offseason been going for you both on and off of the ice?

DF: It's been going well. I've been training at home (in Dorval, Quebec), but I'll be staying in Chicago after Prospect Camp and training with Pauly (Paul Goodman – Blackhawks Strength and Conditioning Coach) and just continue working out here in Chicago.

FS: It's been a busy offseason for the Blackhawks, a few spots are opening up in both Rockford and Chicago, how do you approach these opportunities and how eager are you to take advantage of them?

DF: Yeah, there are a few spots that have opened up, but all you can really do is focus on yourself and put in the work. The harder you work the more success you're going to have and the more chances you're going to get.

FS: Going into the 2015-16 season, what areas of your game are you looking to improve on?

DF: Just about everything. I really want to take a step forward entirely from my rookie season, both defensively and offensively, and just keep playing the way I play. I really just got to bring my A-game every night.

FS: What are you looking forward to most heading into next year?

DF: I'm looking forward to seeing our group of guys. We've got a lot of different faces in Chicago and especially in Rockford. It's going to be a good year to see the chemistry and the guys playing together. We've got a couple of familiar faces coming back like P.C. (Pierre-Cedric Labrie), Michael Leighton, and those vets, and it's going to be a great fit for everybody.