FORTIN BACK TO FULL SPEED, TRUSTING IN HABITS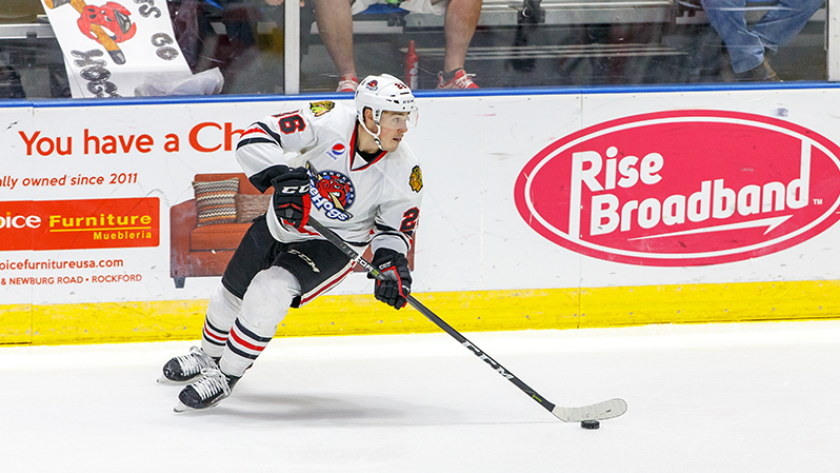 ROCKFORD, Ill. -- Habits.
That's the big difference between American-Hockey-League-rookie Alexandre Fortin and second-year-pro Alexandre Fortin.
The 21 year old debuted in the AHL last year after his final season in Juniors, playing in 53 games with the Rockford IceHogs during the 2017-18 campaign. He tallied four goals and 17 assists during the regular season, and skated in Game 1 of the Calder Cup playoffs. But the solid debut didn't come without growing pains for the winger who is now entering his second season of a three-year contract with the Chicago Blackhawks.
"I think (it's the) very little details on the ice, with or without the puck that are important," said Fortin, reflecting on his rookie season in the AHL. "When I was [making minor mistakes] in Juniors, you can bypass it, but in the pro league you can't do that, and that's exactly when I got scratched a couple times (in Rockford)."
The solution? Habits.
"The coaching staff were together talking to me, trying to help me make sure I do what I have to do, and I think it's great here," said Fortin of Jeremy Colliton and his coaching staff. "We did a lot of video, a lot of stuff, and now it's getting in a habit of doing it every night. And that's where I'm at right now."
Rejuvenated and feeling fully healthy for the first development camp since his rookie workout two years ago, Fortin takes the ice at MB Ice Arena in Chicago confident with his body of work leading into summer workouts. His road to recovery from various setbacks, including missing time in 2017-18, began with in-season treatment and continued through his time away from the rink in the summer. Fortin said constant support from his family helped fuel his drive to grind out both his rehab and daily workouts.
He also set out to implement all the little lessons he picked up during his rookie season in Rockford. The forward met with coaches throughout the year as part of his development during 2017-18, and with such natural talent as an upcoming prospect in the Chicago's system, Fortin said the meetings weren't so much about developing new skills as they were honing his already-available potential.
"I think (the coaches) helped me a lot during the season on exactly what I have to do to get to the next level," said Fortin. "It's just simple things, your good habits – I think when you'll be in the moment (in a game) and this little thing will help you, and because you worked on that day after day, it'll just do it by itself. So, I think it's a lot of working with me, not what I can do, but more on what I can do better."
Namely, utilizing his speed.
At full health, the winger poses matchup problems across the ice. Fortin has worked to fully take advantage of that ability, and Colliton has taken notice.
"It's a great weapon he has, and he makes it uncomfortable for teams to defend," said Colliton. "And through his speed, he creates turnovers and opportunities offensively for himself and his linemates."
With Development Camp wrapping up and the 2018-19 campaign on the horizon, Fortin is ready to bring his polished approach and habits into the upcoming season. The 21 year old isn't exactly an AHL veteran entering his second year in the league, but he's quite removed from the expected speed bumps of a rookie season in the pros.
"I think I'm more comfortable (for this year)," said Fortin. "I know exactly what I have to do. I did my first year, you know sometimes your first year you don't know what to expect, and that's behind me now. I know my job and I know my role."
Now, it's just about applying that on a daily basis.
"I have my routine, and I just keep working on that every day and good things will happen."
Put more simply, "habits."
Season Tickets for 2018-19 on Sale Now:
Don't miss a moment of the action by reserving your seats for the IceHogs' 20th season of professional hockey in Rockford and 12th as the top AHL affiliate of the Chicago Blackhawks. The IceHogs' home opener is set for Oct. 13 and ticket packages begin as low as $105 for a seven-game mini pack. Please contact us at (815) 847-6399 or visit icehogs.com to claim your spots for this upcoming season.