DREW LEBLANC Q&A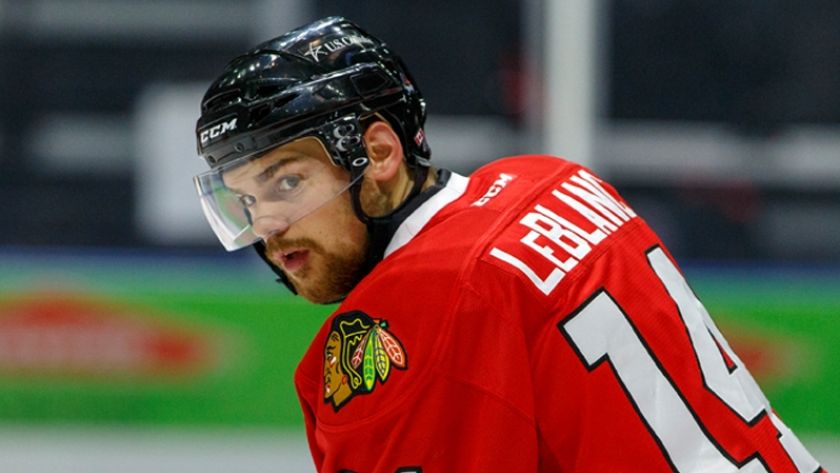 The Rockford forward chats with IceHogs.com
The IceHogs game against the Milwaukee Admirals last Friday at the BMO Harris Bradley Center had an unmistakable throwback feel to it. Instead of the commonplace in-game music filled with today's top hits, classic jock jams and the occasional organ track, spectators and participants alike were serenaded by the University of Wisconsin pep band. The massive contingent from Madison, which filled an entire section in the lower bowl, made the AHL contest feel like an NCAA rivalry game, complete with fight songs, pounding drums and sieve chants.

While the college hockey atmosphere might have been unfamiliar to players who are alumni of Canadian Junior leagues, it hit close to home for Rockford forward Drew LeBlanc, who has 171 games of NCAA hockey experience in his back pocket from his time at St. Cloud State University. LeBlanc didn't merely play in college, he dominated, finishing his senior season by winning the 2013 Hobey Baker Memorial Award, given to the best player in the nation.

The Hermantown, Minn. native is two years removed from his college hockey days, after finishing his rookie season being one of only two players to appear in all 76 games for the IceHogs. The 25-year-old has collected six points (4g-2a) over 36 games played this season, and recently took time to sit down with IceHogs.com prior to this Friday's rematch with the Admirals. LeBlanc opened up about the differences between the college and professional ranks, his role with the team and what it is like playing the same team three times in a row.

Brent Hollerud: Now with the University of Wisconsin band being at your game Milwaukee on Friday, did it bring back any memories of playing the Badgers at Kohl Center?

Drew LeBlanc: No not really, I guess it should have being that it was Wisconsin's band. Those were two really fun atmospheres that we got to play in back in college, and maybe it would have brought back good memories if we won, but since we didn't, it didn't have any effect.

BH: Did you guys have to keep coach Osiecki grounded and from daydreaming about his glory days? (Note: IceHogs Associate Coach Mark Osiecki played at UW from 1987-90 and was an assistant coach for the Badgers from 2004-10. He won NCAA Championships both as a player in 1990 and as a coach in 2006.)

DL: No, we usually don't get to see him at the forward end [of the bench], so we didn't get a chance. But I'm sure there were good memories going through his mind.

BH: How does the atmospheres in Rockford and around the AHL compare with the places you played in while in college?

DL: Fortunately for us, we draw pretty well here. The crowds are good, rowdy, into the game and loud and it's definitely a good atmosphere - it's very similar to what I [experienced] in college. The only difference is there aren't as many students, with the chants that go on in college and stuff like that, but other than that [being in Rockford] is pretty similar.

BH: Obviously there are plenty of differences between the college game and the pro game, but do any stand out in particular to you?

DL: Well when you keep going up levels in hockey everyone keeps getting better and better. Obviously this level is much tougher than it was in college; everyone is bigger, faster, stronger and they think [the game] better. It's been an adjustment for me, but I think I'm starting to get it and come around, and I'm starting to play more like I wanted to. I'm going to just keep working and trying to get that opportunity to play more.

BH: Speaking of playing more, you appeared in all 76 games last year after playing 35-45 games a year at St. Cloud. How do you keep your body going when playing all these games after getting used to the Fri-Sat series?

DL: The big thing at the college level was [the structure]. Monday you lift, Wednesday you lift, Tuesday was a hard day of practice, Thursday was a light day then Friday and Saturday you came out of the gates and you were flying and ready to play. Now it's about trying to manage [your schedule] day-to-day and week-to-week, because every week is different and games are at different times - sometimes at one, sometimes at seven, sometimes at four - it's trying to find a routine and how to go about preparing for each game.

BH: Now that you have your first full professional season under your belt, how has year two been different or easier? How long does it take you to get settled in and comfortable?

DL: Being able to manage your time is important. Like I said, it was an adjustment, but I think I have kind of mastered how I like to go about things and what I want to do on a day-to-day basis. [You think of] what you want to do, maybe not the week before a game, but two days before a game to start to get you honed in and make sure you are feeling your best, come whenever the game may be. I think the schedule thing was an adjustment, but I now have a grasp on how I want to do it and what my body needs to be ready each night.

BH: You have long been a playmaker first and foremost with the Huskies, but now you are tasked with playing more of a hard-nosed grind it out checking role alongside players like Cody Bass and Ryan Schnell. How has that transition between styles been for you as a player?

DL: For me, I think the biggest thing is you have to try and stay true to yourself. I know it's a different role with different players - you aren't playing with the top skill guys on the team or what have you - but at the same time everyone here is a good player and knows how to make plays and they know where to be and what to do structurally.

We have come together as a line and have fed off each other and I feel that the last few games we have played pretty well together. We're familiar with each other, and when you get to know them and practice with them every day you are going to grow that chemistry. We are starting to figure out what each guy does well, and where to go when each guy has the puck and things of that nature. I think we gel as a line, hopefully we can continue to make progress.

BH: What is it like - both physically and emotionally - playing all these home-and-home series and the same teams over and over again? Does it make it easier or harder to get up for the games when you seem to be constantly playing the Wolves and Admirals?

DL: As far as this Friday goes, it should be easier, because we should be very motivated. We've kind of been slumping lately and we're trying to dig ourselves out of a hole, and that's the nature of a long season; you are going to have peaks and valleys. We're going to be ok, we'll get out of this mental funk, the big thing for us is that we have to win a few games, get our confidence back and get a little swagger in our game and we'll be fine.

We've panicked a little as of late; guys are getting a little emotional and heated, which is a good thing. Let's just channel that energy the right way, and in the long run it's going to make us better.

BH: Similarly, how much does the momentum or animosity carry over from night-to-night or week-to-week, especially when you are in the middle of playing the same team three times in a row?

DL: When you are playing the same team on back-to-back nights there is going to be a little carry-over no matter what happens. I think the week in between, like right now [between games with Milwaukee], will settle a lot of that dust and [Friday] will be more of a hockey game and there will be a lot less emotion.

It's an important game for us, we have to come out flying. It's more about us than it is about them, I think we have to play well within our systems and make plays, and find the net. We find some rebounds, get some greasy goals, everyone gets a little more confidence and away we go. Every game is important, every point matters now and we have to have that playoff mentality, starting on Friday.