DIFFERENT TEAM, SAME MINDSET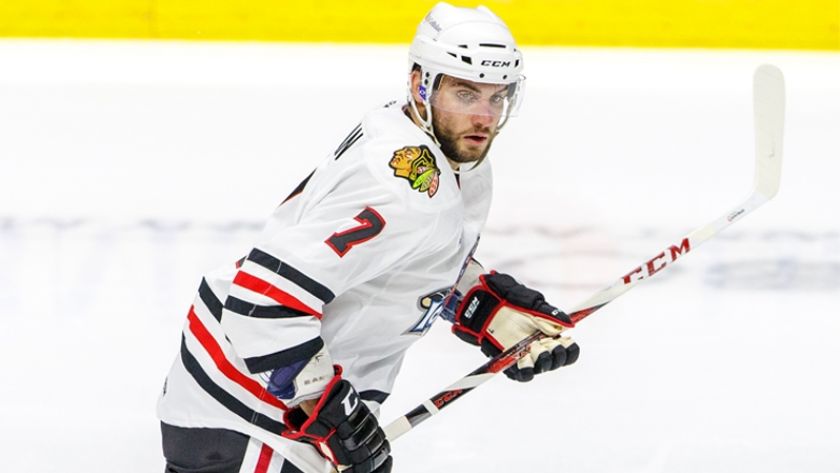 T.J. Brennan's steady demeanor helps him thrive despite a change of scenery

Just over a month had passed since he was included in the high-profile trade that sent Nick Leddy to the New York Islanders, and new man-about-town T.J. Brennan found himself in front of a microphone as a guest on a Rockford radio program. As what has become a weekly routine for IceHogs players, Brennan joined the "Low Budget Morning Show" on 104.9 WXRX for a couple segments, to talk shop and share a few of the stories that come with being a professional athlete.

Naturally, the topic of discussion turned to how the defenseman came to the Chicago Blackhawks organization, and Brennan offered his own personal recollection of Oct. 4, his last day as an Islander.

"An employee tells me that Garth Snow wants to talk to me, so I first take the opportunity to gather some information. It was the end of camp, we just finished our last exhibition game. I had been playing well, but I was not as confident as I would like to be. I didn't have a good feeling going into [the meeting], but I wanted to be positive," Brennan recanted. "I concluded that I was either getting sent down, or they were going to name me the new captain over John Tavares."

What he heard instead, was that Anders Nilsson, fellow Rockford blueliner Ville Pokka and himself were heading west in exchange for Leddy and Kent Simpson. Brennan had just signed a free agent contract with New York three months earlier.

"Whoops," Brennan said. "There was something I didn't think of."

While the on-air quip was meant primarily as a punchline, his radio interview contained a healthy amount of perspective. Athletes hardly ever expect change. Trades and transactions are a necessary part of the hockey business, but that doesn't mean that a player is ever completely prepared to be shipped off to somewhere new.

That being said, some are better suited for these kinds of changes than others. Brennan is one of these players. For one, the Willingboro, N.J. native has had plenty of experience with being moved. Since becoming a pro in 2009, Brennan has already been a part of five different NHL organizations.

Additionally, as anyone who has talked to him or listened to his radio appearance could deduce, Brennan is an analytical guy- someone who is equally concerned with the "whys" of his hockey journey than the "whats" and the "wheres". As a result, his game on the ice through the years has been a model of consistency, mostly because he has a handle on the game between his ears.

"He's a cerebral person," claimed IceHogs Associate Coach Mark Osiecki. "He's a thinker, he likes to discuss a lot of the situations he is in or has been in. You look at his experiences – he's moved around quite a bit – and they all build up and it leads to his maturity. He handles things very well."

Osiecki is certainly not exaggerating when he said that Brennan has had plenty of chances to gather experience, as a passing glance at the rearguard's bio shows all the twists and turns his road has had.

After getting drafted by the Sabres in the second round (No. 31 overall) of the 2007 NHL Entry Draft, Brennan spent the better part of three seasons with the Buffalo organization – a span that included six different call-ups to the big club in thirteen months. As if that wasn't erratic enough, he was dealt to the Florida Panthers in March of 2013, where he finished the year before being moving twice more in the offseason. First to the Nashville Predators, where he stayed for less than a month, and then finally to the Toronto Maple Leafs, where he signed a one-year contract prior to the 2013-14 season.

It was in all this instability and unpredictability that Brennan built his mental fortitude.

"There's different things to learn in every situation," Brennan explained. "Sometimes that can be a really hard thing to remember, but everything goes back to trying to control what you can. That's a lesson that along my crazy path that I have forgotten, and it's great because I have had these situations with different teams to help me remember that lesson. What everyone else is doing, that's their business, and the more I focus on that, the more I am off of mine. "

The necessary adjustments a player must make after getting their transfer papers are much more complicated than just putting on a different uniform. They do not get to put in their two weeks notice like most do, having plenty of time to tie up their loose ends. Rather they are often on the next flight out of town, all of a sudden thrust into entirely new surroundings, with nothing but their luggage and a hotel room key. Osiecki, someone who has been through it all himself, can attest to the difficulties a trade can present for a player.

"The change is tough. It's a change of scenery, change of city, change of routine," said Osiecki. "But he's been around and is an experienced defenseman so the change of routine is something he can adapt to pretty easily. I think the harder part is adapting to the environment inside the locker room; knowing the personality of the team as well as the different system."

But for Brennan, jumping from dressing room to dressing room is just something that comes hand-and-hand with playing at the highest level, and is another aspect of the game that he has broken down to a science.

"That's the transition you have to make right away. To me, everything is a process, to get to know teammates, and now I had to do it with a whole bunch of new guys," Brennan stated. "As we become better professionals, we become better at that process. [Sometimes I have] my sights set one way, and the next thing I know I am being thrown a different way. It can throw you for a loop sometimes, but it is my job to accept it and not question it, because something to be gained from it."

There isn't much of a question over if this process has led to success, as his offensive production on the ice has been unwavering regardless of which blue line he has stood on. In five full seasons since breaking into the AHL, Brennan has put up 30 or more points four times. He is a year removed from being named to the AHL First All-Star Team and winning the Eddie Shore Award for most outstanding AHL defenseman, while putting up a whopping 72 points (25g-47a) with the Marlies.

Now, even though he's in a new spot, through 26 games Brennan is still on pace for a 60-plus-point season. His 21 points and 15 assists lead all of his new teammates. He ranks near the top of his team, and the league as a whole, with a plus-14 rating. So how has his on-ice performance been able to stand pat when his location has not? Once again, according to Brennan it is all in the approach.

"I try to look at things as simple as: just win. Because if you can win you will want to learn things to help you win more. When you win, it means you did things right," explained Brennan. "[Last year in Toronto] I went in determined to work as hard as I can and as smart as I can, and it led to a really successful team year. As a product of that, I had a personally successful year, but my intentions were to help my team win. That is the understanding I am trying to [bring to Rockford], because that is what I know will work. "

No one knows better than Brennan about the uncertainty of a career in hockey. The constant barrage of highs and lows, victories and defeats, recalls and reassignments is enough to rattle the cage of a player who is not mentally prepared to deal with it. But Brennan is someone who is used to the roller coaster ride. He's been on it for half a decade. Where some players react to adversity and change with frustration and doubt, the ever-steady Brennan sees an opportunity for growth.

"People ask me why I am not in the NHL, and I tell them that I can't answer that because I am in the AHL," Brennan said. "I don't know why I'm not there, that is what I am working to find out. There is a lesson to be learned in every spot you are in. You have to keep thinking positively and seeing the bigger picture, and it's a good thing. The more I am opening my eyes the better I can see things around me."

With his elite skill, his wealth of experience, and his unflappable, level-headed psyche, chances are people won't be asking him that question much longer.