CAMPBELL EMBRACING LEADERSHIP ROLE APPROACHING MILESTONE MOMENT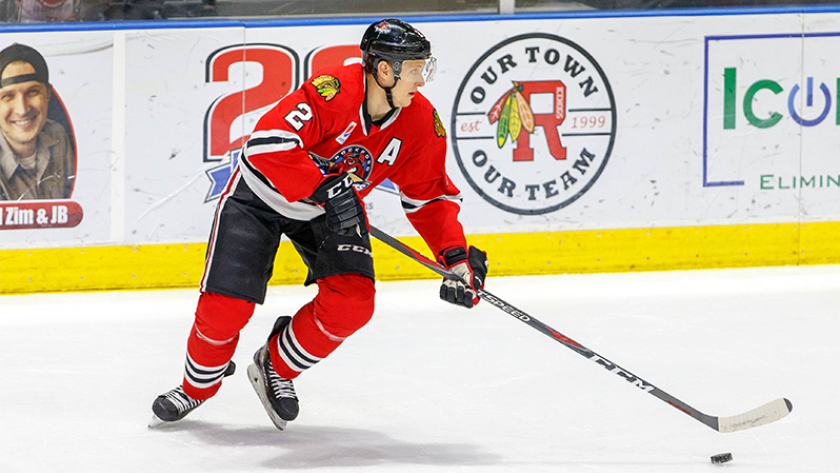 Rockford, Ill. - Last Monday, Rockford IceHogs defenseman Andrew Campbell took the ice as captain of the Central Division in the 2019 Lexus AHL All-Star Classic presented by MGM Springfield with three goals and an assist to his name this season. As the league's top players gathered at the event celebrating the sport's brightest and most promising budding talents, no one deserved to dawn the 'C' more than Campbell.
Although Campbell may not fill the stat sheet like many of the young stars alongside him at a sold-out MassMutual Center in Springfield, the veteran defenseman can boast as impactful of an AHL career as any of them.
Campbell is two short games away from becoming just the 74th player in the AHL's 82-year history to skate in 700 career games. The man who teammates affectionately call 'Soupy' has had a lasting effect on every team, player and community his now decade-long career in pro hockey has taken him to.
"I owe a lot of thanks to the previous trainers and athletic therapists of the teams I've played on," Campbell said on nearing the 700-game mark. "I really don't look at much individual stuff. It's more team stuff. I've been fortunate enough to play on a lot of good teams over the years so that's probably the thing I'm most proud of."
Indeed, nearly every accomplishment Campbell cites as a source of pride involves others rather than himself. Campbell has played on five different teams over the course of his AHL career, and has served as either a captain or alternate captain for each one. Along the way, the veteran blueliner has played a crucial leadership role in the development of countless players who have gone on to carve out names for themselves at the next level.
"That's kind of what I've been doing here in the latter parts of my career," Campbell said of helping teammates reach the NHL. "You see different young guys come in and you try to take them under your wing… I still follow pretty much every guy that I've played with in their NHL careers."
But in this stage of his career, Campbell doesn't just want to be a spectator for the success stories he's helped create in the past. He is actively working to build new ones every day. Rookie IceHogs defenseman Dennis Gilbert, who has been paired with Campbell for a significant portion of the season, says his partner has been one of the most important catalysts in his acclimation to professional hockey.
"You could possibly see [Campbell] even becoming a coach one day," Gilbert said. "It's definitely an honor to have an older guy like that, who doesn't have to go out of his way to help you at all. He's just the kind of character person that he is to want to do that and to want to help you.
"Off the ice, he's definitely taught me some things about just how to handle the travel and the dietary stuff... But also, on the ice, so many little tidbits when we do defensive skill sessions, or just working on batting down pucks or shoulder checks. Just little detail things that he's kind of harped on with me that I've started to bring more focus to, and I've definitely seen it pay off."
It's that mentorship role that has made Campbell one of the most valuable figures in the Rockford locker room this year. Campbell is one of just two defensemen on the IceHogs current roster with more than two full seasons of AHL experience. In a year of change in Rockford, from a head-coaching transition to players moving up and down from the NHL, Campbell has been a vital source of stability.
"We don't have a lot of vets back there on D," IceHogs head coach Derek King said. "[Campbell's] presence has been huge for us on the ice and off the ice, locker room stuff… Last year and previous years I've coached you'd always have that good three or four veterans, older guys who have been around [and] maybe played some NHL, but now are in the minors looking to try and get back up. He's been huge."
With the All-Star Break in the rear-view and the IceHogs looking to gain ground in a tightening Central Division playoff race, Campbell has his sights set farther than trying to help individual players. The veteran hopes he can spur the group on to a strong finish.
"You try to ride the wave and keep that even keel. We've got plenty of games left to dig ourselves out of the hole we dug here and get back into the playoff race… At this time of year every team is getting better, so we've got to find a way to individually get better and get better as a team because games are only going to get harder."
With the IceHogs in the midst of their longest winning streak of the season, including back-to-back wins following Campbell's All-Star weekend, that 'wave' is only getting bigger.