Calling it a Career: Kris Versteeg to Finish with Family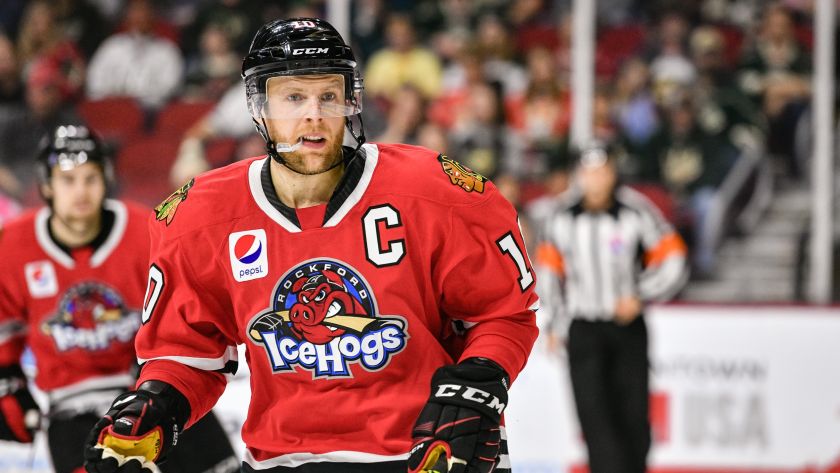 ---
The decision to step away from the Rockford IceHogs was not one Kris Versteeg took lightly. The veteran forward vocalized his intent to retire at the end of the season when he announced his departure from the Chicago Blackhawks' AHL affiliate on Sunday afternoon. It was an emotional goodbye, but sometimes there are circumstances bigger than the game, and for Versteeg, that comes in the form of family.
Kris' younger brother, Mitch Versteeg, is in his fourth season with HK Nitra in the Slovak Extraliga. When Kris realized this would be his last season of professional hockey, he couldn't let the opportunity to play alongside his brother for the first time pass them by.
"This is something we've talked about our whole lives, playing together at some point in our careers," Kris said. "For me, retiring for sure after this season, I figured this is the best time for me to do it."
The siblings played roller hockey together when they were younger but never experienced what it would be like to compete next to one another on the ice. Now, however, in the twilight of Kris' career, the pair will realize a lifelong desire.
"It's really big; we dreamed about this since we were kids," Mitch said. "I never personally thought that it would actually happen, but now we have the chance to play together and possibly win a championship together. It'll be a cool experience and I'm looking forward to it."
Before leaving Rockford, though, the IceHogs captain made it clear that there was an additional reason it felt right to make this move: so that the future of the organization could have more chances to shine.
"When I got hurt I guess I had a few weeks to kind of assess things," Kris said. "I couldn't match the intensity that these kids were bringing every day. To me, not being able to do that is a disservice to them."
When asked about his choice to retire at the end of the season, Kris was adamant that he had no regrets. He then emphatically agreed that, though he would have liked to play deeper into his 30's, this is the best way he could imagine closing the book on his career.
"One hundred percent," Kris said. "For me now at this point, knowing it's done and going out being with my brother, there's really nothing more special than that. Especially with how close we are and everything, there's really no better way to leave the game than with my brother."
While Mitch shares the same enthusiasm, he is also thinking ahead to what it could mean for Nitra as they chase a championship that has slipped through their fingers twice in the last four seasons.
"Since I've been here we've been in two championship finals and haven't won," Mitch said. "So, I think he brings some winning experience and playmaking that could be the piece we've missed in the last few years here. He could definitely take this team over the top for sure."
A Slovak Extraliga title may not be the only opportunity Kris has to add another piece of hardware to his mantle, as the Canadian has his sights set on representing his country for the first time since the 2003-04 World Junior Championships.
Versteeg's ultimate wish moving forward would be for he and his brother to don the red and white in the Spengler Cup—an invitational tournament held in Davos, Switzerland every December—but the 33 year old understands he'll have to earn his way on to the roster.
"It would be unbelievable," Kris said. "Just to go there and represent Canada in itself would be amazing. Obviously being Canadian, it's really hard to represent your country unless you're a superstar—it's almost impossible as a hockey player. So, for me, if there's an opportunity to do that (pause), man that would be huge for me."
Mitch was very candid when discussing his prospect of joining Kris for the tournament, but was quick to express excitement and support for his older brother.
"If that's a possibility it would be awesome, but I'm not sure if I'll be in the running for that," Mitch said. "If Kris goes there and represents Canada it'll be a pretty big deal. I'll be watching every game and cheering and I think our whole family will go down for that."
Finally, with the realization that Kris' days on the ice are waning, both brothers took a step back to reflect on the career that included 643 NHL games and a pair of Stanley Cup victories.
"It's sad with knowing how hard he's worked to get where he's been," Mitch said. "You just look back at what he's done and you can't be anything but proud of him. It's been fun to watch and fun to see over the last decade what he's accomplished."
"I've received a lot of messages from family and former teammates, especially, that were very positive," Kris said. "When you hear it from them, it really hits home and makes everything you went through in a career worthwhile."