BOWL WITH THE ICEHOGS IN THE SIXTH ANNUAL BOWL-A-THON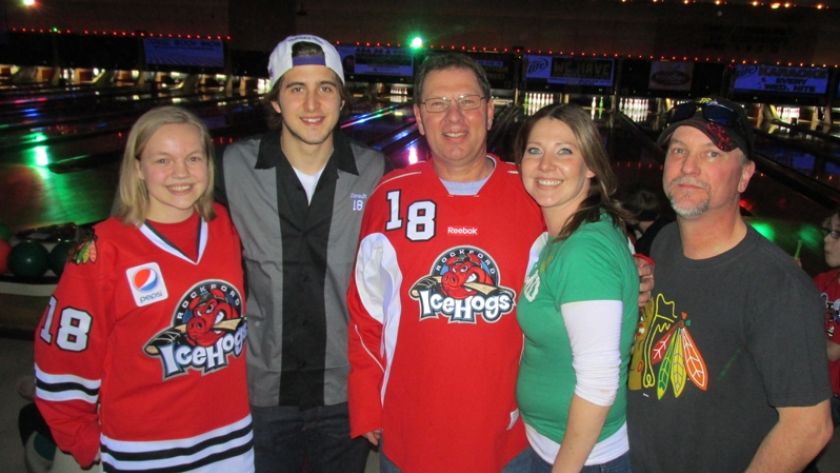 Annual event to take place at Cherry Bowl on Feb. 8

Rockford, Ill. – One of the most popular events for fans of the Rockford IceHogs is back this season when the Hogs take to the lanes with fans in the sixth annual Bowl-A-Thon for charity on Sunday, Feb. 8 at Cherry Bowl.

The Bowl-A-Thon will take place on the second Sunday in February at Cherry Bowl from 2-4 p.m. IceHogs players, coaches, and other team personnel will all be on hand for an afternoon of fun and to help benefit the Sydney Ives Foundation, which will receive a portion of the proceeds from the event.

All 32 bowling lanes are sold-out for the event, however fans that are still interested in attending can purchase a $10 viewing ticket that will include access for autographs and photographs with the team along with a raffle ticket to win some great prizes.

Fans can sign up for the IceHogs Bowl-A-Thon at any IceHogs home game at the BMO Harris Bank Center by stopping by the U.S. Cellular Fan Zone. Fans can also register by calling the IceHogs Communications Department at (815) 847-6372 or by downloading the entry form at icehogs.com and mailing it in to the IceHogs Front Office – 300 Elm St. Rockford, IL 61101. Entry forms may also be emailed to icehogs@icehogs.com or faxed to (815) 380-6431.The deadline to register is Friday, Jan. 30 at 5 p.m.

The event will also feature a 50/50 and premium raffle. The premium raffle tickets will be sold for $5 each or five for $20 at the event and will feature prizes courtesy of the IceHogs and other sponsors. Some prizes for all the raffles, premium and regular, include: Blackhawks tickets, game-worn IceHogs jerseys, a suite for an IceHogs game, club lounge tickets, an IceHogs team-signed stick, and much more.
Registration for the event opened on Wednesday, Jan. 7. for fans to sign up to bowl alongside their favorite players. The first 100 bowlers, or 25 teams, to register for the bowling event will be guaranteed to bowl with an IceHogs player, coach, or other staff member.

Admission is $40 per bowler or $150 for a team of four, which includes two games of bowling, shoe and ball rental, and a raffle ticket for a chance to win some great prizes, for each participant. Groups of four may pick the player they wish to bowl with, on a first-come, first-serve basis, for an additional $50. Otherwise, all players and team personnel will be randomly assigned to a lane, but fans are highly encouraged to mingle throughout the event, and take pictures and get autographs from the entire team throughout the afternoon.

If you have any questions regarding the IceHogs Bowl-A-Thon, contact the IceHogs Communications Department at (815) 847-6372 or icehogs@icehogs.com.

About the Sydney Ives Foundation
Love You More – A Sydney Ives Foundation is a non-profit organization – 501 (c) (3) approved- that is designed to help families in the fight for the life of their ill child.

The foundation is in memory of Sydney Ives. Ives was made an honorary IceHogs team member on May 20, 2009 after she was diagnosed with an inoperable brain tumor the year prior. She passed away on Nov. 7, 2009.

To learn more about the foundation, visit www.sydneyives.com.