Blackhawks Lock Down 11th Pick in 2021 NHL Entry Draft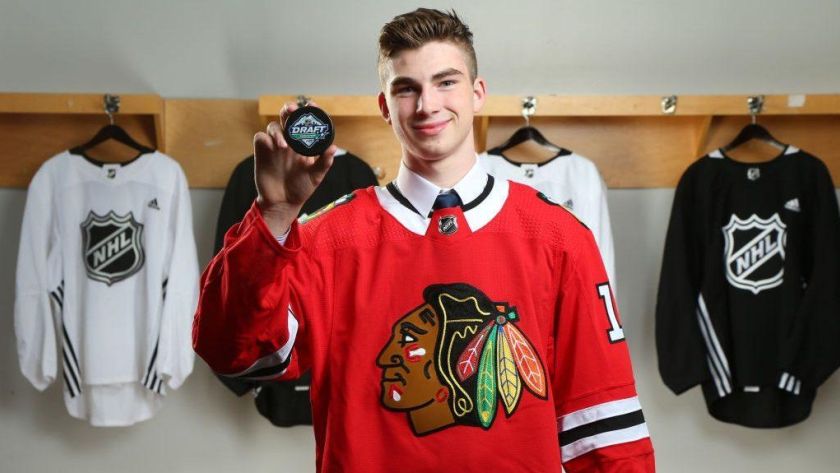 "With the 11th pick in the 2021 NHL Entry Draft, the Chicago Blackhawks select..."
The Chicago Blackhawks, National Hockey League affiliate of the IceHogs, officially claimed the 11th selection of the 2021 NHL Entry Draft Wednesday night during the NHL Draft Lottery. The selection is the first time the Hawks have selected 11th overall since Kyle Beach in 2008.
Beach is the third-highest pick to skate with the IceHogs since the 2008 NHL Draft when Kirby Dach (3rd overall, 2019) and Adam Boqvist (8th overall, 2018) made appearances in the Stateline during the 2019-20 season. Dach and Cam Barker (3rd overall, 2004) are the highest picks to ever skate with the IceHogs in team history.

Chicago has drafted 11th overall four times in franchise history: Kyle Beach (2008), Pavel Vorobiev (2000), Dave Manson (1985) and Wayne Davidson (2nd round, 1963).
The 2021 NHL Entry Draft will be held virtually July 23rd and 24th.

Overall, Beach is the ninth highest pick to ever skate with the IceHogs:
Kirby Dach - 3rd overall - Chicago Blackhawks, 2019
Cam Barker - 3rd - Chicago Blackhawks, 2004
Jack Skille - 7th - Chicago Blackhawks, 2005
Rostislav Olesz - 7th - Florida Panthers, 2004
Adam Boqvist - 8th - Chicago Blackhawks, 2018
Pierre-Marc Bouchard - 8th - Minnesota Wild, 2002
Sergei Samsonov - 8th - Boston Bruins, 1997
Nick Boynton - 9th - Washington Capitals, 1997

Kyle Beach - 11th - Chicago Blackhawks, 2008