ANSWERING THE CHALLENGE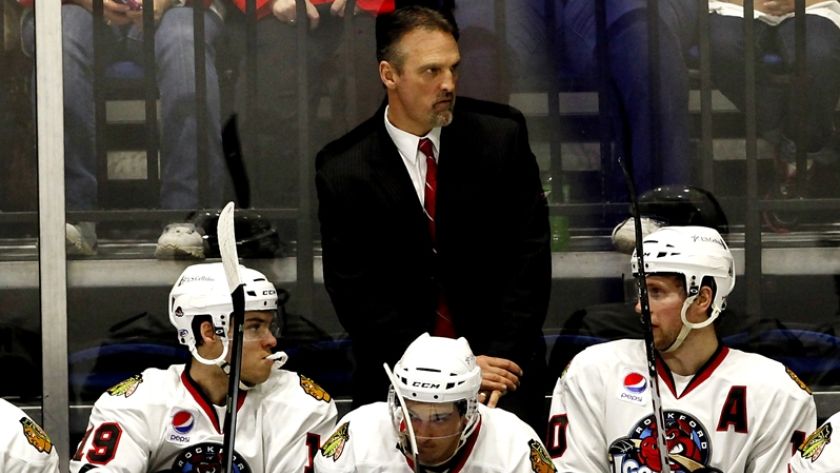 Each winter, the IIHF U20 World Championship offers hockey fans the opportunity to watch the world's best up-and-coming prospects compete for gold. For Team USA, the 2015 tournament in Montreal and Toronto will feature a strong Blackhawks contingent, with Rockford IceHogs Associate Coach Mark Osiecki at the helm and four Chicago draft picks potentially making the roster. As Team USA's final evaluation camp approaches, chicagoblackhawks.com spoke with Osiecki on how his preparations are taking shape.

When did you get the call to be the head coach for Team USA at this year's World Junior tournament?

We started chatting about halfway through the last hockey season, and U.S. National Junior Team General Manager Jim Johansson had some contact with Stan Bowman and the Blackhawks staff. We started to explore the possibility a little bit at that point, and certainly when they made the call and it was OK by everybody, it was a no-brainer for me.

Do you have a greater comfort level taking on this position, having been involved with the team in previous years?

I've been involved three times as an assistant and been to Lake Placid a few other times to help out with evaluation camps. You pick up different things from different coaches that you work with; they've all been a little bit different. The last one in 2013 in Ufa, Russia, I think I learned a lot from head coach Phil Housley, and it was an outstanding experience. I can pull bits and pieces from Dean Blais (who coached in 2010) and Keith Allain (in 2011) and Phil and apply it to the staff that we're going in with. I think we have a great mixture and chemistry of people heading into the final evaluation camp in Boston, which starts on December 15.

What kind of team are you trying to build for the tournament?

We're hoping that we can be a high puck possession team and be more offensive-minded. We're going to be aware defensively, but I think we can put pressure on opponents using our offense. It starts with Jack Eichel and Auston Matthews and some of those players who are strong down the middle. We're still trying to find our identity, and we'll certainly start to build that when we get to Boston.

There are four Blackhawks prospects who were named to the preliminary roster: 2013 picks John Hayden, Tyler Motte and Anthony Louis, and 2014 first-rounder Nick Schmaltz. What did you see from them at evaluation camp over the summer?

Hayden was a tremendous leader; his work habits and his determination really came to the forefront in Lake Placid. I think you could say the same about Motte. Tyler is a kid who you could put on any line; you could play him on the first line or the fourth line or as the 13th forward, and he would be fine and he would find a way to fit into the mix.

We didn't know going into camp how Nick Schmaltz would fit in. Obviously his skill level is off the charts, and his thought process is very, very high. I thought he showed his compete level in terms of getting pucks back and hounding players.

Anthony Louis opened the eyes of a lot of people who were evaluating [the players]. He's an easy kid to coach, at least from my perspective. He can play on the power play and penalty kill, and could be an extra forward – he's very versatile. At that point, he was still fighting a battle to see if he can be a member of the team, but he's certainly put himself in a good spot.

You were able to see three out of the four at Blackhawks Prospect Camp in July. What kind of knowledge did you gain by seeing them play together on some different line combinations?

It certainly helped me understand who they are and what they bring to the table. Even at our pre-Draft combine in June, there were a few players there that I got to know before heading into Lake Placid. At evaluation camp, we had Schmaltz with Hayden and Matthews, and they were a very dynamic line, which was fun to see. Motte played with Eichel – you could put me out there, at almost 50 years old, and I'd look pretty good with Eichel – and Tyler did a great job there.

What did you think of Finland's unexpected victory in last year's tournament, especially now that you have two of the gold medalists from that team in Rockford in Teuvo Teravainen and Ville Pokka?

I watched it closely. I'm not sure it was a surprise, when you consider the Finnish team and that group of people running their organization. We see them in Lake Placid every summer in August, and they've done a great job. They compete so hard, and that's their trademark, but now their skill level has gone way, way up. You put that hard work with their skill level, and they're a dangerous team. I'm just glad [Teuvo and Ville] are here in Rockford and no longer eligible.

Is there a difference in preparation between players coming into the tournament from college versus juniors?

Some of the kids in their first year of college are going into a setting where they have to somewhat earn their stripes with a bunch of players who are three, four, five years older. So they might be playing a little bit of a different role, whereas the CHL players are generally the top-end guy, a player who is leaned upon very heavily by his team. So it's almost a breath of fresh air for the college kids coming in, whereas the junior kids are already playing at that level where the expectations are that high.

How is the defensive group shaping up heading into the final evaluation camp? Are you happy with the mix of players you have?

It's an intriguing group, one we talked about right away at Lake Placid. The defensive group is evolving and something that's a work in progress even now. We have some returning players – one who's injured is Steve Santini, who's a tremendous leader. But then we have some who are eligible for the draft, underage kids who weren't in Lake Placid, so some of our high-end skill guys might be a little bit younger. It's not much different than when we went to Saskatoon [in 2010]. I remember saying back then, let's not panic, it's summer hockey and let's let these kids play and see how they develop in the first half of the year, and we should be fine.