A LOOK INSIDE THE ROOKIE HOUSE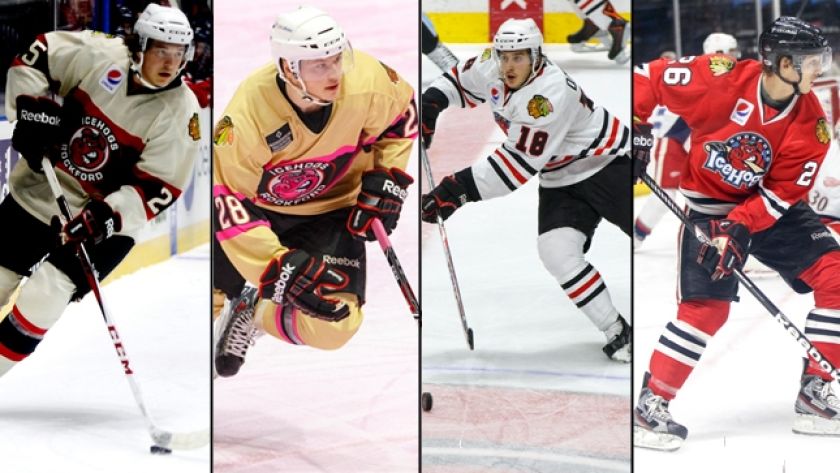 Rockford, Ill.- Making the transition from college or junior hockey to the pro ranks is never easy. But doing it as a group can help ease the process.

Rockford IceHogs rookies, Alex Broadhurst, Phillip Danault, Garret Ross and Mark McNeill are roommates, teammates and friends helping, encouraging and pushing each other through their first year.

All four guys were draft picks in either the 2011 and 2012 NHL Entry Level Draft by the Chicago Blackhawks, and are in their rookie season with the IceHogs, all living together in hope of one day to call themselves a Chicago Blackhawk.

Prior to this season, other than Blackhawks prospect camp over the summer, these four skaters had never played on the same team.

What McNeill, Ross, Danault and Broadhurst can all agree on, midway through their rookie year, they wouldn't want to go through any of this with anyone else.

"It's fun. It's exciting. I know me, Garret and Alex and Phil playing juniors when we were younger, moving away from home, got us ready for this a little bit," said McNeill (a 2011 first-round pick, #18 overall) reflecting on his experience living with the guys thus far this season.
House Poll:
Best Cook?

Garret Ross: Mark McNeill
Phillip Danault: Neiller
Mark McNeill: Myself
Alex Broadhurst: Myself, definitely

Most likely to check the locks before going to bed?
GR: I don't know who does that in our house
PD: Nobody
MM: Me, too
AB: Nobody. Not one person
Who still needs their laundry done by their mom?

GR: That is definitely me
PD: Brody
MM: Phil again
AB: Phil

Who do you usually wait on to leave the house?
GR: I'm probably the last to leave. We drive separate now because we all leave at different times.
PD: Rossy
MM: Me and Garret wait for each other a lot.
AB: Rossy

"But when you're really on your own you have to cook and clean everyday and do little tangibles around the house and you have to get used to it but I really enjoy it now."

All four players were unanimous when asked what it is like to live and grow this year with three other guys who are going through the same thing as them. They all believe it was a good decision for them and for their first full year as professionals to help each other on and off the ice.

In any household when you put four competitors together you might think there would be competition. But these four are using each other to become better.

"We all push each other a little bit," says Broadhurst, an Orland Park, Ill. native and seventh round selection by Chicago in 2011 (#199 overall). "For yourself you want to be a better hockey player than the other guy and I think by us doing that it helps us out overall."

"We push each other to be the best and none of us want to lose so we are all pretty competitive," says Ross, a 2012 fifth-round pick (#139 overall). "You can feel the encouragement from each of the guys to help the others out and that is something you see on and off the ice."

These four players have put up good numbers in their first year so far and you can credit a lot of what they have accomplished by what they do off the ice.

They motivate each other to work harder. Having a friend to encourage you on a day you just don't want to go to the gym. Danault, also a 2011 first-round pick, says, "Oh yeah for sure when one of us doesn't want to train we just wake him up and say let's go."

When you have a support system like these guys do, it's easy to see how they use their relationships they build off the ice to make each other better and make sure they are pushing themselves to be the best they can be, hoping one day to earn a roster spot with the Blackhawks.

That is what Ross, Danault, McNeill and Broadhurst are striving to do together.