IceHogs Weekly: IceHogs Have "Super" Weekend vs. Wolves; Prepare for Iowa, Milwaukee and Grand Rapids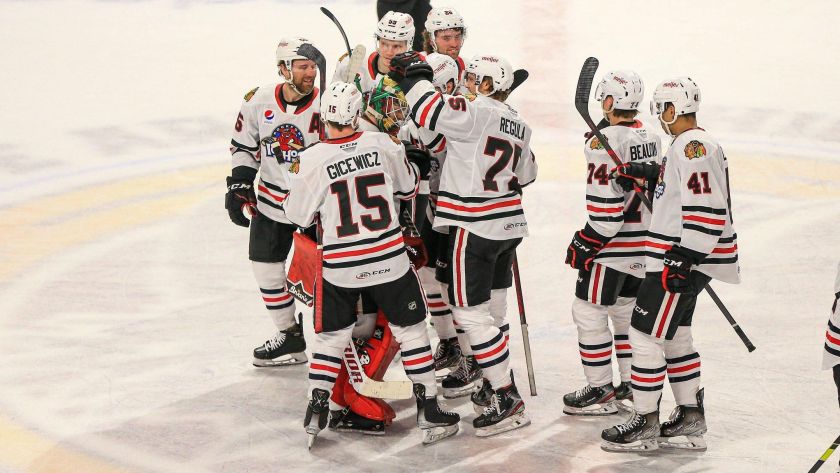 The Week That Was…
Previous Week's Record: 2-0-0-0
Friday, Feb. 11 vs. Chicago Wolves
Forward Michael Teply's second multi-goal game of the season led the Rockford IceHogs to a 5-4 win over the Chicago Wolves in front of a sellout crowd Friday night at BMO Harris Bank Center. Recap & Highlights
Saturday, Feb. 12 at Chicago
After his multi-goal performance last night, forward Michal Teply scored the lone goal in a shootout Saturday night to lead the Rockford IceHogs to a 4-3 win over the Chicago Wolves at Allstate Arena. Recap & Highlights
2021-22 Season Numbers
Record: 19-16-3-1 (4th Place, Central Division)
Home: 9-10-2-0
Away: 10-6-1-1
Last 10 Games: 5-3-2-0
Streak: 2-0-0-0
Goals: Lukas Reichel (13)
Assists: Lukas Reichel (18)
Points: Lukas Reichel (31)
Penalty Minutes: Kurtis Gabriel (72)
Power-Play Goals: Brett Connolly, Ian Mitchell (4)
Power-Play Assists: Lukas Reichel (9)
Power-Play Points: Lukas Reichel (12)
Shorthanded Goals: Josiah Slavin (2)
Shorthanded Assists: Ian Mitchell (2)
Shorthanded Points: Josiah Slavin, Ian Mitchell (2)
Game-Winning Goals: Ian Mitchell, Alex Nylander, Lukas Reichel (3)
Wins: Arvid Soderblom, Collin Delia (8)
GAA: Arvid Soderblom (2.62)
SPCT: Arvid Soderblom (.926)
League Leaders
Goaltender Arvid Soderblom, who is currently with the Chicago Blackhawks, is third among AHL netminders with a .926 save percentage and ranks 15th with a 2.62 goals-against average.
Goaltender Collin Delia is third among AHL goalies with three shootout wins.
Forward Lukas Reichel is tied for eighth among AHL rookies with 31 points and is tied for fifth with 13 goals.
Forward Josiah Slavin, who is also currently with the Blackhawks, is tied for first among AHL rookies with two shorthanded goals.
Forward Michal Teply is first among rookies with three shootout goals.
Defenseman Ian Mitchell is tied for first among AHL blueliners with four power-play goals.
IceHogs Notes
IceHogs Host Wild on Taco Tuesday & Winning Weekday
The IceHogs are back in action at BMO Harris Bank Center on Tuesday, Feb. 15 against the Iowa Wild at 7 p.m. on a $2 Taco Tuesday and a Winning Weekday! Enjoy $2 tacos and $5 craft beer and if the IceHogs win, YOU WIN! If the IceHogs grab the victory, every fan in attendance will receive a FREE ticket to the next IceHogs weekday game (Wednesday, Mar. 23)! Buy Tickets
IceHogs Celebrate Frontline Heroes on Sunday vs. Grand Rapids with Player Designer Hat Giveaway
Celebrate our community healthcare heroes on Sunday, Feb. 20 at 4 p.m. at the BMO vs. Grand Rapids! The first 1,500 fans receive a special healthcare heroes hat designed by IceHogs captain Garrett Mitchell presented by BMO Harris Bank! The design features a special healthcare heroes patch and custom touches all around the hat by Garrett! Buy Tickets

IceHogs Claim Season Series vs. In-State Rivals
With the two-game weekend sweep, the Rockford IceHogs claimed the 2021-22 regular season series against the Chicago Wolves and hold an overall record of 7-2-0-1 (15 points) against their long-time rivals. The Wolves are 3-4-0-3 (9 points) against the IceHogs with two games remaining in the head-to-head series (Apr. 19 at Chicago, Apr. 30 at Rockford).
Lucky Number 7 vs. Wolves
Saturday's 4-3 shootout win at Chicago was the IceHogs' seventh win in the head-to-head series this season and just the third time in their 14-year history against their rivals that they have hit the seven-win mark in a single campaign. The IceHogs went 7-2-3-0 against the Wolves in 2015-16 and a franchise-best 8-3-1-0 in 2014-15. The IceHogs are 4-0-0-1 against the Wolves at Allstate Arena this season, which is also the third time in their history to have four or more wins in Rosemont. The IceHogs went 4-1-1-0 in 2018-19 and 4-2-0-0 in 2014-15.
Teply and Hardman Have Banner Weekend vs. Wolves
After missing four games due to a left ankle injury, forward Mike Hardman netted a career-high three-point game (1G, 2A) against the Wolves on Friday, recorded his sixth goal of the season on Saturday in Rosemont and now has three goals and two assists for five points in his last four games. Forward Michal Teply was removed from COVID-19 protocol before the weekend and registered his second two-goal game of the season on Friday and scored the game-winning goal in the shootout on Saturday.
Meijer First Goal Fundraiser
When the IceHogs score the first goal of each game this season, Meijer will donate $50 to Rock House Kids, a 501(c)(3) foundation helping feed Rockford's inner-city youth in a safe nurturing environment. This season's donation to Rock House Kids is currently $650!
This Week
IceHogs vs. Iowa Wild
Taco Tuesday and Winning Weekday
Tuesday, Feb. 15
7:00 p.m. CT
BMO Harris Bank Center
Buy Tickets
Watch/Listen Live: 23.3 Circle TV WIFR, AHL TV, IceHogs.com, IceHogs app, 104.9 The X, B103, 95.3 The Bull, Rockford Greatest Hits 100.5 and Rock River Current
Preview: Eighth of 12 meetings; 2-3-2-0 head-to-head record
IceHogs at Milwaukee Admirals
Wednesday, Feb. 16
7:00 p.m. CT
UW-Milwaukee Panther Arena in Milwaukee, WI
Watch/Listen Live: AHL TV, IceHogs.com, IceHogs app, 104.9 The X, B103, 95.3 The Bull, Rockford Greatest Hits 100.5 and Rock River Current
Preview: Eighth of 12 meetings; 3-3-1-0 head-to-head record
IceHogs at Grand Rapids Griffins
Saturday, Feb. 19
7:00 p.m. CT
Van Andel Arena in Grand Rapids, MI
Watch/Listen Live: 23.3 Circle TV WIFR, AHL TV, IceHogs.com, IceHogs app, 104.9 The X, B103, 95.3 The Bull, Rockford Greatest Hits 100.5 and Rock River Current
Preview: Fifth of Eight meetings; 1-3-0-0 head-to-head record; First meeting since Dec. 3-4 at Grand Rapids
IceHogs vs. Grand Rapids Griffins
Garrett Mitchell Frontline Workers Designer Hat Giveaway pres. by BMO Harris Bank (First 1,500 fans)
Sunday, Feb. 20
4:00 p.m. CT
BMO Harris Bank Center
Buy Tickets
Watch/Listen Live: 23.3 Circle TV WIFR, AHL TV, IceHogs.com, IceHogs app, 104.9 The X, B103, 95.3 The Bull, Rockford Greatest Hits 100.5 and Rock River Current
Preview: Sixth of Eight meetings; 1-3-0-0 head-to-head record; First meeting in Rockford since Nov. 6