IceHogs Weekly: IceHogs Close Three-Game Road Trip and Welcome Back Fans to BMO Harris Bank Center on Saturday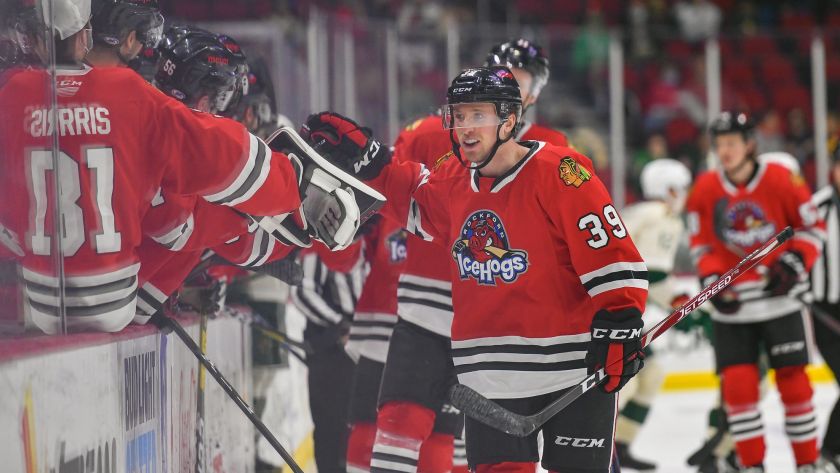 The Week That Was…
Previous Week's Record: 1-1-0-0
Friday, Apr. 23 at Iowa Wild
The Rockford IceHogs (8-14-1-0) kicked off the game scoring for the sixth consecutive contest, but the Iowa Wild (12-10-4-0) erased two deficits to take a 3-2 victory at Wells Fargo Arena Friday evening. Recap & Highlights
Saturday, Apr. 24 at Iowa Wild
Forward Dylan McLaughlin recorded a goal and two assists and rookie D.J. Busdeker added two tallies to send the Rockford IceHogs (9-14-1-0) over the Iowa Wild (12-11-4-0) 5-3 at Wells Fargo Arena Saturday night. Recap & Highlights
2020-21 Season Numbers
Record: 9-14-1-0 (6th Place, Central Division)
Home: 6-8-0-0
Away: 3-6-1-0
Last 10 Games: 4-6-0-0
Streak: 1-0-0-0
Goals: Chris Wilkie (7)
Assists: Cody Franson (12)
Points: Cody Franson, Dylan McLaughlin (16)
Penalty Minutes: Garrett Mitchell (37)
Power-Play Goals: Wyatt Kalynuk, Dylan McLaughlin (2)
Power-Play Assists: Cody Franson (7)
Power-Play Points: Cody Franson (8)
Shorthanded Goals: Chris Wilkie (3)
Shorthanded Assists: Dylan McLaughlin (2)
Shorthanded Points: Chris Wilkie (3)
Game-Winning Goals: Dylan McLaughlin (3)
Wins: Matt Tomkins (3)
GAA: Cale Morris (2.46)
SPCT: Cale Morris (.929)
League Leaders
Defenseman Cody Franson is tied for the IceHogs lead and tied for fourth among AHL defensemen with 16 points (four goals, 12 assists).
Forward Chris Wilkie is tied for first in the AHL with three shorthanded goals.
Forward Dylan McLaughlin is tied for second in the league with two shorthanded assists.
Forward Riley McKay is tied for second among AHL rookies with three major penalties.
IceHogs Notes
IceHogs Welcome Back 2020-21 Season Ticket Holders
For the final three home games of the 2021 season, the IceHogs are excited to welcome back 2020-21 Full and 20-game Season Ticket Holders to BMO Harris Bank Center! Earlier this month, Season Ticket Holders entered a lottery with a chance to attend one of the final contests (May 1, May 9, or May 14). In working with the Winnebago County Health Department, the IceHogs will enforce specific guidelines as outlined by the WCHD, including wearing masks and social distancing. Want to upgrade to a Full Season or 20-Game plan? Contact us at (815) 968-5222 or email us at [email protected]!
Hammy, We're Home
With fans returning to BMO Harris Bank Center on Saturday vs. Grand Rapids, the excitement will end a long drought of in-person IceHogs entertainment in the Stateline. The final IceHogs home game in front of the best fans in hockey was March 6, 2020, a 4-0 win over the Griffins. That was 422 days ago!
Gicewicz Grows IceHogs List of Firsts this Season
With his first professional point (assist) on Saturday at Iowa, IceHogs forward Carson Gicewicz became the 16th member of the Icehogs to record their first professional/North American point this season. He also becomes the 13th IceHogs skater to pick up his first point in his first two professional games.
Hello, Old Friend
The IceHogs have not seen the Griffins since March 16 when they snared their second of back-to-back OT winners against their Central Division rivals. Forward Dylan McLaughlin buried both game-winning overtime goals on Mar. 13 and Mar. 16 in Grand Rapids in matching 2-1 OT wins. It was the is the first time an IceHogs player has buried consecutive OT winners since Dylan Sikura during the 2017-18 season. Sikura potted overtime goals on Dec. 2 and Dec. 7, 2018 vs. San Antonio and Grand Rapids.
Road Warriors
Through five games in the head-to-head series between the IceHogs and Griffins, the road team has earned every victory. The Griffins skated away with 3-1 (Feb. 18), 9-4 (Mar. 3) and 3-1 (Mar. 11) wins at BMO Harris Bank Center this season while the IceHogs picked up 2-1 OT wins in Grand Rapids on Mar. 13 and Mar. 16.
Don't Be Sad It's Over, Be Happy It Happened
Starting Wednesday at Grand Rapids, the IceHogs have only eight scheduled games remaining in the 2021 season. They will close their eight-game season series with the Griffins with the final three contests this week (Apr. 28 at Grand Rapids, May 1 at Rockford, May 3 at Grand Rapids), then wrap up their 10-game season set vs. Iowa on May 7 (at Iowa) and May 9 (at Rockford) and fittingly close the campaign and their 11-game season showdown against their in-state rivals, the Chicago Wolves, on May 10 (at Chicago), May 14 (at Rockford) and May 15 (at Chicago).
Former IceHogs and Two-Time Stanley Cup Champion Andrew Shaw Steps Away
On Monday, former IceHogs forward and two-time Stanley Cup Champion Andrew Shaw announced the end of his 10-year playing career. In 530 NHL contests with the Chicago Blackhawks and Montreal Canadiens, Shaw picked up 114 goals and 129 assists for 243 points and helped the Blackhawks capture the Stanley Cup in 2013 and 2015. In parts of two seasons with the IceHogs (2011-13), the Belleville, Ontario, product appeared in 66 games, adding 37 points (10 goals, 17 assists). He made his professional debut with the IceHogs on Oct. 8, 2011 vs. Grand Rapids and earned his first pro fight that same night. On Oct. 28, he netted his first professional goal vs. Peoria and became the 48th IceHog to graduate to the NHL when he made his debut with the Blackhawks on Jan. 5, 2012
This Week
IceHogs at Grand Rapids Griffins
Wednesday, Apr. 28
6:00 p.m. CT
Van Andel Arena – Grand Rapids, MI
Watch Live: AHL TV, SportsFanRadio 1330 AM, Sportsfanradio1330.com, IceHogs.com, IceHogs app
Preview: Sixth of eight meetings; 2-3-0-0 head-to-head record
IceHogs vs. Grand Rapids Griffins
Welcome Back, IceHogs Season Ticket Holders!
Saturday, May. 1
6:00 p.m. CT
BMO Harris Bank Center
Watch Live: AHL TV, SportsFanRadio 1330 AM, Sportsfanradio1330.com, IceHogs.com, IceHogs app
Preview: Seventh of eight meetings; Second of three consecutive meetings against the Griffins
IceHogs at Grand Rapids Griffins
Monday, May. 3
6:00 p.m. CT
Van Andel Arena – Grand Rapids, MI
Watch Live: AHL TV, SportsFanRadio 1330 AM, Sportsfanradio1330.com, IceHogs.com, IceHogs app
Preview: Eighth of eight meetings; Season series finale