IceHogs Weekly: IceHogs Close 2021 Season with Home-and-Home Series vs. Chicago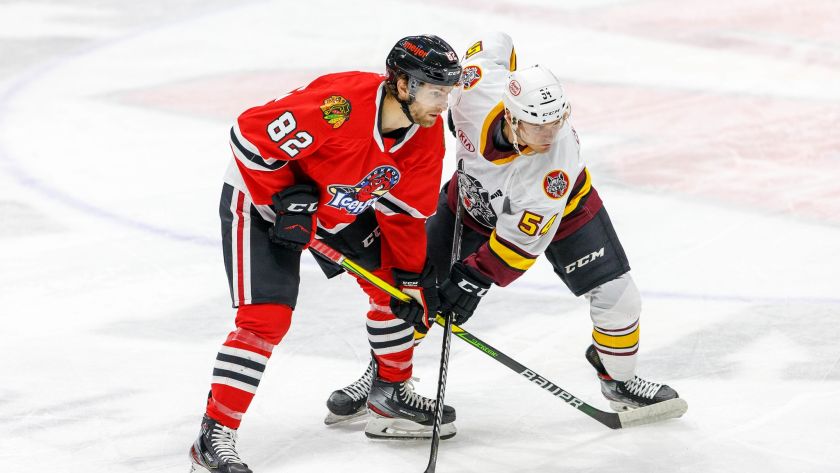 The Week That Was…
Previous Week's Record: 0-3-0-0
Friday, May 7 at Iowa
Forward Chad Yetman earned his second assist in as many games and forward Mitch Fossier buried his third goal of the season in the second period, but the Iowa Wild (14-12-4-0) skated away with a 6-1 win over the Rockford IceHogs (11-15-1-0) at Wells Fargo Arena Friday night. Recap & Highlights
Sunday, May 9 vs. Iowa
Goaltender Matt Tomkins provided 29 key saves on Mother's Day, but the Iowa Wild (15-12-4-0) caught breaks late in the first period and early in the second for a 2-0 victory over the Rockford IceHogs (11-16-1-0) at BMO Harris Bank Center Sunday afternoon. Recap & Highlights
Monday, May 10 at Chicago
Forward Brandon Pirri scored twice, defenseman Isaak Phillips added two assists and the Rockford IceHogs (11-18-1-0) nearly erased a four-goal deficit with a thrilling third-period push, but the Chicago Wolves (19-8-1-2) held on for a 6-5 victory at Triphahn Community Center Ice Arena Monday afternoon. Recap & Highlights
2020-21 Season Numbers
Record: 11-18-1-0 (6th Place, Central Division)
Home: 7-9-0-0
Away: 4-9-1-0
Last 10 Games: 4-6-0-0
Streak: 0-3-0-0
Goals: Chris Wilkie (8)
Assists: Cody Franson, Dylan McLaughlin (13)
Points: Dylan McLaughlin (20)
Penalty Minutes: Garrett Mitchell (42)
Power-Play Goals: Dylan McLaughlin, Brandon Pirri (3)
Power-Play Assists: Cody Franson (8)
Power-Play Points: Cody Franson (9)
Shorthanded Goals: Chris Wilkie (3)
Shorthanded Assists: Dylan McLaughlin (2)
Shorthanded Points: Chris Wilkie, Dylan McLaughlin (3)
Game-Winning Goals: Dylan McLaughlin (3)
Wins: Matt Tomkins (4)
GAA: Cale Morris (2.52)
SPCT: Cale Morris (.923)
League Leaders
Defenseman Cody Franson is tied for 11th among AHL defensemen with 17 points (four goals, 13 assists), tied for fourth among league blueliners with eight power-play assists, and tied for sixth with nine power-play points.
Forward Chris Wilkie is tied for first in the AHL with three shorthanded goals and tied for second with three shorthanded points.
Forward Dylan McLaughlin is tied for second in the league with two shorthanded assists and three shorthanded points (one goal, two assists).
Forward Riley McKay is tied for fourth among AHL rookies with three major penalties.
IceHogs Notes
Last Shot Wins: Hogs and Wolves Combine for 11 Goals
The IceHogs and Wolves combined for 11 goals on Monday in the 6-5 showdown in Hoffman Estates, the second-highest game goal total for the IceHogs this season and the second-most goals the IceHogs have scored in a game this year. The IceHogs and Grand Rapids Griffins combined for 13 goals on Mar. 3 at Rockford (9-3 loss) and the Hogs defeated the Iowa Wild 6-1 on Mar. 22. The win over the Wild marked the largest margin of victory for the IceHogs (five goals) since their 7-2 victory on Dec. 9, 2018 at Grand Rapids and the most goals they have scored since their 7-6 shootout loss at Texas on Nov. 23, 2019.
IceHogs and Wolves Light Up the Special Teams Scoreboard
Through nine games in the season series, the IceHogs and Wolves have combined for 16 power-play goals this season, the most between the IceHogs and any other opponent this season. Rockford is shooting at 21.1% on the man-advantage (8-for-38) against the Wolves while Chicago is 8-for-30 against the IceHogs (26.7%). The IceHogs registered season-high three power-play goal games against the Wolves on Feb. 6 at Rockford (3-for-6) and Mar. 28 at Rockford (3-for-5).
Both teams have also struck shorthanded against each other, with Chris Wilkie adding a shorthanded goal at Chicago on Feb. 9 and Rem Pitlick netting a shorthanded tally against the IceHogs in the same contest.
Pirri Continues to Add to All-Time Points Mark
With two goals on Monday at Chicago, forward Brandon Pirri continues to inch toward the IceHogs' all-time goal-scoring mark set by Jeremy Morin with 90 goals. The Toronto, Ontario, native registered his seventh and eighth goals of the season and his 75th and 76th career IceHogs markers in just seven games played with the club. Pirri is the IceHogs' all-time leading scorer with 210 points (76 goals, 134 assists) in 245 games played.
Pirri Cages Former Club
Of his eight goals this season, Pirri has scored five against his former team, the Chicago Wolves. He registered his fourth-career AHL hat trick against Chicago on Apr. 7 in Rockford in a 4-3 win and added to goals on Monday at Chicago. Overall, he has six points (five goals, one assist) in just three games played against the Wolves this season. Pirri skated with the Wolves over parts of three seasons from 2017-20 and ironically scored 13 goals and six assists for 22 points in 18 games against the IceHogs.
Phillips Registers Second Two-Point Contest
Rookie defenseman Isaak Phillips recorded his second two-point game of the season on Monday with two assists. Earlier this season, he picked up a goal and assist for two points on Feb. 23 against Cleveland in a 3-2 victory at BMO Harris Bank Center.
Lindholm Finds the Twine
Defenseman Anton Lindholm scored his first goal of the season on Monday and becomes the 24th IceHogs skater to register a goal out of 41 players (including goalies) that have appeared in a game with the IceHogs this season.
Rockford Rookies Make Their Mark
The 2021 season has featured an impressive 20 rookies out of 41 players to make an appearance in a game for the IceHogs and combined for 46 goals and 72 assists for 118 points out of the team's current total of 84 goals and 136 assists for 218 points. Forward Evan Barratt leads all IceHogs rookies with 14 points (five goals, nine assists) and rookie Chris Wilkie leads the club with eight goals.
Meijer First Goal Frenzy Continues to Rise
When the IceHogs score the first goal of each game this season, Meijer will donate $50 to Rock House Kids, a 501(c)(3) foundation helping feed Rockford's inner-city youth in a safe nurturing environment. Fans can guess who scores the first IceHogs goal of the game on the IceHogs mobile app for a chance to win a $25 gift card to Meijer. This season's donation to Rock House Kids is currently at $650! Download the App and Play!

This Week
IceHogs vs. Chicago Wolves
Welcome Back, IceHogs Season Ticket Holders
Friday, May 14
6:00 p.m. CT
BMO Harris Bank Center
Watch Live: AHL TV, SportsFanRadio 1330 AM, Sportsfanradio1330.com, IceHogs.com, IceHogs app
Preview: 10th of 11 meetings; 2-7-0-0 head-to-head record; Won last two meetings vs. Chicago in Rockford
IceHogs at Chicago Wolves
Saturday, May 15
7:00 p.m. CT
Triphahn Center Ice Arena – Hoffman Estates, IL
Watch Live: AHL TV, SportsFanRadio 1330 AM, Sportsfanradio1330.com, IceHogs.com, IceHogs app
Preview: 11 of 11 meetings; Season series finale; 0-4-0-0 at Hoffman Estates