IceHogs Weekly: IceHogs Prep for "Lovely" Valentine's Week Rivalry Showdowns vs. Chicago and Grand Rapids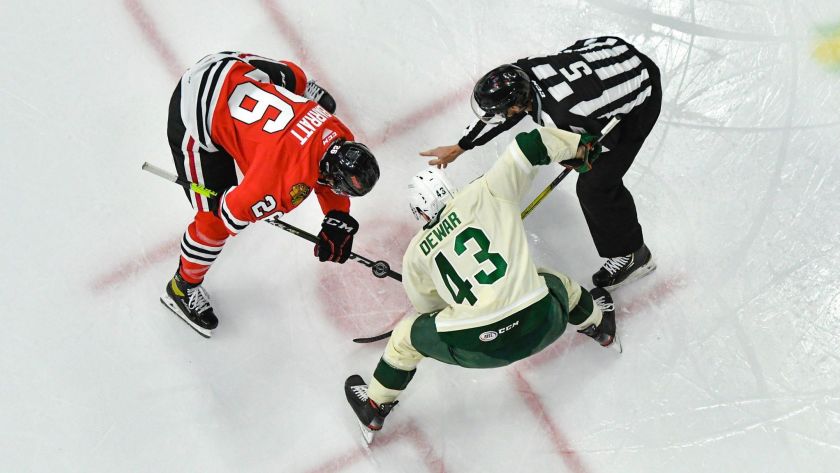 The Week That Was…
Previous Week's Record: 0-1-1-0
Tuesday, February 9 at Chicago Wolves
Forward D.J. Busdeker buried his first AHL marker and forward Chris Wilkie added his first professional goal in his pro debut, but the Rockford IceHogs fell to the Chicago Wolves 5-2 at Triphahn Ice Arena Tuesday afternoon. The contest featured 63 combined penalties and 15 power plays. Recap Highlights
Saturday, February 13 at Iowa Wild
Forward Brad Morrison netted both goals and forward Chad Yetman added two assists to help the Rockford IceHogs earn a point in a 3-2 overtime loss to the Iowa Wild at Wells Fargo Arena Saturday evening. Goaltender Matt Tomkins made 34 saves, including a fantastic penalty-shot stop in overtime. Recap Highlights
2020-21 Season Numbers
Record: 0-2-1-0 (5th Place, Central Division)
Home: 0-1-0-0
Away: 0-1-1-0
Last 10 Games: 0-2-1-0
Streak: 0-2-1-0
Goals: Brad Morrison (2)
Assists: Cody Franson (3)
Points: Cody Franson, Chad Yetman (3)
Penalty Minutes: Andrei Altybarmakyan (17)
Power-Play Goals: Wyatt Kalynuk, John Quenneville, Chad Yetman, D.J. Busdeker (1)
Power-Play Assists: Cody Franson (3)
Power-Play Points: Cody Franson (3)
Shorthanded Goals: Chris Wilkie (1)
Shorthanded Assists: Dylan McLaughlin (1)
Shorthanded Points: Chris Wilkie, Dylan McLaughlin (1)
Game-Winning Goals: N/A
Wins: N/A
GAA: Matt Tomkins (3.90)
SPCT: Matt Tomkins (.890)
League Leaders:
Defenseman Cody Franson is tied for the league lead and leads all blueliners with three power-play assists. He is tied for eighth among league defensemen with three points.
Forward Brad Morrison leads the AHL with a 100% shooting percentage (two shots, two goals).
Rookie forward Chad Yetman is tied for 10th among first-year players with three points (one goal, two assists).
Forward Andrei Altybarmakyan is third in the American Hockey League with 17 penalty minutes.
Forward John Quenneville leads the AHL with five minor penalties.
Forward Chris Wilkie is tied for the lead among rookies with one shorthanded goal.
Defenseman Dmitry Osipov is second among blueliners with 11 penalty minutes.
IceHogs Notes:
Hogs Earn Key Standings Point at Iowa
The IceHogs earned their first standings point of the 2020-21 season with a 3-2 overtime loss at Iowa on Saturday night. The Hogs look to snap a three-game season-opening winless skid and a five-game winless skid (0-3-2-0) dating back to the final two games of the 2019-20 campaign.
More Hogs Grab Their Firsts
Forward D.J. Busdeker picked up his first AHL goal and forward Chris Wilkie added his first professional goal on Tuesday at Chicago and forward Brad Morrison netted two goals in his IceHogs debut at Iowa and forward Mitch Fossier picked up his first pro point (assist) against the Wild
Morrison Adds to Meijer First Goal Frenzy Total
Forward Brad Morrison's early first-period goal on Saturday at Iowa opened the game scoring and added to the Meijer First Goal Frenzy donation! When the IceHogs score the first goal of each game this season, Meijer will donate $50 to Rock House Kids, a 501(c)(3) foundation helping feed Rockford's inner-city youth in a safe nurturing environment. Fans can guess who scores the first IceHogs goal of the game on the IceHogs mobile app for a chance to win a $25 gift card to Meijer. Download the App and Play! Meijer First Goal Frenzy Total: $100
Morrison Off to Hot Start
In his IceHogs debut, forward Brad Morrison buried two goals on two shots at Iowa on Saturday and becomes this fifth IceHogs to score in his team debut this season, joining Chad Yetman, Wyatt Kalynuk, Matej Chalupa and Chris Wilkie.
Countdown to 1,000
The 2020-21 season will feature the 1,000 IceHogs AHL contest! Through 994 games, the IceHogs hold an all-time record of 493-394-54-53.
Home Sweet Home
The IceHogs begin a four-game homestand on Tuesday as the Chicago Wolves roll into town. The homestand is tied for the longest schedule this season, matching four games from March 3-11. The IceHogs see the Wolves, Griffins and Cleveland Monsters (Feb. 22-23).
Hello Old Friend
The IceHogs battle the Chicago Wolves on Tuesday and see their in-state rivals for the third time in the first four games of the season. The Hogs and Wolves clashed in a home-and-home, season-opening series on Feb. 6 at Rockford and Feb. 9 at Hoffman Estates, with the Wolves earning wins in both games, 5-4 and 5-2.
Mitchell Closing in on 500 Pro Games
Captain Garrett Mitchell is approaching 500 professional games over his 10-year pro career. Through 491 games in the NHL, AHL, ECHL and overseas, Mitchell has 71 goals and 84 assists for 155 points.
Gagne Hits 250
Saturday's game at Iowa marked forward Gabriel Gagne's 250th professional game and 190 in the American Hockey League. In his professional career, Gagne has 64 goals and 49 assists for 113 points.
Mr. 3,000
Goaltender Matt Tomkins is six saves away from reaching 3,000 in his career. In 102 professional appearances in the AHL and ECHL, Tomkins is 46-40-7 with a 3.24 goals-against average and .903 save percentage.
This Week:
IceHogs vs. Chicago Wolves
Tuesday, Feb. 16
6:00 p.m. CT
BMO Harris Bank Center – Rockford, IL
Watch Live: AHL TV, SportsFanRadio 1330 AM, Sportsfanradio1330.com, IceHogs.com, IceHogs app
Preview: Third of 11 meetings, 0-2-0-0 head-to-head, Third meeting in first four games to open 2020-21 season
IceHogs vs. Grand Rapids Griffins
Thursday, Feb. 18
6:00 p.m. CT
BMO Harris Bank Center – Rockford, IL
Watch Live: AHL TV, SportsFanRadio 1330 AM, Sportsfanradio1330.com, IceHogs.com, IceHogs app
Preview: First of 8 meetings, 5-5-0-0 head-to-hed in 2019-10, 35-24-4-3 all-time