ICEHOGS RAISE OVER $43,000 DURING 15TH ANNUAL JERSEY AUCTION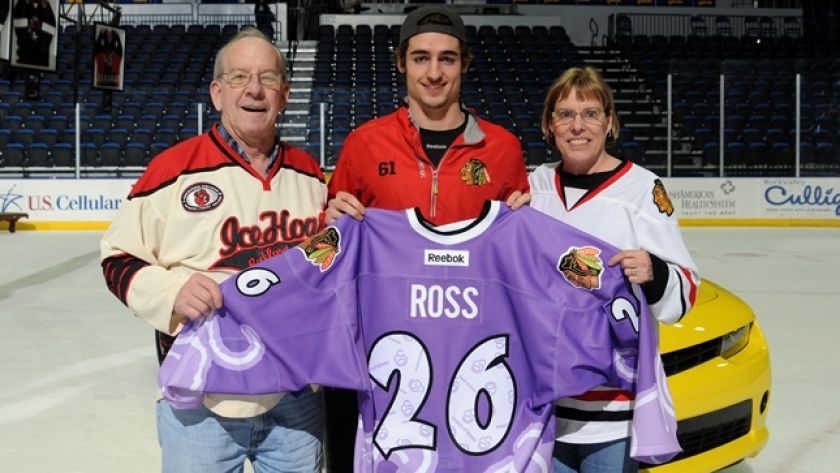 Proceeds to benefit the March of Dimes and IceHogs Charitable Foundation
Rockford, Ill.- The Rockford IceHogs hosted their 15th Annual Jersey Auction for charity on Sunday following their game against the Chicago Wolves.

The IceHogs came away with a 6-3 win over their intra-state rivals and Hogs' fans helped raise $43,795 through the team's live postgame auction, silent auction and jersey raffle during the contest. Through 15 seasons of the annual event $729,320 has been donated to local charities, dating back to the 1999-2000 season.

Proceeds from this year's auction will go to March of Dimes and the IceHogs Charitable Foundation. The IceHogs Charitable Foundation will in return, distribute the proceeds to several not-for-profit organizations in the Rock River Valley including, but not limited to, Boy Scouts, Girl Scouts, Rockford area Boys and Girls Club, Big Brothers/Big Sisters, Jr. IceHogs and others.
The following are the jerseys and the amount donated for each jersey. The jerseys are listed in the order in which they were auctioned off.
| | |
| --- | --- |
| Player | Winning Bid |
| Wade Brookbank | $1900 |
| Joakim Nordstrom | $2300 |
| Pierre-Marc Bouchard | $1700 |
| Mathieu Brisebois | $1200 |
| Joe Gleason | $1100 |
| Drew LeBlanc | $1200 |
| Phillip Danault | $1300 |
| Brett Skinner | $900 |
| David Gilbert | $1100 |
| Theo Peckham | $1900 |
| Ryan Hartman | $1600 |
| Bobby Shea | $1100 |
| Brandon Mashinter | $1900 |
| Klas Dahlbeck | $1600 |
| Garret Ross | $1300 |
| Kent Simpson | $1700 |
| Brian Connelly | $1300 |
| Pat Mullane | $1100 |
| Brad Mills | $1400 |
| Alex Broadhurst | $1400 |
| Jared Nightingale | $1800 |
| Mark McNeill | $1500 |
| Terry Broadhurst | $1600 |
| Adam Clendening | $1600 |
| Jason LaBarbera | $2250 |