WEEK 18 REPORT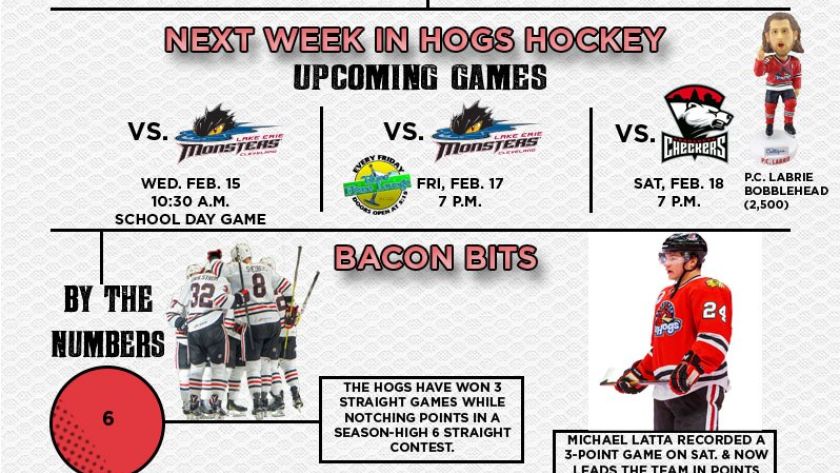 Bacon Bits:
-The Rockford IceHogs have won three straight games while notching points in a season-high six straight contests, beginning Feb. 3. The Hogs have tallied nine of 12 possible points during that stretch.

-Sam Carrick scored a goal against Milwaukee on Sunday and leads the team with 16 points (10g, 6a) over his last 24 games since Dec. 21. Carrick is also tied for eighth in the AHL in goals over that span.

-Michael Latta recorded a three-point game on Saturday (three assists) and now leads the team in points (7a) since making his IceHogs debut on Jan. 25. Latta's seven assists in that time also rank fifth among all AHL skaters.

-Jeremy Langlois has points in back-to-back games and enters the current week having notched five of his eight total points over the last eight games. Langlois has tallied 4g-1a-5pts in those eight contests.

-The Hogs tied a franchise record with five straight overtime games from Feb. 3-11. The feat matched a stretch of five consecutive OT games during the 2007-08 campaign from Nov. 30 - Dec. 8. Rockford has now played into overtime in seven of its last 10 games (beginning Jan. 22), and in a league high-tying 16 games overall (also Ontario) during the 2016-17 season.

-Brandon Mashinter provided the lone assist on Carrick's goal during Sunday's win against Milwaukee. Mashinter enters the current week with 5g-4a-9pts in 16 games since returning from injury on Jan. 8.

-Rockford has notched 30 of its 45 points on home ice this season, posting a 12-8-4-2 record in 26 games at the BMO. The IceHogs also currently rank ninth among all AHL clubs in scoring at home with 76 goals at the BMO in 2016-17.

Upcoming Home Games:

Wednesday, Feb. 15: The IceHogs welcome the Cleveland Monsters on their annual School Day game. Puck drop is 10:30 a.m. and the Hogs will be hosting anti-bullying initiatives throughout the contest. Wednesday is also a Winning Weekday and WXRX Dollar Day.

Friday, Feb. 17: Rockford hosts the Cleveland Monsters for the teams' eighth and final matchup of the 2016-17 season. Friday also features a Blues Flame Friday pregame party, presented by District Bar & Grill. Doors to the Blue Flame Lounge on the main concourse open at 5:15 p.m. for the pregame festivities, and fans 21 and older are invited to enjoy happy-hour specials, free appetizers and a live music from Friday's performers, the Hoodoo Rhythm Kings.

Saturday, Feb. 18: The Rockford IceHogs welcome the Charlotte Checkers to the BMO Harris Bank Center for their fourth and final meeting of the season. The first 2,500 fans to enter the arena will receive a Pierre-Cedric Labrie bobblehead, compliments of Rock Valley Culligan.

Bud Light Monthly Monday Hog Talk At Vintage 501:
Bud Light Hog Talk has been cancelled for February. Vintage 501 is located in downtown Rockford at 501 E. State St. Fans can join broadcaster Bob Mills and Kevin Peters from 6-7 p.m. on the first Monday of every month throughout the season as the duo chats with IceHogs players, coaches and front office members. For those unable to attend the show in-person, Monday's show will be streaming live on WXRX.com. "Bud Light Hog Talk" will also be available on IceHogs.com following the live show. Fans can access the podcast through the "Audio Highlights" link in the "Multimedia" menu.

The IceHogs Broadcasting Network:
Catch every IceHogs game, home and road, in 2016-17 on WIFR's "Justice Network" on 23.3. The games can also be viewed on Comcast Cable channel 434, Charter Cable channel 194, Dish Network channel 252 or Mediacom 102 in the Rockford market and online through AHLLive.com. Every TV broadcast will start with "IceHogs Warm Up" 30 minutes prior to puck drop. Fans can also listen to the action for free at WXRX.com and sportsfanradio1330.com. For a complete listing of TV stations carrying IceHogs games, visit IceHogs.com, and for the complete schedule of radio broadcasts, visit sportsfanradio1330.com.

Tickets On Sale for 2016-2017!
IceHogs individual game tickets can be purchased by calling (815) 968-5222 to reserve your seats for any regular season home game during the 2016-17 season. Tickets can also be purchased online at IceHogs.com, in person at the BMO Harris Bank Center Box Office in downtown Rockford or at any Ticketmaster outlet, including Walmart.