ICEHOGS 17TH ANNUAL JERSEY AUCTION RAISES NEARLY $75,000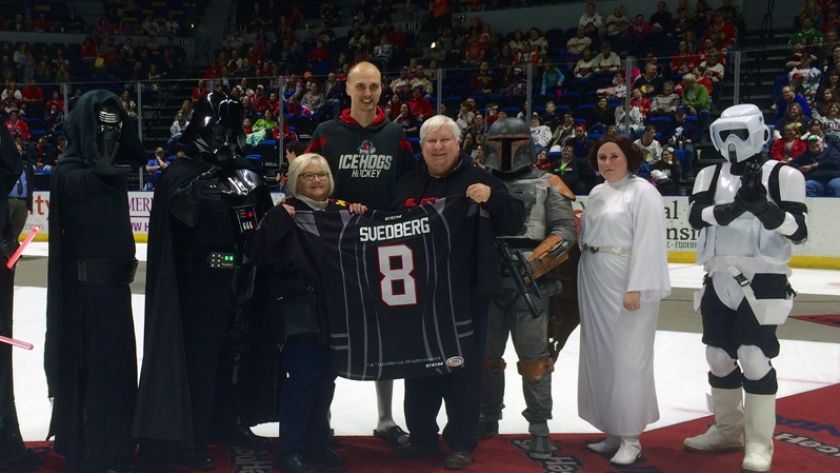 Rockford, Ill. - The American Hockey League's Rockford IceHogs hosted their 17th Annual Jersey Auction Sunday evening at the conclusion of their game with the Charlotte Checkers at the BMO Harris Bank Center and this year's auction raised $74,570 for the IceHogs Charitable Foundation.

The IceHogs topped the Checkers 2-1 in a shootout while wearing Star Wars-themed jerseys, and collected nearly $75,000 for local initiatives throughout the afternoon. The funds were raised via a live post-game jersey auction on the BMO Harris Bank Center ice surface, an in-game jersey raffle and a blind silent auction on the concourse. After 17 years of the event, the IceHogs organization has raised $883,811 for Rockford-area charities.
Fans will still have an opportunity to bid on some items from the night which include a Kyle Cumiskey jersey, design your own jersey, and goalie helmet designed by Ronnie Espig and Hellion Designs and autographed by Michael Leighton and Drew MacIntyre. Items will be available through the IceHogs e-bay page later this week.

The IceHogs will donate a portion of the funds from the 17th Annual Jersey Auction to Special Olympics - Illinois. Special Olympics is a global organization that unleashes the human spirit through the transformative power and joy of sport, every day around the world. Through programming in sports, health, education and community building, Special Olympics is changing the lives of people with intellectual disabilities solving the global injustice, isolation, intolerance and inactivity they face. Special Olympics - Illinois provides opportunities for more than 22,000 athletes, more than 20,000 Young Athletes, 45,000 volunteers and thousands more people statewide through 18 Area programs in all 102 counties of the state.

The following are the auctioned jerseys along with the amount each sold for. The jerseys are listed in the order in which they were up for auction.
| | |
| --- | --- |
| Player | $ Amount Raised |
| #2 Kirill Gotovets | $2,100 |
| #5 Cameron Schilling | $2,100 |
| #25 Jonathan Carlsson | $2,200 |
| #8 Viktor Svedberg | $3,300 |
| #16 Dane Walters | $2,300 |
| #35 Mac Carruth | $3,600 |
| #29 Ville Pokka | $3,200 |
| #28 Mark McNeill | $2,600 |
| #11 Jake Dowell | $3,600 |
| #9 David Rundblad | $2,800 |
| #4 Matt Fraser | $2,600 |
| #49 Michael Leighton | $3,000 |
| #39 Ryan Haggerty | $2,600 |
| #34 Drew MacIntyre | $2,500 |
| #7 Nolan Valleau | $2,400 |
| #14 Chris DeSousa | $2,800 |
| #23 Vince Hinostroza | $2,700 |
| #27 Kyle Baun | $2,400 |
| #17 Mike Liambas | $3,200 |
| #44 Bryan Bickell | $2,800 |
| #10 Tanner Kero | $2,500 |
| #24 Ryan Hartman | $3,000 |
| #22 Pierre-Cedric Labrie | $4,200 |
| Jersey Auction Total | $64,500 |
| Silent Auction/Jersey Raffle Total | $10,070 |
| TOTAL | $74,570 |