ZACH MISKOVIC NAMED ROCKFORD ICEHOGS� 2014-15 IOA/AMERICAN SPECIALTY AHL MAN OF THE YEAR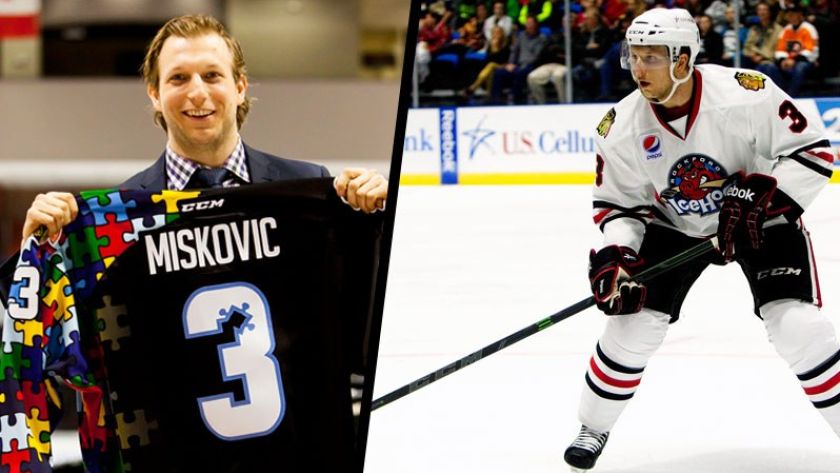 Defenseman recognized for his contributions to Rockford community this season
Rockford, Ill. - The Rockford IceHogs are proud to announce that Zach Miskovic has been named the team's winner of the IOA/American Specialty AHL Man of the Year award for his outstanding contributions to the Rockford community during the 2014-15 season.

For the majority of the 2014-15 season the IceHogs lost their team captain when Joakim Nordstrom was recalled to the Chicago Blackhawks. Not only has defenseman Zach Miskovic stepped up into a leadership role to fill a void left by Nordstrom's departure, but he has set a prime example for a young IceHogs squad on how to give back to the community in which they play.

The IceHogs are a staple in the Rockford community and make it a point for players to give back every season. Miskovic has jumped at every opportunity to represent the IceHogs in a positive light at community events and has been by far the leader on the team in terms of number of appearances throughout the season, much of which were completely voluntary. The River Forest, Ill. native stopped at local hospitals to deliver teddy bears to sick children, made several visits to area schools to read to kids, assisted with youth hockey practices, along with numerous other community events throughout the season.

Miskovic is now one of 30 finalists for the AHL's 2014-15 Yanick Dupre Memorial Award, honoring the overall IOA/American Specialty AHL Man of the Year. The league award is named after the former Hershey Bears forward and AHL All-Star who died in 1997 following a 16-month battle with leukemia. The winner of the Yanick Dupre Memorial Award will be announced by the American Hockey League later this month.