WOLVES SHUT OUT ICEHOGS 2-0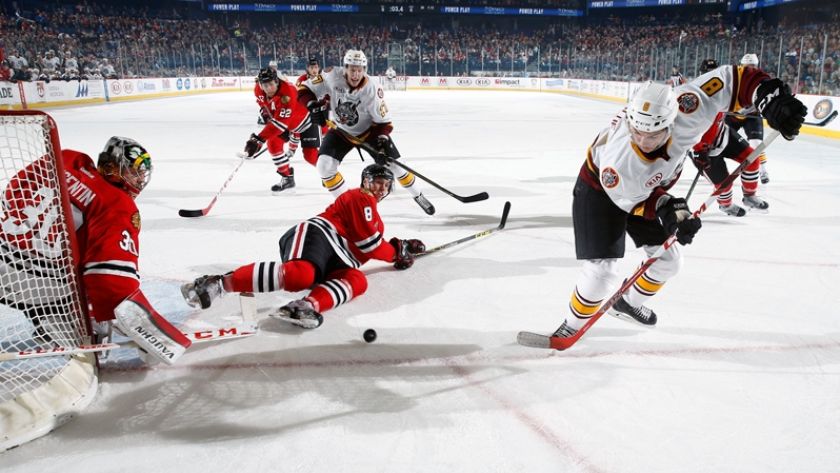 Rosemont, Ill. – Home teams continued to stay dominant in the Illinois Lottery Cup series, as the Chicago Wolves (15-13-1-2) took down the Rockford IceHogs (19-9-2-3) by a 2-0 score at the Allstate Arena. Home teams in the series are now 5-0-0-0 while road teams have gone 0-3-1-1.

Entering the third period locked in a scoreless tie, Zach O'Brien notched his second game-winner against Rockford this season when he recovered a rebound from a Chris Butler shot and popped it past Mark Visentin at 10:44 of the third.

Rockford had a golden chance to tie the game when the Wolves were whistled for back-to-back penalties, but Chicago's penalty kill came up big, denying Rockford's 5-on-3 power play chance to remain up by one.

The game was put out of reach with 55 seconds left. With Visentin on the bench in favor of an extra attacker, an errant pass in the IceHogs zone just slipped inside the post to finish the game at 2-0.

For the first time in the season series, both teams were held off the scoreboard after the first 20 minutes but it wasn't for a lack of chances. Chicago carried the play early on before the momentum shifted to the visitors.

Rockford nearly got the scoring started with two prime opportunities late in the opening frame. Defenseman Dennis Robertson fired a shot from the blueline that snuck through traffic but Jordan Binnington was able to locate it to make the stop.

Then Ryan Haggerty, who tallied twice in the previous meeting, made a power move that was denied. Marko Dano trailed Haggerty but his attempt on the rebound was stuffed by the Wolves netminder.

Rockford picked up where they left off in the second, looking to find the game's first tally. Just after the IceHogs second power play of the game, Mark McNeill found Tanner Kero in front of the net after he beat a defender. However, Kero's redirect flipped up over the cage.

Chicago's best chance of the period came with 5:47 left in the second when their leading scorer, Danny Kristo, led an odd-man rush into the IceHogs zone. Despite being the only one back, defenseman Ville Pokka dropped down to make the sliding stop before the puck reached his goaltender.

Visentin turned aside 21 of the 22 shots he faced for Rockford in the loss, while Binnington earned a 28 save shutout victory.

Next Home Game: Jan. 3 vs. Milwaukee Admirals at 4 pm. The first 2,500 in the gates will receive a pack of Rockford IceHogs trading cards compliments of the Rockford Register Star. After the game, the team will host a postgame skate where fans can skate with their favorite IceHogs on the BMO Harris Bank Center ice. Skates will not be provided.