WISE INKS AHL DEAL WITH ROCKFORD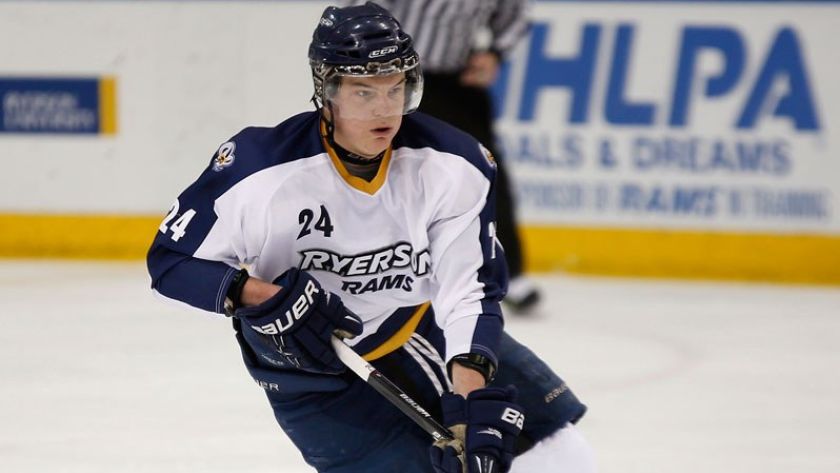 Rockford, Ill. - The Rockford IceHogs, members of the American Hockey League, announced on Monday that they have agreed to terms with left winger Jamie Wise on an AHL contract for the 2014-15 season.

The 6-0 winger most recently attended the rookie tournament with the Chicago Blackhawks in London, Ontario and appeared in all three games.

Wise, in his sophomore season with the Ryerson University Rams, was the leading scorer during the 2013-14 season. He finished with 45 points (21g- 24a) ranking third among all scorers in the country and second in the OAU. He also led all Ram scorers in power play goals (8).

The 23-year-old was named an OUA First-Team All-Star, a CIS Second-Team All-Canadian, team MVP and was a finalist for the Ryersonian Athlete of the Year Award in his second year with Ryerson.

Prior to his two year collegiate stint, Wise played 142 career games in the Ontario Hockey League with the Mississauga St. Michael's Majors and the Peterborough Petes. A native of Stouffville, Ont, he had his best offensive season in 2011-12, finishing second in team scoring with 48 points (31g-17a) in 59 games with the Majors.

Next Home Game: Saturday, Oct. 11 vs. Milwaukee Admirals. Game time is 7 p.m. The IceHogs open their 16th season at the BMO against Milwaukee and the first 5,000 fans to the game will pick up an IceHogs calendar courtesy of Stateline Staffing Services. For tickets visit IceHogs.com or call (815) 968-5222.