WINCHESTER HELPS HOGS PAST BARONS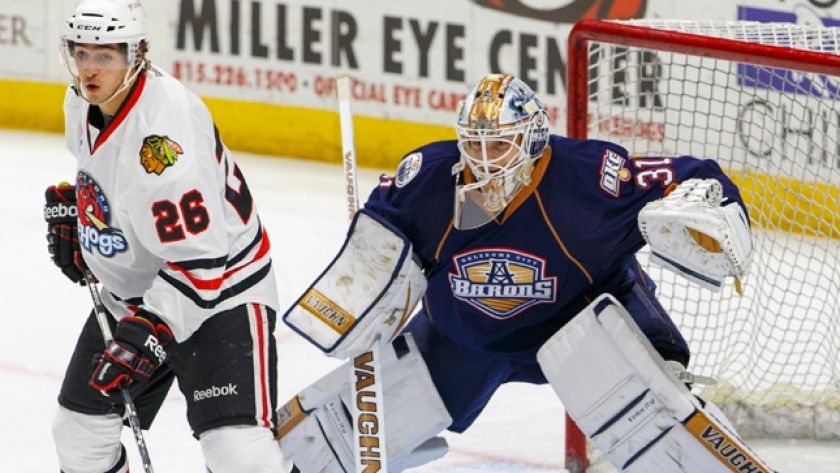 Rockford, Ill.- The game's first goal was hard to come by at the beginning of the season for the Rockford IceHogs, but the Hogs scored the first two on Friday night and never looked back, winning 4-3 against the Oklahoma City Barons at the BMO Harris Bank Center.

Tonight's tilt marked the sixth time over their last seven contests that the IceHogs have garnered the game's opening score. In that time frame, the IceHogs have lost only once in regulation and show a record of 5-1-1-0.

The IceHogs opened the scoring with their first two goals of the night just 3:13 into the game. Brandon Pirri picked up a puck behind the Barons' net and banked it off an Oklahoma City defenseman and slipped past goaltender Laurent Brossoit just 1:24 into the game. Less than two minutes later the IceHogs tallied again. Viktor Svedberg fired a shot from the blue line that Brad Winchester re-directed in and pushed the score to 2-0.

Oklahoma City answered back with a goal of their own as Martin Gernat sent a puck in on Mac Carruth and Andrew Miller slipped the rebound in with 12:19 remaining in the first to make it a 2-1 game.

The IceHogs and Barons then traded goals to closeout a high scoring opening frame. Klas Dahlbeck rifled a shot from the blueline that Garret Ross tipped to the back of the net for his seventh goal of the season with 8:15 left in the frame. Barons' Ryan Hamilton tapped a rebound from Travis Ewanyk's shot past the stick of Carruth to cut the Hogs lead to 3-2 with 4:55 left in the first.

Oklahoma City tied the game up at 3-3 to begin the second period. Kale Kessy was positioned in front of the net and deflected in a shot from Ewanyk just 3:13 into the second period to tie the game.

The IceHogs responded to regain the lead as Winchester notched his second of the game at the 11:41 mark in the frame. Winchester picked up a Svedberg pass and picked the upper left corner of the net with a shot that Brossoit couldn't stop to break the tie and give the Hogs a 4-3 lead with 8:19 left in the second period.

The Hogs penalty kill unit provided two late third period stops to secure the 4-3 win for Rockford, their fourth straight game in which they have picked up a standings point.

Carruth earned his first career AHL victory stopping 27 chances on the night.

Next Home Game: Saturday, Dec. 14 vs. Oklahoma City Barons. The Barons come back to the BMO to face the IceHogs for the second time this season, and second game of the back-to-back weekend series.