Week 8 Report: Road Hogs Messin' with Texas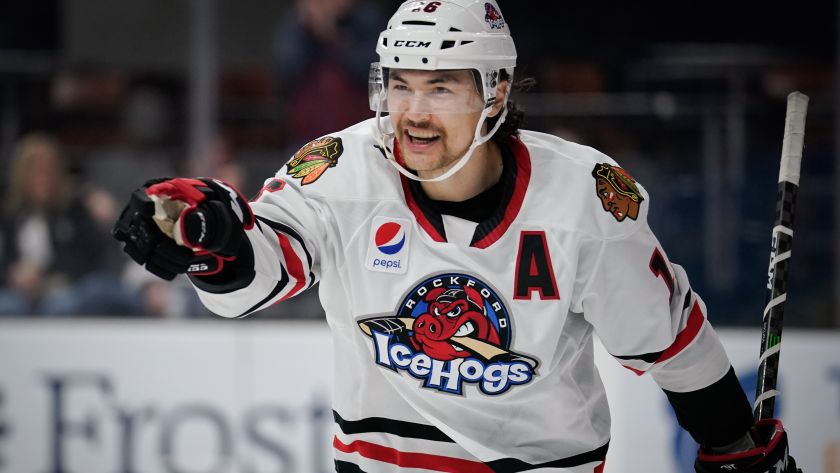 ---
BACON BITS
The IceHogs notched points in two of three games over the weekend with a shootout loss at Texas and overtime win at San Antonio. Rockford has now won seven of its last 10 games and boasts points in eight of those 10 contests dating to Oct. 30. Only Tucson (8) and Milwaukee (10) have more wins over its last 10 games than Rockford.

Rockford also notched points in back-to-back road games for the first time this season with its 1-0-0-1 record this weekend. Previously, the IceHogs went 2-4-0-0 over their first six road games of the year.

The Hogs improved to 3-0 in overtime following Sunday's 3-2 OTW at the Rampage. The IceHogs set the team's AHL record for OT wins last season with a 12-4 record in such games and are now 15-4 in OT dating to the beginning of the 2018-19 season.

Rockford enters the week with six power-play goals over its last eight games after netting a pair of power-play tallies Saturday at Texas. Six different skaters have accounted for the six power-play goals.

Tyler Sikura scored a goal in each of the two road games this weekend and has now potted six of his eight tallies in road games this season. He enters the week having scored 27 of his 38 goals with Rockford in road games.

Sikura's eight goals also exceed his entire goal production from 50 games during the 2018-19 season. His eight tallies since Oct. 19 are tied for sixth among all AHL skaters.

Matt Tomkins notched his first career AHL win streak following Sunday's overtime win against the San Antonio. The netminder has turned aside 39 of 42 pucks over those two victories. He leads all rookie goaltenders in goals against average (at least two games) over those two starts, posting a 1.52 GAA with a .929 save percentage.

Adam Boqvist posted back-to-back multi-point games last week with a career-high three points (3a) Saturday and two points (2a) Sunday. His five assists last week were tied for the league lead and he finished as the only rookie in the AHL to post five helpers over the week. Boqvist also shared the league lead among rookies with his +4 rating.
---
UPCOMING GAMES
Tuesday, Nov. 26 | Rockford at San Antonio (7 p.m.) The Rockford IceHogs cap their Texas road swing with their second consecutive matchup against the Rampage. Rockford has won each of the first two meetings of the 2019-20 series.

Friday Nov. 29 | Rockford vs Chicago (7 p.m.) The Hogs return home for Hockey Fights Cancer, benefiting SwedishAmerican Foundation. Rockford will don specialty jerseys for the contest and auction the sweaters after the game.

Saturday, Nov. 30 | Rockford vs Grand Rapids (5 p.m.) The Hogs host an early-evening showdown against the Griffins during the city's annual Stroll on State event in downtown Rockford. Fans are invited to warm up from the cold with a mitten giveaway, courtesy of BMO Harris Bank, hot chocolate bar and Hogs & Hops drink/ticket special.
---
BUD LIGHT MONTHLY MONDAY HOG TALK AT SKYBOX
Bud Light Hog Talk returns Monday, Dec. 2 at Skybox. The new venue is located inside the Indoor Sports Center at Mercyhealth Sportscore Two at 8800 E Riverside Blvd, Loves Park. Fans can join broadcaster Joseph Zakrzewski from 6-7 p.m. once per month throughout the season as he chats with IceHogs players, coaches and front office members. For those unable to attend the show in-person, the show will be streaming live on IceHogs.com. "Bud Light Hog Talk" will also be available on www.icehogs.com following the live show. The expected guests will be announced at a later date.
---
ICEHOGS BROADCASTING NETWORK
Catch the IceHogs this season on WIFR's 23.2 Antenna TV. The games can also be viewed on Comcast Cable channel 434, Charter Cable channel 194, Dish Network channel 252 or Mediacom 102 in the Rockford market and online through watchtheAHL.com. Each TV broadcast will start with "IceHogs Warm Up" 30 minutes prior to puck drop. Fans can also listen to the action for free at sportsfanradio1330.com, facebook.com/rockfordicehogs and IceHogs.com. For a complete listing of TV stations carrying IceHogs games, visit IceHogs.com, and for the complete schedule of radio broadcasts, visit sportsfanradio1330.com.
---
TICKETS ON SALE FOR 2019-20!
IceHogs individual game tickets can be purchased by calling (815) 968-5222 to reserve your seats for any regular season home game during the 2019-20 season. Tickets can also be purchased online at IceHogs.com, in person at the BMO Harris Bank Center Box Office in downtown Rockford or at any Ticketmaster outlet, including Walmart.