WEEK 8 RECAP: MIDWEST DIVISION RACE TIGHTENS UP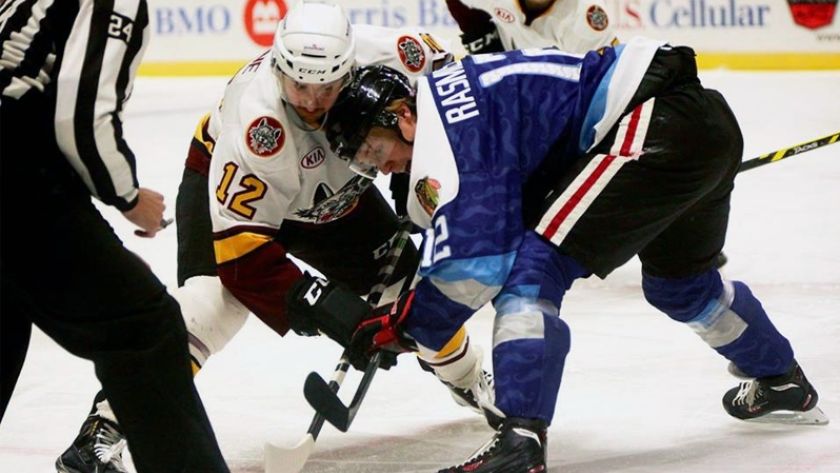 IceHogs take three of six points, but drop pair to Chicago to finish Week 8

Week 8 Recap:
An intense divisional race heated up further in Week 8, as the IceHogs took only one of four points from a home-and-home series with the Chicago Wolves, who were able to nip at the heels of Rockford's lead in the Midwest. The IceHogs started the week with a convincing 6-1 home win over Iowa on Wednesday, before falling to the Wolves 4-3 in overtime at the BMO on Friday and 2-1 on Saturday on the road. Rockford now only sits three points ahead of Chicago in the divisional standings.
Week 8 Results:
Wednesday, Nov. 26, Iowa 1 vs. Rockford 6
Friday, Nov. 28, Chicago 4 vs. Rockford 3 (OT)
Saturday, Nov. 29, Rockford 1 at Chicago 2

Week 9 Schedule:
Thursday, Dec. 4, at Milwaukee, 7 p.m.
Saturday, Dec. 6, vs. Grand Rapids, 7 p.m.
Sunday, Dec. 7, vs. Lake Erie, 4 p.m.

Bacon Bits:
-Rockford had their six-game point streak (5-0-1-0) snapped on Saturday in Rosemont against the Wolves

-In a pair of Midwest Division home-and-home series (Chicago this week and Milwaukee in Week 6), the IceHogs show a 0-3-1-0 record

-In Saturday's loss, the IceHogs had their penalty kill streak come to an end at 21-straight kills, dating back to the first period of their victory over Iowa on Nov. 21

-The IceHogs have allowed a power play goal in just six of their first 22 games, but have allowed multiple power play tallies in four of those six outings

-Wednesday's game against the Wild set season-highs in penalty minutes both for the IceHogs (69) and combined (125)

-A total of six fighting majors and six 10-minute misconducts were issued in the game

-Rockford fired a season-high 49 shots on Iowa goaltender John Curry during the 6-1 victory

-Goalie Michael Leighton returned from injury on Saturday and stopped a season-high 39 shots in a 2-1 loss to the Chicago Wolves

-After registering just one point (a goal) in his first eight games, defenseman T.J. Brennan has a point in 12 of his last 14 games going back to 10/31/14

-During the 14 game stretch, Brennan has totaled 3g-13a-16pts and now ranks tied for third in scoring among all AHL d-men

-Defenseman Ville Pokka recorded a point in all three games in Week 8, totaling 3g-1a-4pts and he now leads all Rockford blueliners with five goals

-Rockford is 7-2-0-1 this season when their opponents score first, a .750 winning percentage
In the AHL this season, the team that scores first wins .708 of the time

-Rockford tied a team record with nine wins in November as the club went 9-3-1-0

-November was tied for the busiest month of the season for the IceHogs, along with December when they play 13 games

-Forward Jamie Wise scored a goal in his AHL debut for Rockford on Friday

-Fellow Indy Fuel recall defenseman Dillon Fournier also picked up his first AHL point on Friday with an assist

-The IceHogs scored four third period goals on Wednesday and are now outscoring their opponents 29-14 in the final frame of regulation

-Rockford has been outshot 217-204 in the third period

Hot Hog: Week 8
Ville Pokka Defenseman (3g-1a)

Rookie defenseman Ville Pokka recorded a point in all three of Rockford's games in Week 8. Pokka began the week by bagging his first career two-goal game as he helped lead the IceHogs to a 6-3 win over the Iowa Wild. On Friday, Pokka marked an assist in Rockford's overtime loss to the Wolves before tallying the Hogs lone goal in a 2-1 defeat in Chicago. Overall this season, Pokka leads all Rockford defenseman with five goals and has 5g-4a-9pts with a +3.

Upcoming Games:
Thursday, Dec. 4, at Milwaukee Admirals: Game begins at 7 p.m. Rockford looks to make it two wins in a row against their Midwest Division rivals as they make their second of six treks to the BMO Harris Bradley Center to take on the Admirals. The IceHogs' last trip to Milwaukee ended with a 2-1 loss on Nov. 15.

Saturday, Dec. 6, vs. Grand Rapids Griffins: Face off is set for 7 p.m. Bring a new or gently used stuffed animal to Saturday's contest for Teddy Bear Toss Night as the IceHogs host the Griffins. All the furry critters can be thrown onto the ice after the IceHogs score their first goal of the game. The stuffed animals will then be collected and donated to local hospitals and charities.

Sunday, Dec. 7, vs. Lake Erie Monsters: Game starts at 4 p.m. The IceHogs celebrate their four-legged friends as they host Lake Erie in a matinee for Pucks and Paws Night at the BMO. Local animal shelters will be on hand, so fans can visit with pets up for adoption, as well as take home treats for their furry companions back at home.

Bud Light Hog Talk Monday Night At Mulligan's and Grill:
Bud Light Hog Talk is back on Monday, Dec. 1 at Mulligan's Pub and Grill from 6-7 p.m. Mulligan's is located on North Main St. Fans can join Mike Peck or TJ Hogan from 6-7 p.m. on most Mondays throughout the season, as they chat with IceHogs players, coaches and front office members. This week's guests will include IceHogs forward Peter Regin and Associate Coach Mark Osiecki. Take advantage of food and Bud Light specials at Mulligan's. The show will be re-aired on Tuesdays from 7-8 p.m. on WIFR's 23.2 "Antenna TV."

The IceHogs Broadcasting Network:
Catch every IceHogs game, home and road, in 2014-15 on WIFR's 23.2, "Antenna TV." The games can also be viewed on Comcast Cable channel 436, Charter Cable channel 193 or Mediacom 101 in the Rockford market and online through AHLlive.com. Fans can listen to the action for free on AHLlive.com. For a complete listing of TV stations carrying IceHogs games, visit IceHogs.com. Every broadcast will start with the IceHogs Warmup 30 minutes prior to puck drop.

Tickets On Sale for 2014-2015!
IceHogs individual game tickets are now on sale! Call (815) 968-5222 to reserve your seats for any IceHogs regular season game during the 2014-15 season. Tickets can also be purchased online at IceHogs.com, in person at the BMO Harris Bank Center Box Office in downtown Rockford, or any Ticketmaster outlet, includating Walmart.