WEEK 8 RECAP - ICEHOGS PICK UP TWO VICTORIES, FALL IN ROAD TRIP OPENER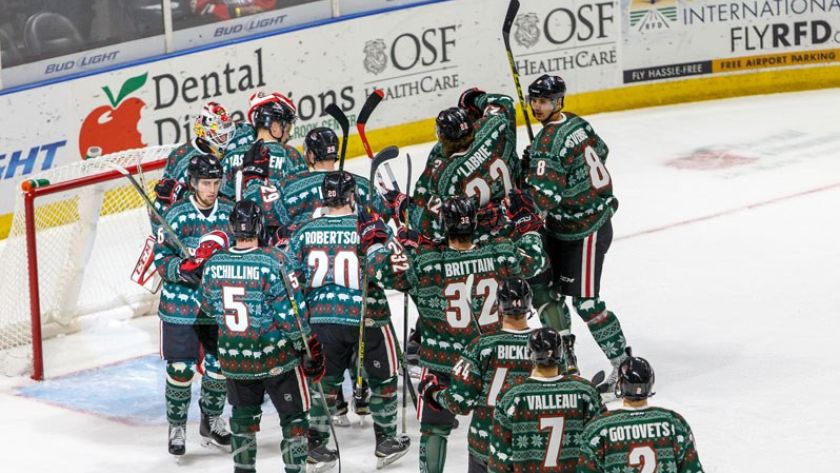 Week 8 Recap:

The Rockford IceHogs started the holiday season off right with a pair of wins bookending Thanksgiving. Rockford picked up its first overtime victory of the season versus the San Antonio Rampage on Wednesday at the BMO Harris Bank Center before dominating the Chicago Wolves in a penalty-fueled matchup. The IceHogs began a five-game road swing in Milwaukee on Saturday, and fell 2-1 to the Admirals. The team swings south for the next four games, with a pair against both Texas and San Antonio upcoming.

Week 8 Results:

Wednesday, November 25: San Antonio 2 vs. Rockford 3 (OT)
Friday, November 27: Chicago 1 vs. Rockford 3
Saturday, November 28: Rockford 1 at Milwaukee 2

Week 9 Schedule:

Wednesday, December 2 at Texas, 7:30 p.m.
Friday, December 4 at San Antonio, 7:30 p.m.
Sunday, December 6 at San Antonio, 4 p.m.

Bacon Bits:

-The IceHogs pushed their winning streak at home to three games with Friday's 3-1 victory over Chicago
-With the win, the Hogs have also picked up points (6-0-1-1) in eight straight games on home ice
-Rockford's penalty kill unit stayed perfect this week, killing off all six chances against over three games
-The PK unit has now killed off 25 straight penalties dating back to Nov. 13 when they surrendered a power-play goal in the second period to the Iowa Wild
-With two wins this week, goaltender Michael Leighton extended his winning streak to three games.
-Leighton is unbeaten in regulation over his last seven starts (6-0-0-1) at the BMO Harris Bank Center
-The netminder is tied for first in wins (11), third in minutes (864:41) and saves (384), and ninth in goals against average (2.15) among all AHL goaltenders
-Defenseman Erik Gustafsson notched the game-winning goal in overtime on Wednesday to record his first career AHL goal
-Gustafsson picked up points in all three games during Week 8 to extend his personal point streak to four games (1g-3a)
-Points in all three games during the week gives Dennis Rasmussen a three-game point streak (2g-2a)
-Rockford's 2-1 loss to Milwaukee Saturday marked the team's third-straight loss on the road with two coming against the Admirals
-The loss was only the second time Rockford has been defeated in regulation by a Central Division opponent
-The Admirals held the Hogs to just two shots during the second period on Saturday which is a season-low
-Prior to Saturday's loss, the IceHogs had won three straight games which matched a season-long that has been achieved on three separate occasions
-The IceHogs held their opponents to a season-low four shots on goal in a period three different times this past week
-The IceHogs and Wolves racked up a season-high 102 penalty minutes in a game that featured four separate fighting incidents
-Rockford's 30 penalty minutes from Friday's contest were a season-high

Hot Hog: Week 8

Erik Gustafsson Defenseman (3GP, 1G, 2A, 3PTS)

Defenseman Erik Gustafsson more than doubled his season point output in Rockford's three games in Week 8. The first year d-man came up clutch on Wednesday with his first career AHL goal coming 3:52 into overtime to give the IceHogs a 3-2 victory over San Antonio. Gustafsson followed it up with assists in each of Rockford's two games over the weekend to extend his personal point streak to four games (1g-3a).



Upcoming Games:

Wednesday, December 2 at Texas Stars: Game starts at 7:30 p.m. The IceHogs continue their road swing in Texas. Rockford dropped both each of its first two home games to the Stars, who are 12-8-0-1 on the year. The IceHogs are 15-11-3-1 all-time versus the Stars.

Friday, December 4 at San Antonio Rampage: Face-off is at 7:30 p.m. The IceHogs play the Rampage for the second time this year after taking a 3-2 overtime victory last week on Thanksgiving Eve. It will be the first of a weekend set in San Antonio for Rockford, who are 24-14-0-3 all-time against the Rampage.

Sunday, December 6 at San Antonio Rampage: Puck drop is at 4 p.m. The IceHogs face the Ramapge for the second time in three nights in the fourth game of their road trip. The two teams won't meet again until April 1, when San Antonio will visit Rockford at the BMO Harris Bank Center.

Bud Light Monthly Monday Hog Talk At Vintage 501:

Bud Light Hog Talk returns on Monday, November 30 at Vintage 501 from 6-7 p.m. Vintage 501 is located in downtown Rockford at 501 E. State St. Fans can join Bob Mills or Kyle Stuetzel from 6-7 p.m. on the last Monday of every month throughout the season. This month, they will chat with Ted Dent, Cameron Schilling, and Erik Gustafsson. Take advantage of food and Bud Light specials at Vintage 501. The show will be re-aired on Tuesdays on WIFR's "Justice Network" on 23.3 from 6-7 p.m.

The IceHogs Broadcasting Network:

Catch every IceHogs game, home and road, in 2015-16 on WIFR's "Justice Network" on 23.3. The games can also be viewed on Comcast Cable channel 434, Charter Cable channel 194 or Mediacom 102 in the Rockford market and online through AHLLive.com. Every broadcast on WIFR will start with "IceHogs Warm Up" 30 minutes prior to puck drop. Fans can also listen to the action for free at WXRX.com. For a complete listing of TV stations carrying IceHogs games, visit IceHogs.com.

Tickets on Sale for 2015-16!

IceHogs individual game tickets are now on sale! Call (815) 968-5222 to reserve your seats for any IceHogs regular season game during the 2015-16 season. Tickets can also be purchased online at IceHogs.com, in person at the BMO Harris Bank Center Box Office in downtown Rockford, or any Ticketmaster outlet, including Walmart.