WEEK 6 RECAP - ICEHOGS EXTEND POINT STREAK TO TEN GAMES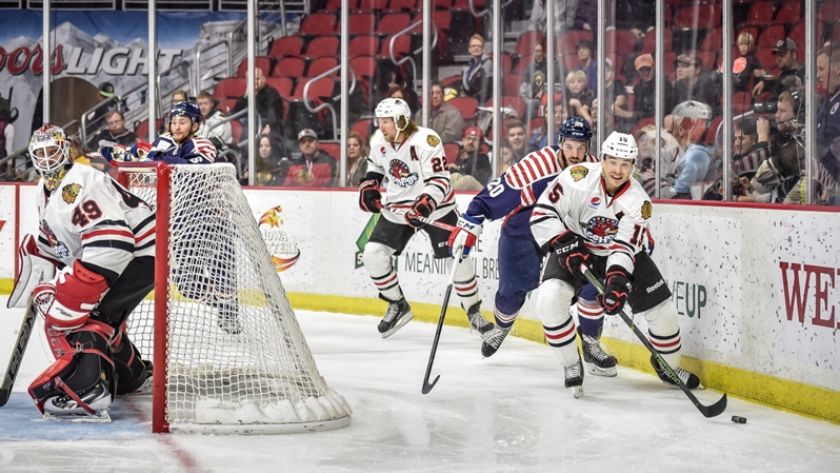 Week 6 Recap:

Entering the week on an eight-game point streak, the Rockford IceHogs earned back-to-back wins over the Iowa Wild in Des Moines to improve to 9-3-1-1 overall. The IceHogs ten-game unbeaten stretch (8-0-1-1) is the longest since Rockford picked up points in 11 consecutive games from 2/1/14 to 2/28/14. The IceHogs still have not lost in regulation to a divisional opponent, as each of their last 10 games has come against a Central Division team.

Week 6 Results:

Friday, November 13: Rockford 5 at Iowa 2
Saturday, November 14: Rockford 4 at Iowa 3

Week 7 Schedule:

Wednesday, November 18 at Grand Rapids, 6 p.m
Friday, November 20 at Milwaukee, 7 p.m.
Sunday, November 22 vs. Lake Erie, 4 p.m.

Bacon Bits:

-The IceHogs are one of the hottest teams in the AHL; they have won eight of their last 10 contests and are one of two teams (Wilkes-Barre/Scranton) currently riding a 10-game unbeaten streak (8-0-1-1)
-The 10-game unbeaten streak is the longest since the IceHogs picked up points in 11 consecutive games from 2/1/14 through 2/28/14
-Five of Rockford's eight wins during the hot stretch have come against the Wild
-The IceHogs have not trailed by more than one goal in the last ten games
-Michael Leighton is unbeaten in regulation over his last eight starts with a 1.72 goals against average and .939 save percentage, and ranks tied for first in the AHL with eight wins
-Leighton has won five of his six road starts this season, allowing only ten goals in his victories
-The goaltender notched his 200th career AHL win with his victory over Iowa on Friday, making him only the 13th player ever to do so.
-With the two weekend wins, Rockford now holds a 6-1-0-0 record away from the BMO Harris Bank Center
-The IceHogs current five-game road win streak is the longest active streak in the AHL and tied for the longest this season (Toronto, 10/25-11/07)
-Bryan Bickell has scored a point in four-straight games (3g-5a), dating back to his season debut for the IceHogs on Nov. 6 when he scored a goal in Grand Rapids
-In only four games with the team, the winger sits tied for second place overall on the team with eight points
-Seven of Bickell's eight points have come on the road
-Ville Pokka has also earned points in four-straight games (2g-4a) dating back to the IceHogs 4-1 win over the Griffins on Nov. 6
-Pokka leads the team in points (10) and is tied for eighth in the AHL among defensemen
-The defenseman has nine points during the team's 10-game point streak (2g-7a)
-Nolan Valleau has five points in his last six games (1g-4a)
-The defenseman picked up his first career professional two-point game on Saturday (2a)
-Ryan Hartman saw his six-game point (5g-3a) streak snapped on Saturday in Des Moines
-Rockford has only given up 17 goals over the last 10 contests, good for 1.7 goals against per game
-The IceHogs are outscoring opponents 23-10 in their six road wins this season
-The IceHogs 5-2 win over Iowa on Friday was the first time the team has scored more than four goals in a game all season

Hot Hog: Week 6

Bryan Bickell Left Wing (2GP, 2G, 4A, 6PTS, +5, 2 PIM)

Bryan Bickell has dominated thus far with the IceHogs, picking up points in every game he has played with the team. The left winger picked up back-to-back three-point games on the weekend, scoring the game-winning goal over Iowa on Friday before adding another goal and two assists on Saturday in the IceHogs 4-3 win. In only four games, Bickell has amassed three goals and five assists, vaulting him into a tie for second place overall in individual scoring for Rockford.

Upcoming Games:

Wednesday, November 18 at Grand Rapids Griffins: Game starts at 6 p.m. The IceHogs take on their division rival in Grand Rapids for the second time this season. Rockford picked up a 4-1 victory over the Griffins in the only meeting between the two teams this season.

Friday, November 20 at Milwaukee Admirals: Face-off is at 7 p.m. The IceHogs play the Admirals for the third time this year after taking a 4-2 decision in Milwaukee on Oct. 24 and losing an overtime contest in Rockford by a 3-2 score on Nov. 7.

Sunday, November 22 vs. Lake Erie Monsters: Puck drop is at 4 p.m. The IceHogs face Lake Erie for the first time all season on Stanley Cup Night at the BMO Harris Bank Center. Rockford will celebrate its alumni and the Stanley Cup Champion Chicago Blackhawks by displaying the Cup for fans in attendance. Hub Printing will give away 2,500 posters celebrating the Blackhawks championships.

Bud Light Monthly Monday Hog Talk At Vintage 501:

Bud Light Hog Talk returns on Monday, November 30 at Vintage 501 from 6-7 p.m. Vintage 501 is located in downtown Rockford at 501 E. State St. Fans can join Bob Mills or Kyle Stuetzel from 6-7 p.m. on the last Monday of every month throughout the season as they chat with IceHogs players, coaches, and front office members. Take advantage of food and Bud Light specials at Vintage 501. The show will be re-aired on Tuesdays on WIFR's "Justice Network" on 23.3 from 6-7 p.m.

The IceHogs Broadcasting Network:

Catch every IceHogs game, home and road, in 2015-16 on WIFR's "Justice Network" on 23.3. The games can also be viewed on Comcast Cable channel 434, Charter Cable channel 194 or Mediacom 102 in the Rockford market and online through AHLLive.com. Every broadcast on WIFR will start with "IceHogs Warm Up" 30 minutes prior to puck drop. Fans can also listen to the action for free at WXRX.com. For a complete listing of TV stations carrying IceHogs games, visit IceHogs.com.

Tickets on Sale for 2015-16!

IceHogs individual game tickets are now on sale! Call (815) 968-5222 to reserve your seats for any IceHogs regular season game during the 2015-16 season. Tickets can also be purchased online at IceHogs.com, in person at the BMO Harris Bank Center Box Office in downtown Rockford, or any Ticketmaster outlet, including Walmart.