Week 5 Report: Hogs Complete Perfect Week With Three Straight Comebacks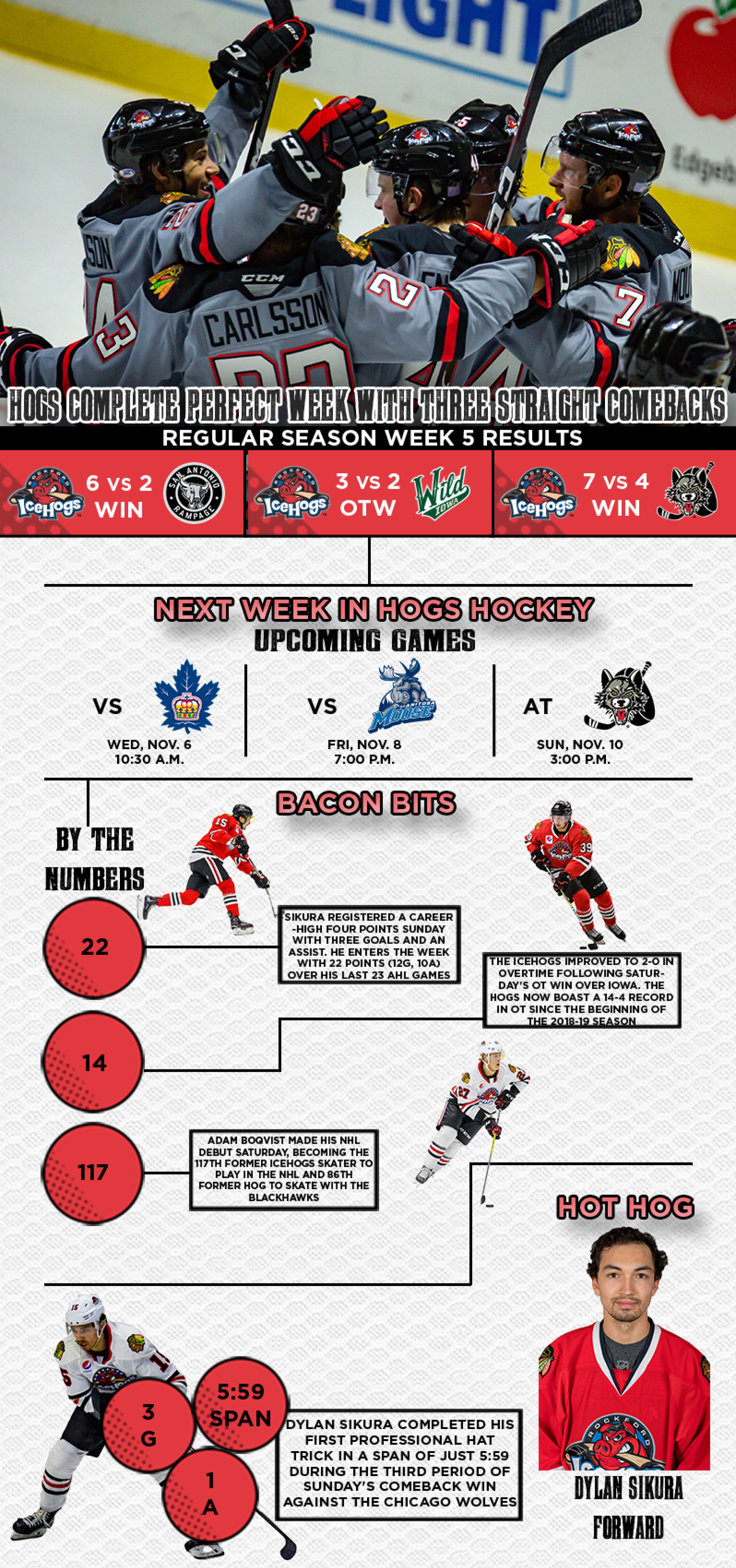 ---
BACON BITS
The Rockford IceHogs trailed in each of their three games last week before ultimately mounting a comeback to sweep their schedule against divisional opponents San Antonio (trailed 1-0), Iowa (trailed 2-0) and Chicago (trailed 3-0). Rockford has now won three consecutive games and five of its last seven contests dating to Oct. 18.
Rockford extended its home winning streak to four games and is now one of only two teams in the Western Conference to enter the week with an active four-game win streak at home (also San Antonio). Rockford has scored 3+ goals in four straight home games and its 22 total goals at home are the most of any team in the Western Conference.
The IceHogs improved to 2-0 in overtime games following Saturday's OT win over Iowa. With the win, the Hogs boast a 14-4 record in OT since the beginning of the 2018-19 season.
Adam Boqvist made his NHL debut Saturday against the Los Angeles Kings, becoming the 117th former IceHogs skater to play in the NHL and 86th former Hog to skate with the Blackhawks. He scored his first NHL goal in his second NHL game Sunday to rank as the third-youngest defenseman in Blackhawks history to score a regular-season goal: Harold Jackson (18 years, 173 days) Steve McCarthy (18 years, 245 days), Boqvist (19 years, 80 days).
Dylan Sikura completed his first pro hat trick in a span of just 5:59 during the third period of Sunday's comeback win against Chicago. He is the first Hogs skater with a hat trick since Jacob Nilsson last season on Jan. 6 vs. Iowa and first to accomplish the feat in a single period since Phillip Danault in 2014-15 (3rd period, Feb. 28 at Texas Stars).
Sikura registered a career-high four points Sunday with three goals and an assist. He enters the week with 22 points (12g, 10a) and a +7 rating over his last 23 AHL games with Rockford dating to last season.
After beginning the season 0-for-28 on the power play, the IceHogs have gone 3-for-14 (21.4%) on the PP over the last three games.
Matthew Highmore has a season-high three-game point streak and five total points (1g, 4a) during that stretch.
---
UPCOMING GAMES
Wednesday, Nov. 6 | Rockford vs. Toronto (10:30 a.m.) The Rockford IceHogs host their annual School Day Game at the BMO. The contest will feature a spelling bee on the video board with Hogs players and clips of the team telling stories of their favorite memories from their school days.

Friday, Nov. 8 | Rockford vs. Manitoba (7 p.m.) The IceHogs take on Manitoba on $2 beer night at the BMO. Budweiser and Bud Light beer will be available for just $2 at most concessions on the concourse.

Sunday, Nov. 10 | Rockford at Chicago (3 p.m.) Rockford caps the week with an Illinois Lottery Cup series showdown in Rosemont. The IceHogs have won each of the first three games of the series for the first time in team history.
---
BUD LIGHT MONTHLY MONDAY HOG TALK AT SKYBOX
Bud Light Hog Talk returns Tuesday, Nov. 12 at Skybox. The new venue is located inside the Indoor Sports Center at Mercyhealth Sportscore Two at 8800 E Riverside Blvd, Loves Park. Fans can join broadcaster Joseph Zakrzewski from 6-7 p.m. once per month throughout the season as he chats with IceHogs players, coaches and front office members. For those unable to attend the show in-person, the show will be streaming live on IceHogs.com. "Bud Light Hog Talk" will also be available on www.icehogs.com following the live show. The expected guests are Dylan and Tyler Sikura.
---
ICEHOGS BROADCASTING NETWORK
Catch the IceHogs this season on WIFR's 23.2 Antenna TV. The games can also be viewed on Comcast Cable channel 434, Charter Cable channel 194, Dish Network channel 252 or Mediacom 102 in the Rockford market and online through watchtheAHL.com. Each TV broadcast will start with "IceHogs Warm Up" 30 minutes prior to puck drop. Fans can also listen to the action for free at sportsfanradio1330.com, facebook.com/rockfordicehogs and IceHogs.com. For a complete listing of TV stations carrying IceHogs games, visit IceHogs.com, and for the complete schedule of radio broadcasts, visit sportsfanradio1330.com.
---
TICKETS ON SALE FOR 2019-20!
IceHogs individual game tickets can be purchased by calling (815) 968-5222 to reserve your seats for any regular season home game during the 2019-20 season. Tickets can also be purchased online at IceHogs.com, in person at the BMO Harris Bank Center Box Office in downtown Rockford or at any Ticketmaster outlet, including Walmart.