WEEK 4 RECAP: ROCKFORD FALLS IN THREE GAMES ON THE ROAD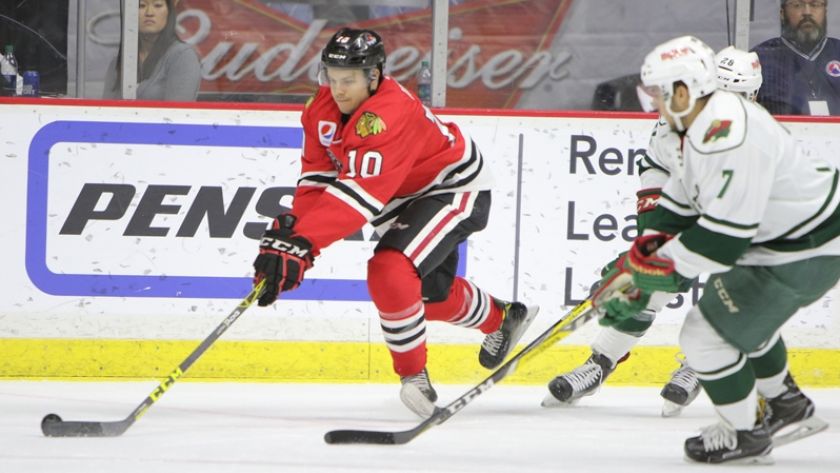 Week 4 Results:
Wednesday, November 2, Rockford 0 at Charlotte 4
Thursday, November 3, Rockford 1 at Charlotte 2
Sunday, November 6, Rockford 1 at Iowa 2, OT

Week 5 Schedule:
Friday, November 11 at Grand Rapids, 6 p.m.
Saturday, November 12 vs. Charlotte, 7 p.m.
Sunday, November 13 vs. Ontario, 4 p.m.

Week 4 Recap:
The IceHogs fell in Charlotte and Iowa this week in their first three contests of a four-game road swing that wraps up on Friday in Grand Rapids. Rockford lost to the Charlotte Checkers 4-0 and 2-1 in back-to-back midweek match ups at the Bojangles' Coliseum. The IceHogs then travelled to Des Moines, Iowa to face to the Iowa Wild for the first time of the 2016-17 campaign, forced overtime with a late goal and fell 2-1 Sunday evening.

Bacon Bits:
- Defenseman Cameron Schilling skated in his 300th career professional game on Sunday against the Wild
- Schilling is one of only five densemen in the AHL with a shorthanded goal. He's tallied three goals so far this season for the IceHogs
- The IceHogs secured two goals in the three games, both scored by Schilling
- Spencer Abbott and Mark McNeill remain tied at the top of the leaderboard for the IceHogs, each with eight points
- Abbott and McNeill both assisted Schilling's goal on Sunday against the Wild
- Defenseman Erik Gustafsson ranks fourth in the AHL and second among defenseman in the league with 37 shots so far in the 2016-17 campaign
- Lars Johansson leads the AHL in goaltending minutes with 495:36
- In their first two games in Charlotte, the IceHogs totalled 31 shots. In Sunday's contest, Rockford totalled 50 shots
- Prior to Sunday's contest, the IceHogs went 188:01 minutes without an even-strength goal on the road
- Each of the IceHogs last three goals on the road have been scored by a defenseman
- An IceHogs forward has not scored in 203:12 minutes dating back to Spencer Abbott's strike at 16:48 of the second period against Milwaukee on Oct. 30
- The IceHogs 50 shots in Sunday's contest was the most shots in a game so far this season by Rockford
- Rockford ends Week 4 ranked seventh in the Central Division with four wins, six losses and one overtime loss
- The IceHogs will finish their road game streak on Friday in Grand Rapids before returning home when they host the Charlotte Checkers on Saturday and the Ontario Reign on Sunday

Week 4 Hot Hog:
Cameron Schilling Defenseman (3GP, 2G, 2pts, +1)

Defenseman Cameron Schilling led the team in their three-game road swing notching the IceHogs only two goals of their three contests. Following Sunday's tilt against the Iowa Wild, Schilling earned his 300th career professional game. He is currently tied for sixth on the IceHogs leaderboard with four points (3G-1A). The 27-year-old Carmel, Indiana native found the back of the net Thursday night at the Bojangles' Coliseum to tie the IceHogs and Checkers up after one period of play, however the Checkers came back in the final frame to secure a 2-1 victory. Out of Rockford's 50 shots against the Iowa Wild in Sunday's contest, Schilling's was the only to get past Steve Michalek and get on the scoreboard for the IceHogs.

Upcoming Games:
Friday, November 11 at Grand Rapids: Game starts at 6 p.m. The IceHogs travel to Grand Rapids, Mich. to finish up a four-game road swing and start another three-in-three series.
Saturday, November 12 vs. Charlotte Checkers: Face-off is set for 7 p.m. Rockford faces the Checkers in the third of four season meetings. Charlotte makes their first visit to the BMO Harris Bank Center on Nov. 12 and takes on the IceHogs for the fourth and final time on Feb. 18. It's Brovember Night at the BMO in support of local prostate cancer research and education.

Sunday, November 13 vs. Ontario Reign: Puck drop is scheduled for 4 p.m. at the BMO Harris Bank Center. Rockford hosts the Regin for the first of two match ups of the 2016-17 season. Fans are invited for a postgame skate following the contest, however players will not be present.

Bud Light Monthly Monday Hog Talk at Vintage 501:
Bud Light Hog Talk's second segment at Vintage 501 will be on Nov. 7 from 6-7 p.m. The second show will feature forwards Spencer Abbott and Sam Carrick, along with head coach Ted Dent. Vintage 501 is located in downtown Rockford at 501 E. State St. Fans can join Bob Mills and Kevin Peters from 6-7 p.m. on the first Monday of every month throughout the season as they chat with IceHogs players, coaches, and front office members. Take advantage of food and Bud Light specials at Vintage 501. For those unable to attend the show in person, Monday's show will be available streaming live on WXRX.com. "Bud Light Hog Talk" will also be available on www.icehogs.com following the live show. Fans can access the podcast through the "Audio Highlights" link in the "Multimedia" menu.

The IceHogs Broadcasting Network:
Catch every IceHogs game, home and road, in 2016-17 on WIFR's "Justice Network" on 23.3. The games can also be viewed on Comcast Cable channel 434, Charter Cable channel 194 or Mediacom 102 in the Rockford market and online through AHLLive.com. Every TV broadcast will start with "IceHogs Warm Up" 30 minutes prior to puck drop. Fans can also listen to the action for free at WXRX.com and sportsfanradio1330.com. A select number of games will be aired on Sports Fan 1330 AM throughout the season including Sunday's game against Ontario. For a complete listing of TV stations carrying IceHogs games, visit IceHogs.com, and for the complete schedule of radio broadcasts visit sportsfanradio1330.com.

Tickets On Sale for 2016-17!
IceHogs individual game tickets are now on sale! Call (815) 968-5222 to reserve your seats for any IceHogs regular season game during the 2016-17 season. Tickets can also be purchased online at IceHogs.com, in person at the BMO Harris Bank Center Box Office in downtown Rockford, or any Ticketmaster outlet, including Walmart.