WEEK 4 RECAP: HOGS TAKE THREE OF THREE ON THE ROAD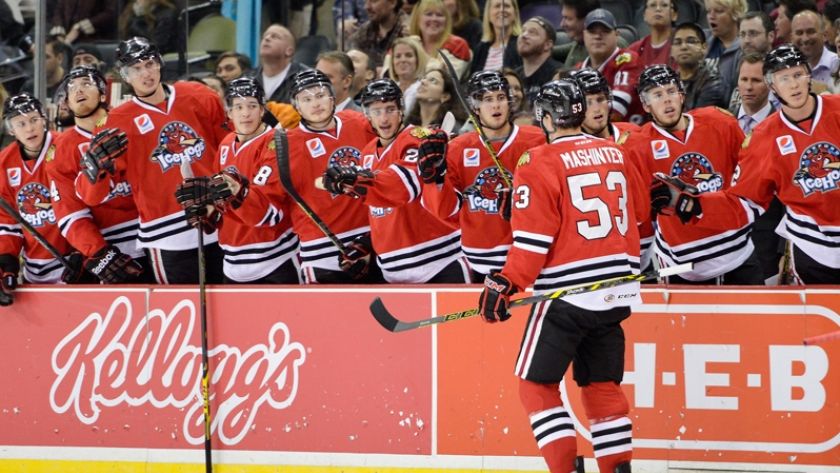 Rockford's winning streak extends to five games
Week 4 Recap:
After a couple big home wins to end Week 3, the IceHogs kept rolling in Week 4 as they swept a three-game road trip to take a five-game winning streak back to the BMO Harris Bank Center. Rockford won a defensive battle on Wednesday during a 2-1 win in Grand Rapids, before taking a pair of games in San Antonio in commanding fashion on Halloween weekend, winning 6-3 on Friday and 5-1 on Saturday.
Week 4 Results:
Wednesday, Oct. 29, Rockford 2 at Grand Rapids 1 .
Friday, Oct. 31, Rockford 6 at San Antonio 3
Saturday, Nov. 1, Rockford 5 at San Antonio 1
Week 5 Schedule:
Tuesday, Nov. 4, vs. Lake Erie, 7 p.m
Thursday, Nov. 6, at Iowa, 10:30 a.m.
Saturday, Nov. 8, vs. Grand Rapids, 7 p.m.

Bacon Bits:
-The IceHogs have won five straight games dating back to 10/25/14, matching the club's longest winning streak from a season ago

-Rockford has started the season 7-2-0-1, matching their start from 2013-14, tying the mark for best start after 10 games in the club's AHL era

-Garret Ross recorded Rockford's first hat trick of the season on Friday night, his first career three-goal performance

-The big outing from Ross was just part of a mammoth week for Rockford's sophomore class. Ross, Joakim Nordstrom, Mark McNeill and Phillip Danault combined for seven goals and six assists in the three road victories.

-Teuvo Teravainen tallied an assist in all three games in Week 4, including a pair in Grand Rapids, giving him six helpers total on the season, which is tied for the team lead

-After scoring just 10 goals in their first five games, Rockford has tallied 22 times in their last five outings

-Rockford scored three, third period goals on Friday in San Antonio and the IceHogs have now scored three times in the third frame three times over 10 games this season

-Overall, Rockford has scored at least one goal in 14 of their last 15 periods dating back to the second frame in Rochester on 10/22/14

-Through 10 games this season, 16 different IceHogs skaters have potted a goal

-The IceHogs have seven wins this season and seven different players have been credited with game winning goals

-Nine different IceHogs skaters have been given a fighting major so far in 2014-15

-Rookie forward Matt Carey is riding a four-game point streak dating back to 10/26/14, totaling 3g-2a-5pts

-After ranking last in the AHL last season with a 72.3% penalty kill and allowing a league worst 91 power play goals, Rockford is leading the AHL this season with a 91.4% PK giving up just three goals on the man advantage through 10 contests

-Rockford's 8-for-8 night on the penalty kill on Wednesday was the first time they have killed off eight power plays in a single game since Jan. 12, 2013

-The IceHogs eight minor penalties were also the most they have taken in one night since Jan. 9, 2013 when they took nine infractions in a 6-3 loss to Grand Rapids.

-Goaltender Michael Leighton's 38 saves on Wednesday were tied for the most saves in a victory since Antti Raanta turned aside 46 shots during a 4-2 win against Texas on Oct. 27, 2013

-Goalie Jason LaBarbera became the 63rd former IceHogs skater to play in the NHL after playing in Rockford

-Rookie d-man Ville Pokka followed his first career AHL point on Saturday with his first career AHL goal in San Antonio against the Rampage

Hot Hog: Week 4
Left Wing Matt Carey (2g-1a)
Rookie winger Matt Carey tallied his first goal of the season last Sunday against Lake Erie and he has not slowed down since. Carey used two goals and an assist in Week 4 to string together a four-game point scoring streak, during which he has collected three goals and two assists. The Hamilton, Ontario native is making his IceHogs debut this season after appearing in two games with the Chicago Blackhawks to end the 2013-14 season, where he picked up his first NHL goal on April 12, 2014.

Upcoming Games:
Tuesday, Nov. 4 vs. Lake Erie Monsters: Puck drop at 7 p.m. It's a WXRX Dollar Day at the BMO Harris Bank Center as hot dogs, sodas, beers and companion tickets will be available for one dollar each.

Thursday, Nov. 6 at Iowa Wild: Face off is set for 10:30 a.m. The IceHogs take on their former Midwest Division rival for the first time in 2014-15 when they visit the Iowa Wild for an early school day matchup. It is the first of eight matchups between Rockford and Iowa, after the IceHogs took six of the ten games against the Wild a year ago.

Saturday, Nov. 8 vs. Grand Rapids Griffins: Game starts at 7 p.m. Rockford will make their salute to the Armed Forces when they host the Griffins for Military Night at the BMO Harris Bank Center. In addition to recognizing past and current service men and women throughout the night, the first 2,500 fans will receive an IceHogs camoflauge hat courtesy of Pepsi.

Bud Light Hog Talk Monday Night At Mulligan's and Grill:
Bud Light Hog Talk is back on Monday, Nov. 3 at Mulligan's Pub and Grill from 6-7 p.m. Mulligan's is located on North Main St. Fans can join Mike Peck or TJ Hogan from 6-7 p.m. on most Mondays throughout the season, as they chat with IceHogs players, coaches and front office members. This week's guests will include IceHogs forward Ryan Hartman and Head Coach Ted Dent. Take advantage of food and Bud Light specials at Mulligan's. The show will be re-aired on Tuesdays from 7-8 p.m. on WIFR's 23.2 "Antenna TV."

The IceHogs Broadcasting Network:
Catch every IceHogs game, home and road, in 2014-15 on WIFR's 23.2, "Antenna TV." The games can also be viewed on Comcast Cable channel 436, Charter Cable channel 193 or Mediacom 101 in the Rockford market and online through AHLlive.com. Fans can listen to the action for free on AHLlive.com. For a complete listing of TV stations carrying IceHogs games, visit IceHogs.com. Every broadcast will start with the IceHogs Warmup 30 minutes prior to puck drop.

Tickets On Sale for 2014-2015!
IceHogs individual game tickets are now on sale! Call (815) 968-5222 to reserve your seats for any IceHogs regular season game during the 2014-15 season. Tickets can also be purchased online at IceHogs.com, in person at the BMO Harris Bank Center Box Office in downtown Rockford, or any Ticketmaster outlet, includating Walmart.