WEEK 28 RECAP - ICEHOGS DRAW DEFENDING CHAMPIONS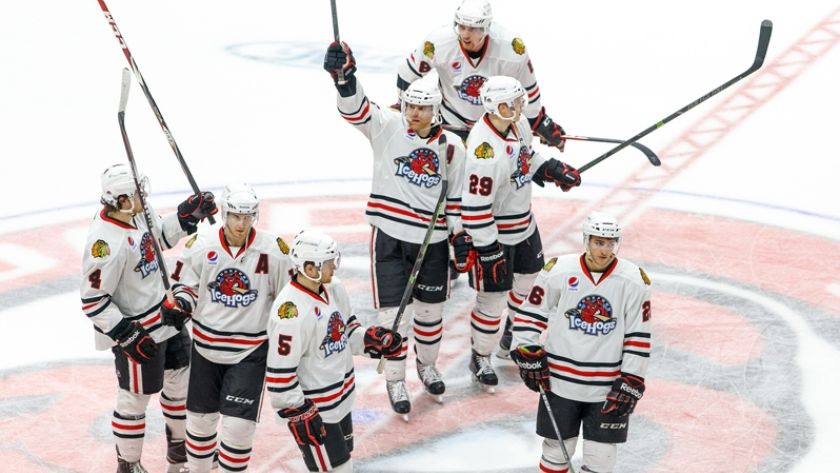 Rockford finishes fourth in West after final week of regular season; will open playoffs against Texas

Week 28 Recap:
The IceHogs narrowly missed out on a Midwest Division Title on the last day of their regular season schedule. A 3-1 loss to Toronto in Game 76 Saturday night left them with the fourth seed in the Western Conference and set up an opening round matchup with the Texas Stars. Prior to Saturday's finale, Rockford extended their home winning streak to nine games with a 5-1 trouncing of Charlotte on Wednesday and a 4-3 win over the Chicago Wolves on Friday. The IceHogs finished the regular season with 99 points and a record of 46-23-5-2.

Week 28 Results:
Wednesday, April 15: Charlotte 1 vs. Rockford 5
Friday, April 17: Chicago 3 vs. Rockford 4
Saturday, April 18: Toronto 3 vs. Rockford 1

Week 29 Schedule:
Game 1: Friday, April 24 at Texas, 7:30 p.m.
Game 2: Saturday, April 25 at Texas, 7 p.m.

Bacon Bits:
-The IceHogs finished the 2014-15 regular season with 99 points, with a final record of 46-23-5-2

-Rockford set AHL franchise records in points (99), wins (46), road wins (22), winning percentage (.651) and longest home winning streak (nine games)

-The 178 total goals allowed by the IceHogs broke an all-time franchise record, and eclipsed the previous AHL low-mark by 42 goals (220, 2008-09)

-Rockford's three regular goaltenders this season - Scott Darling, Michael Leighton and Antti Raanta - now take up the top three spots respectively in terms of both goals against average and save percentage in the club's AHL history books

-Darling set a new franchise record with a final save percentage of .927 in 26 games played

-Both Darling (2.20) and Leighton (2.26) broke the all-time IceHogs single-season franchise record in goals against average

-Leighton's five shutouts this season sets a new AHL franchise high-mark, helping Rockford to a frachise-record 10 as a team

-Rockford broke a pair of attendance marks as well, with both the total attendance (183,701) and average attendance (4,834) figures surpassing the previous record set last season

-Rookie defenseman Stephen Johns finished the season tied for the AHL lead in plus/minus with a +30 rating in 51 games played

-The IceHogs could have clinched their first-ever AHL Midwest Division title on Saturday with a victory over Toronto

-Friday's win over Chicago gave Rockford a final mark of 8-3-1-0 against the Wolves, the best single-season record in the eight-year rivalry against the intrastate rival

-Right wing Spencer Abbott finished atop the IceHogs roster in point scoring with 45 points (19g-26a), center Mark McNeill led the team in goals with 23, and center Peter Regin paced Rockford with 31 assists

-Rookie center Tanner Kero scored in all three games in Week 28, extending a goal-scoring streak to four games - tying Mark McNeill for the longest such streak this season

-Kero has scored five goals in only six games played since signing an amateur tryout contract on April 6

Hot Hog: Week 28
Tanner Kero Center (3GP, 3G, 3PTS, +2)
Rookie center Tanner Kero has gone a long way to endear himself to his newest coaching staff in his brief time with the IceHogs. The 22-year-old from Hancock, Mich. found the net in all three games in Week 28, giving him goals in four straight games, dating back to April 12 in Charlotte. Signed to an ATO by the IceHogs on April 6, Kero now has five goals in his first six games in the AHL. The young forward is fresh off an illustrious college career at Michigan Tech University, where he was a First-Team All-American this season.

Western Conference Quarterfinals vs. Texas Stars:
Friday, April 24 - Game 1 (at Texas): Puck drop is at 7:30 p.m. Rockford's quest for the Calder Cup begins down south as the IceHogs and Stars meet at Cedar Park Center for Game 1. The IceHogs finished the regular season 4-0-0-0 against the defending champions, and are looking for their first postseason win since 2008. Fans are encouraged to come to the BMO Harris Bank Center for a road watch party at the Blues Flame Lounge.

Saturday, April 25 - Game 2 (at Texas): Face-off is at 7 p.m. The IceHogs wrap up the road portion of their opening-round series on Saturday in Game 2 against Texas. Once again, the Blues Flame Lounge at the BMO will be hosting a road watch party for fans to watch the playoff action from Cedar Park Center.

Wednesday, April 29 - Game 3 (at Rockford): Game starts at 7 p.m. The IceHogs will play their first Calder Cup Playoff game in the Forest City since 2010 when the opening round series shifts to Rockford for Game 3. The first 1,500 fans will receive a free cowbell courtesy of BMO Harris Bank. The festivities begin prior to puck drop during a Pregame Block Party, sponsored by Swedish American Hospital.

Friday, May 1 - Game 4 (at Rockford - If Necessary): Puck drops at 7 p.m. If need be, The IceHogs and Stars will return to the BMO for Game 4 on Friday. Head out to the arena early to join in another Pregame Block Party presented by Swedish American Hospital.

Saturday, May 2 - Game 5 (at Rockford - If Necessary): Face-off is at 7 p.m. If necessary, the decisive Game 5 between Rockford and Texas is scheduled for Saturday night at the BMO Harris Bank Center. The IceHogs are hosting another Pregame Block Party, sponsored by Swedish American Hospital.

The IceHogs Broadcasting Network:
Catch every game in Rockford's quest for the Calder Cup on WIFR's 23.2, "Antenna TV." The games can also be viewed on Comcast Cable channel 436, Charter Cable channel 193 or Mediacom 101 in the Rockford market and online through AHLLive.com. Fans can also listen to the action for free on AHLLive.com. For a complete listing of TV stations carrying IceHogs games, visit IceHogs.com. Every broadcast will start with the IceHogs Warm Up 30 minutes prior to puck drop.

2015 Calder Cup Playoff Tickets On Sale Now:
Fans can reserve their seats for the 2015 Calder Cup Playoffs by stopping by the BMO Harris Bank Center Box Office, calling (815) 968-5222 or online through Ticketmaster. Individual game tickets for the first round start as low at $17. Season ticket holders receive the first two games, labeled "Game A" and "Game B," of the first round of the Calder Cup Playoffs free of charge as it's included with their ticket package. The two complimentary tickets can be used for the first round only.