WEEK 25 RECAP - ROCKFORD SPLITS OUT EAST TO START ROAD TRIP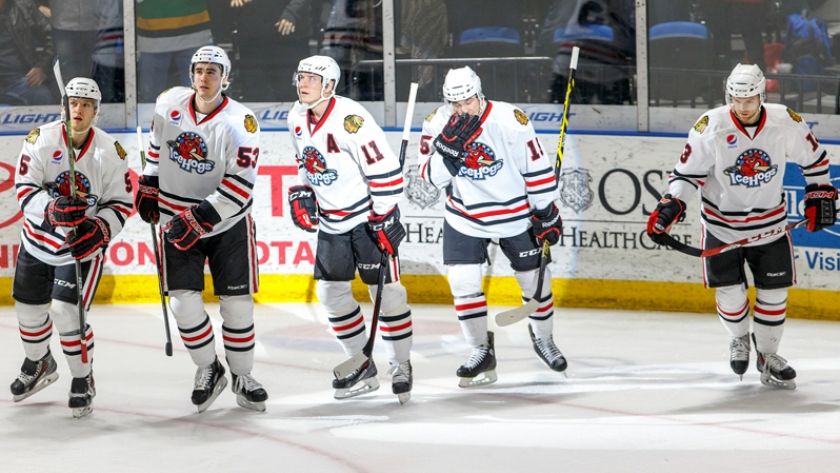 After capping off a perfect homestand, IceHogs pick up one of two in New York

Week 25 Recap:
Rockford put the finishing touches on a flawless homestand and extended a winning streak to six games before falling in Utica to end Week 25 of the AHL schedule. The IceHogs captured their fourth-straight victory on home ice on Wednesday over the Lake Erie Monsters, before heading to New York to begin a three-game road swing. The tour of the Empire State began with a 4-0 shutout win over the Adirondack Flames on Friday, before ending with a 4-2 loss to the Utica Comets the following night. Rockford wraps up their road trip with the first end of a home-and-home series with the Midwest Division-leading Grand Rapids Griffins, a team they trail by only three points.

Week 25 Results:
Wednesday, March 25, Lake Erie 2 vs. Rockford 3
Friday, March 27, Rockford 4 at Adirondack 0
Saturday, March 28, Rockford 2 at Utica 4

Week 26 Schedule:
Wednesday, April 1 at Grand Rapids, 6 p.m.
Friday, April 3 vs. Grand Rapids, 7 p.m.
Saturday, April 4 vs. Rochester, 7 p.m.
Bacon Bits:
-After taking two of three games in Week 24, Rockford finished the month of March 7-2-1-0, their best month of the 2014-15 campaign in terms of winning percentage (.750)

-The IceHogs had their six-game winning streak snapped on Saturday in Utica

-Rockford has had an eight-game and six game winning streaks this season, the first time in the team's AHL era in which the club has put together two win streaks of five or more games in a season

-Forward Alex Broadhurst scored his first goal since April 13, 2014 on Friday night as he missed 42 games due to injury earlier this season

-Broadhurst, who ranked third on Rockford - and first among rookies - in scoring last season (16g-29a-45pts), also scored on Saturday night in Utica

-In 10 games with Rockford since getting acquired from Toronto, Spencer Abbott has 7g-3a-10pts with a plus/minus rating of +3

-Abbott had seven goals in 46 games with the Toronto Marlies prior to the trade

-The third-year winger has points in four straight games, totaling 3g-1a-4pts

-Rockford earned their 20th road win of the season on Friday in Adirondack, one shy of the team's AHL record (2012-13 and 2007-08), and two short of the franchise mark of 22 (2006-07)

-Goalie Michael Leighton picked up his fifth shutout of the season on Friday and now has a record of 18-11-4 with a 2.14 GAA and a .924 SPCT

-Leighton's shutout was No. 41 in his AHL career, moving him into a second-place tie with Gil Mayer on the all-time league shutout list

-The 33-year-old netminder needs only five shutouts to break Johnny Bower's AHL record of 45 career shutouts

-Goalie Antti Raanta was saddled with his first regulation loss with Rockford this season on Saturday, but is still 5-1-1 with a 2.49 goals against average and a .915 save percentage

-The IceHogs franchise record for lowest goals against average in a season is 2.30, set by Frederic Cloutier in 2006-07

-Both Leighton (2.14) and Scott Darling (2.20) are below that mark with three weeks left in the regular season

Hot Hog: Week 25
Spencer Abbott Right Wing (3GP, 2G, 1A, +2)
For the second straight week, forward Spencer Abbott is Rockford's "Hot Hog." Abbott recorded a point in all three of Rockford's games in Week 25 and is riding a four-game point streak. After marking an assist in Rockford's win over Lake Erie on Wednesday, Abbott notched goals in both tilts over the weekend in New York. In 10 games with the IceHogs this season since getting acquired from the Toronto Maple Leafs organization, Abbott has 7g-3a-10pts.

Upcoming Games:
Wednesday, April 1 at Grand Rapids Griffins: Puck drop is at 6 p.m. Rockford kicks off a pivotal home-and-home series with the Midwest Division-leading Grand Rapids Griffins at Van Andel Arena. The IceHogs head into the doubleheader three points behind the Griffins in the standings with a game in hand. After six games this year against Grand Rapids, Rockford has a 3-2-1-0 record, including a 2-1-0-0 mark in Michigan.

Friday, April 3 vs. Grand Rapids Griffins: Face-off is at 7 p.m. It's Golf Rockford Night at the BMO as the first 1,500 fans into the building will receive an IceHogs "Jeff Cap" thanks to Bud Light. Doors will open at 5:15 p.m. for fans 21 and older to enjoy another Blue Flame Lounge pre-game party with live music courtesy of Dan Phelps.

Saturday, April 4 vs. Rochester Americans: Game starts at 7 p.m. The IceHogs host the Americans for the only time this season on Garden Gnome Giveaway Night. The first 2,500 fans through the gates will leave with an IceHogs garden gnome courtesy of Riverside Dental. Rockford is also teaming up with BMO Harris Bank for their annual sock drive. Fans who bring a pair of new socks to donate will receive a ticket to a future game.

Bud Light Hog Talk Monday Night At Mulligan's and Grill:
Bud Light Hog Talk returns on Monday, March 30 at Mulligan's Pub and Grill from 6-7 p.m. Mulligan's is located on North Main St. Fans can join Mike Peck or TJ Hogan from 6-7 p.m. on most Mondays throughout the season, as they chat with IceHogs players, coaches and front office members. The show will feature forwards Cody Bass and Pierre-Cedric Labrie. Take advantage of food and Bud Light specials at Mulligan's. The show will be re-aired on Tuesdays from 7-8 p.m. on WIFR's 23.2 "Antenna TV."

The IceHogs Broadcasting Network:
Catch every IceHogs game, home and road, in 2014-15 on WIFR's 23.2, "Antenna TV." The games can also be viewed on Comcast Cable channel 436, Charter Cable channel 193 or Mediacom 101 in the Rockford market and online through AHLLive.com. Fans can also listen to the action for free on AHLLive.com. For a complete listing of TV stations carrying IceHogs games, visit IceHogs.com. Every broadcast will start with the IceHogs Warm Up 30 minutes prior to puck drop.

Tickets On Sale for 2014-2015!
IceHogs individual game tickets are now on sale! Call (815) 968-5222 to reserve your seats for any IceHogs regular season game during the 2014-15 season. Tickets can also be purchased online at IceHogs.com, in person at the BMO Harris Bank Center Box Office in downtown Rockford, or any Ticketmaster outlet, including Walmart.