WEEK 24 REPORT: ROCKFORD SWEEPS 3-IN-3, RETAKES 4TH PLACE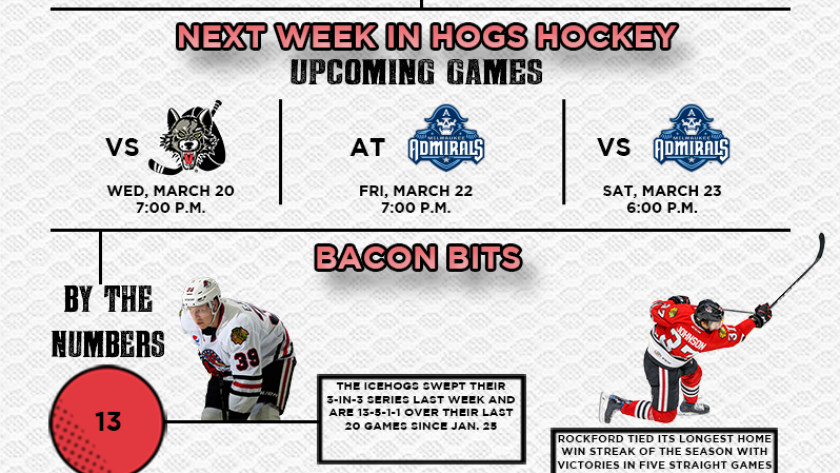 ---
---
BACON BITS
The Rockford IceHogs swept their three-in-three series last week. The Hogs have points in four straight games and are 13-5-1-1 over their last 20 contests since Jan. 25. Following Sunday's regulation win against Texas, Rockford overtook the Stars for fourth place and a potential playoff berth in the Central Division (12 games remaining in regular season).
Rockford tied its season-long home winning streak Sunday with victories in each of its last five games at the BMO. The Hogs have now won 10 of their last 12 home games since Jan. 25 with a 10-2-0-0 record at the BMO in that span.
The IceHogs have notched each of their last five wins by a one-goal margin and combined for 20 one-goal wins on the season. The Hogs are second in the AHL in wins in one-goal games, trailing only Bridgeport's 24 wins in such contests. They have tallied two-thirds of their total wins by just one goal (20 of 30 games), and have seen 38 of 64 games decided by a lone tally (59.4%).
The IceHogs have also played into overtime in a league-high 23 games (of 64 total games), and leads the AHL in overtime wins with an 11-4 clip in OT. No team in the AHL over the last four years has notched more than 11 overtime wins in a single season (the last team with more than 11 OTWs was Oklahoma City in 2014-15; 14-5 in OT).
IceHogs goaltenders have combined for an AHL-best .918 save percentage this year, which ranks three points better than any team in the league. Collin Delia (.930), Anton Forsberg (.924) and Kevin Lankinen (.911) each have a .910+ save percentage and Forsberg currently leads all qualified goaltenders with his .924 (Delia is 18:13 short of qualifying).
Rockford has featured two team debuts over the last three games in forward Dylan McLaughlin (Friday) and defenseman Dmitry Osipov (Sunday). McLaughlin just finished his senior season at Canisius College and in 2017-18 was a Hobey Baker Finalist alongside Dylan Sikura (Northeastern). Osipov has spent 2018-19 with the Indy Fuel and last skated in the AHL with the Chicago Wolves in 2017-18 (1a in 11 games; Was +2 in two games vs. RFD).
---
UPCOMING GAMES
Wednesday, March 20 | Rockford vs Chicago (7 p.m.) The IceHogs take on the Wolves in a Fas Fuel Winning Weekday. If the IceHogs win, fans can redeem their ticket stub for a ticket of equal or lesser value to the the Hogs' next weekday home game. In addition, fans can bring their dogs to the game for just $2. Proceeds will benefit local animal shelters.
Friday, March 22 | Rockford at Milwaukee (7 p.m.) The IceHogs travel to UW-Panther Arena for a divisional showdown against the Admirals. Rockford is 4-2-0-1 against Milwaukee on the year.
Saturday, March 23 | Rockford vs Milwaukee (6 p.m.) The Hogs return to the BMO Harris Bank Center on Alumni Night. Several alumni from throughout the team's history will be in attendance and will be recognized throughout the game. The first 1,500 fans in attendance will also receive a free IceHogs Dri Fit Warm Up Shirt, courtesy of Xfinity.
---
BUD LIGHT MONTHLY MONDAY HOG TALK AT VINTAGE 501
Bud Light Hog Talk returns to Vintage 501 on Monday, April 1. Vintage 501 is located in downtown Rockford at 501 E. State St. Fans can join broadcaster Joseph Zakrzewski from 6-7 p.m. on the first Monday of every month throughout the season as the duo chats with IceHogs players, coaches and front office members. For those unable to attend the show in-person, Monday's show will be streaming live on IceHogs.com. "Bud Light Hog Talk" will also be available on www.icehogs.com following the live show. Fans can access the podcast through the "Audio Highlights" link in the "Multimedia" menu. The expected guests will be announced at a later date.
---
ICEHOGS BROADCASTING NETWORK
Catch the IceHogs this season on WIFR's 23.2 Antenna TV. The games can also be viewed on Comcast Cable channel 434, Charter Cable channel 194, Dish Network channel 252 or Mediacom 102 in the Rockford market and online through watchtheAHL.com. Each TV broadcast will start with "IceHogs Warm Up" 30 minutes prior to puck drop. Fans can also listen to the action for free at sportsfanradio1330.com, facebook.com/rockfordicehogs and IceHogs.com. For a complete listing of TV stations carrying IceHogs games, visit IceHogs.com, and for the complete schedule of radio broadcasts, visit sportsfanradio1330.com.
---
TICKETS ON SALE FOR 2018-19!
IceHogs individual game tickets can be purchased by calling (815) 968-5222 to reserve your seats for any regular season home game during the 2018-19 season. Tickets can also be purchased online at IceHogs.com, in person at the BMO Harris Bank Center Box Office in downtown Rockford or at any Ticketmaster outlet, including Walmart.