WEEK 24 RECAP: ICEHOGS TAKE FIVE-OF-EIGHT POINTS IN NAILBITING WEEK 24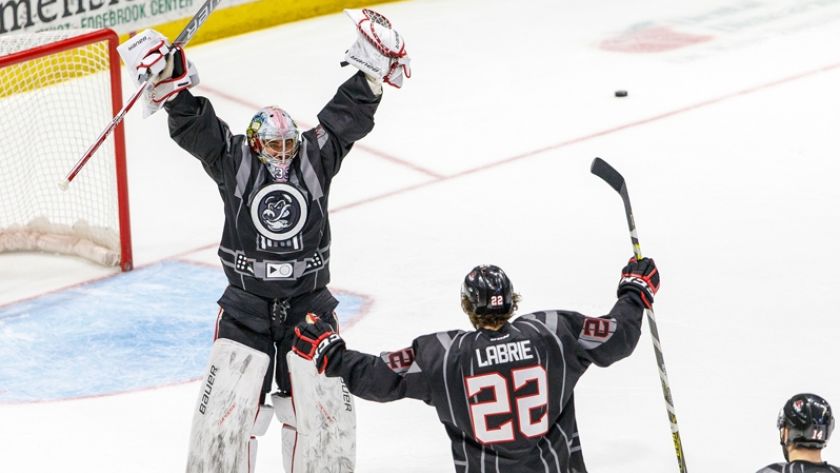 Week 24 Results:
Tuesday, March 15: Charlotte 0 vs. Rockford 1
Friday, March 18: Rockford 1 at Chicago 4
Saturday, March 19: Chicago 4 vs. Rockford 3 (OT)
Sunday, March 20: Charlotte 1 vs. Rockford 2 (SO)

Week 25 Schedule:
Thursday, March 24: Rockford at Lake Erie, 6 p.m.
Friday, March 25: Rockford at Lake Erie, 6 p.m.

Week 24 Recap:
The Rockford IceHogs rebounded from a pair of losses to the Charlotte Checkers in Week 23 by taking two wins over their Central Division opponent at home in Week 24. The contests with Charlotte bookended a home-and-home series with the Chicago Wolves in which the IceHogs took a regulation loss on Friday before earning a point in an overtime defeat at the BMO Harris Bank Center on Saturday.

Bacon Bits:
-Sunday's 13-round shootout against the Charlotte Checkers tied the team's longest-ever AHL mark, which was set on Mar. 27, 2009 at the Houston Aeros
-Goaltender Mac Carruth tied Antti Niemi for the team AHL record for most saves in a shootout (11)
-Each of the three players who scored in the shootout (Jake Dowell, Viktor Svedberg, Matt Fraser) had not participated in a shootout for Rockford this season before Sunday's game
-The victory over the Checkers extended the IceHogs home unbeaten streak to six games (5-0-1-0)
-The team's .682 home win percentage ranks higher than the franchise AHL record of .651 which was set last season
-The IceHogs improved to 2-4 in the shootout with Sunday's win
-Rockford suffered an overtime loss to the Chicago Wolves in their only road game of the week, pushing their away winless streak to a season-long six games (0-3-3-0)
-Saturday's defeat marked Rockford's sixth-straight loss in contests decided in overtime
-Rockford's .294 win percentage in overtime and shootouts ranks fourth-lowest in the league behind the Syracuse Crunch (.188), Manitoba Moose (.182), and Bakersfield Condors (.111)
-The IceHogs have scored only one goal in four of their last five games, but have gone 2-2-1-0 over that stretch
-Drew MacIntyre became the third Rockford goaltender to record a shutout this season when he made 30 saves in a 1-0 win over Charlotte on Tuesday
-MacIntyre played in his 500th career professional game on Friday against Chicago
-Mark McNeill has scored the game-winning goal in the third period of each of the IceHogs 1-0 wins this season
-McNeill took over the team lead in power-play goals (six) by tallying on Mar. 15 versus Charlotte and Mar. 19 against Chicago
-The centerman became the first Hog to break the 20-goal barrier, and reached the mark for the second-straight season
-Defenseman Ville Pokka became the first IceHogs player to reach the 30-assist mark this season with two in Week 24
-Pokka had a three-game point streak snapped when he was held off the scoresheet on Sunday (1g-2a)
-The blueliner tied the season-high for shots in a game when he took seven in Tuesday's win over Charlotte
-Rockford held opposing power plays scoreless in Week 24, stopping all 14 man advantages against
-Mike Liambas continued his team season-long penalty streak (10 games) by taking 31 penalty minutes across the four games in Week 24
-Liambas moved into sole possession of second place on the AHL leaderboard in major penalties (16) and trails Kyle Hagel by just one major for the league lead
-Each of the IceHogs last 10 games have featured at least one tripping minor
-Rockford ranks fourth in the AHL in both penalty minutes taken (1071) and penalty minutes per game (16.73)
-Rockford had outshot their opponent in four consecutive games before the Checkers took 34 shots to the IceHogs 33 on Sunday

Hot Hog: Week 24
Mark McNeill (4GP, 2G, 1A, -3, 0 PIM)

Mark McNeill continued to shine as the IceHogs leading goal scorer as he bumped his season total up to 21 in Week 24. The centerman scored the only goal in Tuesday's game to give the IceHogs a 1-0 win over the Charlotte Checkers and kept Rockford in the contest against the Wolves on Saturday with a game-tying third period tally. Both of his goals in Week 24 came on the power play, giving him sole possession of the team-lead at six.

Upcoming Games:
Thursday, March 24 at Lake Erie Monsters: Game starts at 6 p.m. Rockford kicks off the first contest of a three-game road swing when they visit the Lake Erie Monsters. The IceHogs have won each of their four home games against the Monsters this season, but have gone 0-1-1-0 at Lake Erie.

Friday, March 25 at Lake Erie Monsters: Contest begins at 6 p.m. The IceHogs wrap up a back-to-back matchup with the Mosnters in the final meeting between the two Central Division squads this season.

The IceHogs Broadcasting Network:
Catch every IceHogs game, home and road, in 2015-16 on WIFR's "Justice Network" on 23.3. The games can also be viewed on Comcast Cable channel 434, Charter Cable channel 194 or Mediacom 102 in the Rockford market and online through AHLLive.com. Every broadcast on WIFR will start with "IceHogs Warm Up" 30 minutes prior to puck drop. Fans can also listen to the action for free at WXRX.com. For a complete listing of TV stations carrying IceHogs games, visit IceHogs.com.

Tickets On Sale for 2015-2016!
IceHogs individual game tickets are now on sale! Call (815) 968-5222 to reserve your seats for any IceHogs regular season game during the 2015-16 season. Tickets can also be purchased online, in person at the BMO Harris Bank Center Box Office in downtown Rockford, or any Ticketmaster outlet, including Walmart.