WEEK 23 RECAP: ICEHOGS COMPLETE HOME SWEEP BEFORE DROPPING WEEKEND PAIR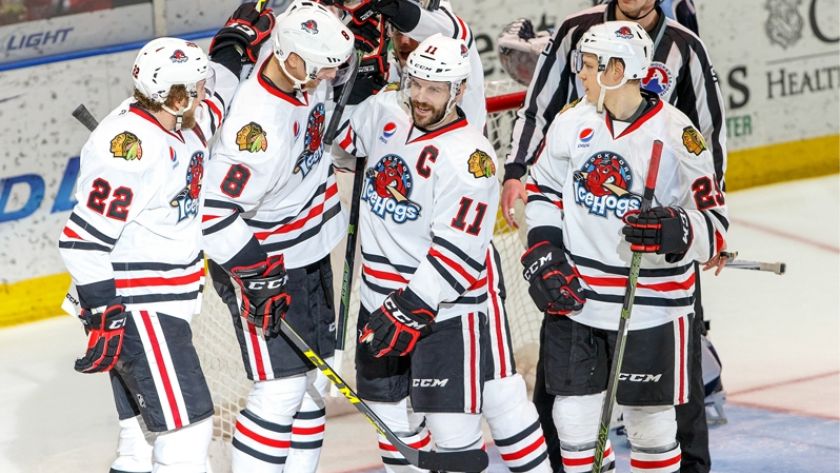 Week 23 Results:
Tuesday, March 8: Milwaukee 2 vs. Rockford 5
Saturday, March 12: Rockford 3 at Charlotte 6
Sunday, March 13: Rockford 1 at Charlotte 4

Week 24 Schedule:
Tuesday, March 15: Charlotte vs. Rockford, 7 p.m.
Friday, March 18: Rockford at Chicago, 7 p.m.
Saturday, March 19: Chicago vs. Rockford, 7 p.m.
Sunday, March 20: Charlotte vs. Rockford, 4 p.m.

Week 23 Recap:
The Rockford IceHogs completed a three-game home sweep in Week 23 by beating the Milwaukee Admirals before dropping a pair of games on the road to the Charlotte Checkers. Pierre-Cedric Labrie notched the first hat trick of the season for the IceHogs on Tuesday, and Mark McNeill and Tanner Kero each had two goals apiece in Charlotte.

Bacon Bits:
-IceHogs left wing Pierre-Cedric Labrie scored the first hat trick of the season for Rockford in the team's 5-2 win over the Milwaukee Admirals on Tuesday
-Rockford had previously seen 12 two-goal games before Labrie's hat trick
-Labrie also tied a team season-best with a +4 rating in the 5-2 win
-Mark McNeill got two goals in the next game at Charlotte on Friday night
-Jake Dowell (1g-1a), Viktor Svedberg (2a), and Kyle Baun (2a) each had two-point nights against Milwaukee
-The victory over the Admirals gave the IceHogs their first three-game win streak since Jan. 23-29
-Matt Fraser scored his first goal in an IceHogs jersey in the second period on Tuesday, which stood as the game-winner
-Mark McNeill and Tanner Kero each scored their 18th and 19th goals of the season in Week 23 and are tied for the team lead
-Vince Hinostroza assisted on both of McNeill's goals, and had three overall on the week
-McNeill's two goals on Saturday helped him maintain his team lead in points (37)
-The IceHogs power play came up short against the Checkers on the weekend, going scoreless in eight opportunities on Saturday before going 0-for-2 on Sunday
-By scoring 50 seconds into Sunday's contest, Tanner Kero set the season mark for the fastest goal in a game
-Ville Pokka saw his four-game point streak (1g-4a) snapped on Sunday
-Cameron Schilling missed his first game of the season on Sunday, as he was one of two players (Ville Pokka) to have played in each of the team's first 59 contests
-Pokka is now the only IceHogs player to have taken the ice in all of the team's 60 games
-Pokka had two assists in Week 23, upping his team-leading total to 28
-Michael Leighton denied Kevin Fiala's penalty shot in the 5-2 win over Milwaukee on Tuesday, which was the third attempt by an opponent this season
-Leighton has been in goal for all three penalty shots this season and has saved two
-The IceHogs outshot their opponent in seven of nine periods in Week 23
-The four goals allowed in the first period of Saturday's 6-3 loss to Charlotte tied a season-high for opponent goals in a single period
-Leighton had a 13-game road unbeaten streak (7-0-5-0) snapped in Saturday's loss to the Checkers
-With the exception of a three-day stretch from Feb. 17-19, Rockford had been in first place in the Central Division since Jan. 10 before Sunday's loss

Hot Hog: Week 23
Pierre-Cedric Labrie (3GP, 3G, 0A, +1, 0 PIM)

Pierre-Cedric Labrie became the first IceHogs player to record a hat trick this season when he scored three goals in a 5-2 win over the Milwaukee Admirals on Tuesday. His performance helped Rockford wrap up a perfect three-game homestand, and gave him 17 goals on the campaign, which briefly tied him for the team lead with Mark McNeill and Tanner Kero. Labrie's 19.1 shooting percentage (17 goals on 94 shots) is the second-highest on the team behind Kero (20.4).

Upcoming Games:
Tuesday, March 15 vs. Charlotte Checkers: Game starts at 7 p.m. The IceHogs host the Checkers for the third meeting in four nights. Rockford will look to avenge a pair of losses in Charlotte last weekend which dropped them out of first place in the Central Division. Fans can enjoy $2 beers, soda, and companion tickets at the game.

Friday, March 18 at Chicago Wolves: Contest begins at 7 p.m. Rockford visits Chicago for the fifth game between the two squads in Rosemont this season. The IceHogs have already clinched the Illinois Lottery Cup this season, as they have 14 points through the first nine meetings.

Saturday, March 19 vs. Chicago Wolves: Puck drops at 7 p.m. The IceHogs conclude a home-and-home series with the Wolves at the BMO Harris Bank Center on Country Night presented by Dusty Boots Saloon. "South 40" will be performing country music throughout the game.

Sunday, March 20 vs. Charlotte Checkers: Puck drops at 4 p.m. Rockford wraps up its only three-in-three weekend of the season when they take on Charlotte on Star Wars Night. The IceHogs will wear themed jerseys, and hold their annual postgame jersey auction on the ice after the game with proceeds benefitting Special Olympics.

The IceHogs Broadcasting Network:
Catch every IceHogs game, home and road, in 2015-16 on WIFR's "Justice Network" on 23.3. The games can also be viewed on Comcast Cable channel 434, Charter Cable channel 194 or Mediacom 102 in the Rockford market and online through AHLLive.com. Every broadcast on WIFR will start with "IceHogs Warm Up" 30 minutes prior to puck drop. Fans can also listen to the action for free at WXRX.com. For a complete listing of TV stations carrying IceHogs games, visit IceHogs.com.

Tickets On Sale for 2015-2016!
IceHogs individual game tickets are now on sale! Call (815) 968-5222 to reserve your seats for any IceHogs regular season game during the 2015-16 season. Tickets can also be purchased online, in person at the BMO Harris Bank Center Box Office in downtown Rockford, or any Ticketmaster outlet, including Walmart.