WEEK 22 RECAP: ICEHOGS, LEIGHTON HAVE BANNER WEEKEND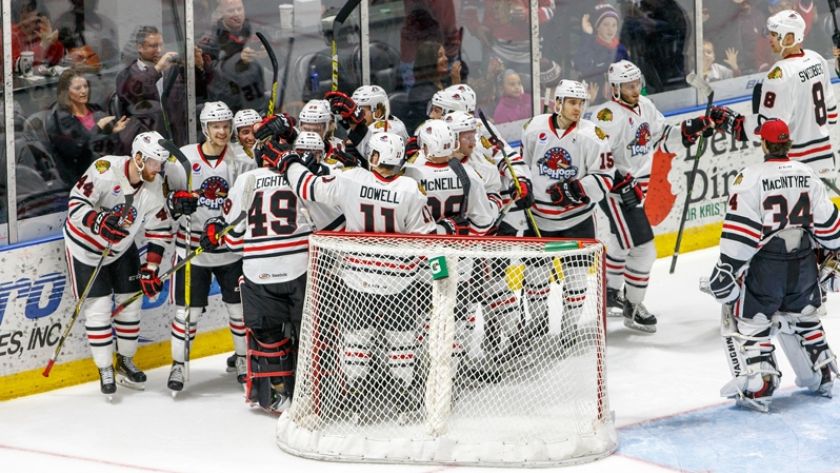 Week 22 Results:
Wednesday, March 2: Rockford 1 at Grand Rapids 2 (OT)
Saturday, March 5: Lake Erie 0 vs. Rockford 5
Sunday, March 6: Lake Erie 1 vs. Rockford 2

Week 23 Schedule:
Tuesday, March 8: Milwaukee vs. Rockford, 7 p.m.
Saturday, March 12: Rockford at Charlotte, 6 p.m.
Sunday, March 13: Rockford at Charlotte, 12 p.m.

Week 22 Recap:
IceHogs goaltender Michael Leighton made history in Week 22, earning his 46th career regular season AHL shutout to set the all-time league record in a 5-0 victory over the Lake Erie Monsters on Saturday. Drew MacIntyre followed up Leighton's record-setting perfect performance with a 38-save, 2-1 win over the Monsters on Sunday to give Rockford the weekend sweep over Lake Erie. Overall, the IceHogs took five-of-six points on the week to bolster their first place position in the Central Division.

Bacon Bits:
-IceHogs goaltender Michael Leighton set the American Hockey League's all-time shutout record with his 46th career perfect performance on Saturday versus Lake Erie
-The shutout was the fifth of the season for Leighton, and the franchise-leading 10th of his Rockford career
-Drew MacIntyre made 38 saves in his first start for Rockford to earn a 2-1 win over the Monsters on Sunday
-Leighton's 220 regular season AHL wins trail MacIntyre (224) for seventh all-time
- With the season's eighth and ninth sellouts of the season over the weekend, the IceHogs drew 12,819 fans for their second-largest back-to-back crowd in franchise history
-6,498 fans packed the BMO on Saturday while 6,321 came out for Sunday's game to help the team reach 12,000 fans in a weekend for the 4th time in franchise history
-The highest back-to-back total in team history came on Mar. 6 and 7 of last season, when Rockford drew 6,427 and 6,275 fans for a weekend total of 12,902
-The 2-1 defeat at Grand Rapids on Wednesday marked the fifth time in 12 games the IceHogs had lost in overtime
-Rockford has the most overtime and shootout losses in the Western Conference (11) and is tied with St. John's and Providence for second-most in the league
-Kyle Baun scored his first professional goal on Sunday
-Bryan Bickell had points in all three games in Week 22 (2g-2a)
-Bickell scored the first goal in Saturday's shutout win to up his team-leading game-winning goal total to four
-Mark McNeill also had two goals and two assists to extend his point streak to four games (3g-2a)
-McNeill leads the team in points with 35 (17g-18a), is tied for the team lead in goals, and has scored in 19 of his last 22 games (12g-11a)
-In his first game for Rockford on Saturday, Matt Fraser recorded an assist on Tanner Kero's second period goal
-The IceHogs four-goal outburst during the second period on Saturday marked the second time the team has scored four goals in a frame this season
-With a win on Sunday, Rockford recorded their first weekend home sweep of the season
-The IceHogs earned road sweeps in Iowa on Nov. 13-14 and San Antonio on Dec. 4-6
-Rockford has gotten points in six of the team's last seven games (4-1-2-0)
-Five IceHogs players recorded multi-point games in Week 22: Bryan Bickell, Pierre-Cedric Labrie, Tanner Kero, and Mark McNeill each had two points on Saturday while Ville Pokka notched two points on Sunday
-Vince Hinostroza leads the IceHogs in multi-point games with eight this season

Hot Hog: Week 22
Michael Leighton Goaltender (2GP, 1-0-1-0, 67 SA, 65 SVS)

Michael Leighton set the American Hockey League's all-time regular season shutout record with his 46th career shutout on Saturday versus the Lake Erie Monsters. The shutout was his fifth this season and 10th in two seasons with the IceHogs. Leighton also helped the Hogs force overtime on Wednesday in Grand Rapids, extending his road unbeaten streak to 12 games (7-0-5-0).

Upcoming Games:
Tuesday, March 8 vs. Milwaukee Admirals: Game starts at 7 p.m. The IceHogs host the Admirals, with whom they are neck-and-neck for the Central Division lead. The contest is another "Winning Weekday" matchup. If the IceHogs win, every fan in attendance can redeem their ticket for a free ticket to the game on Tues., Mar. 15 versus the Charlotte Checkers. Fans can also enjoy $2 beers, soda, and companion tickets at the game.

Saturday, March 12 at Charlotte Checkers: Contest begins at 6 p.m. Rockford kicks off a pair of back-to-back games in Charlotte. The IceHogs are 1-0-0-1 against their Central Division opponent this season, and the game will kick off a stretch in which they face the Checkers six times in 13 games.

Sunday, March 13 at Charlotte Checkers: Puck drops at 12 p.m. The IceHogs wrap up a weekend set against the Checkers in the second of three games in five nights against Charlotte.

The IceHogs Broadcasting Network:
Catch every IceHogs game, home and road, in 2015-16 on WIFR's "Justice Network" on 23.3. The games can also be viewed on Comcast Cable channel 434, Charter Cable channel 194 or Mediacom 102 in the Rockford market and online through AHLLive.com. Every broadcast on WIFR will start with "IceHogs Warm Up" 30 minutes prior to puck drop. Fans can also listen to the action for free at WXRX.com. For a complete listing of TV stations carrying IceHogs games, visit IceHogs.com.

Tickets On Sale for 2015-2016!
IceHogs individual game tickets are now on sale! Call (815) 968-5222 to reserve your seats for any IceHogs regular season game during the 2015-16 season. Tickets can also be purchased online, in person at the BMO Harris Bank Center Box Office in downtown Rockford, or any Ticketmaster outlet, including Walmart.