Week 21 Report: Hogs Narrowly Trail Playoff Position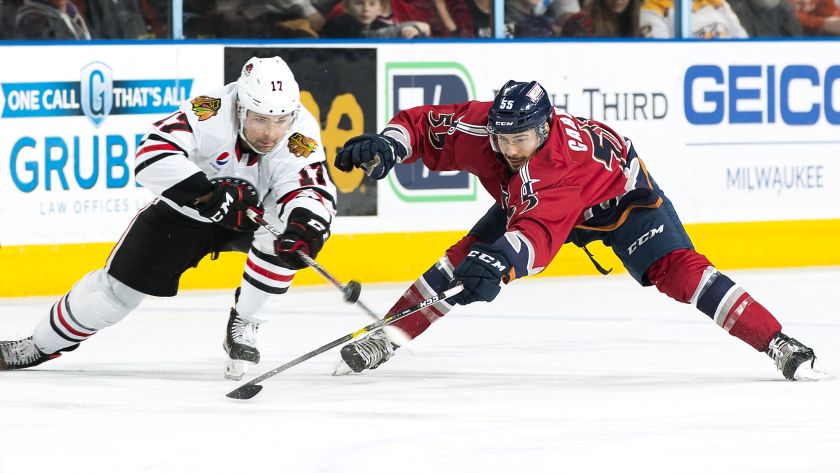 BACON BITS

STAR WARS
The Texas Stars lost a season-high 10 consecutive games from Oct. 26-Nov. 22 and were dead last in the entire American Hockey League with a record of 3-13-0-2 until they met the Rockford IceHogs on Nov. 23. The Stars took that game by a score of 7-6 in a shootout and went on to win seven of their next eight following that contest. Beginning on Nov. 23, Texas is 20-12-2-1 and now trails Rockford by just four points in the Central Division.
BLAME IT ON TEXAS
In four seasons from 2012-13 through 2015-16, the IceHogs lost just once across 14 games in the state of Texas. In that span, the club was a clean 7-0 against the Texas Stars and went 6-1 against the San Antonio Rampage. In the four season since then, however, the IceHogs have struggled in the Lone Star State, going a combined 4-10-1-5 against the two Texas teams from 2016-17 to present day. Conversely, the IceHogs were merely 7-7 at the BMO Harris Bank Center from 2012-13 through 2015-16, but are a combined 18-4-1-0 at home against both Texas and San Antonio from 2016-17 to today.
HOT N COLD
From the IceHogs' season-opener on Oct. 4 through Dec. 20, the IceHogs held an overall record of 17-10-0-1 and reached as high as second place in the Central Division. However, from Dec. 21 through Feb. 1, Rockford won just three matchups, going 3-14-1-1 in that span and falling to sixth place in the division. The club righted the ship when they won six of eight from Feb. 4-Feb. 21 to climb into a tie for the fourth and final playoff spot, but have since lost three of four and fallen to fifth place.
HEY, CARL...GOOD TO SEE YOU!
Lucas Carlsson made his NHL debut with the Chicago Blackhawks on Sunday against the Dallas Stars after being recalled on Saturday. He became the 120th IceHogs alum to reach the NHL and the 89th to go from Rockford to the Blackhawks.
GOTTA GET ON THE GOOD FOOT
The IceHogs fell to the Chicago Wolves on Sunday after being down 3-0 heading into the first intermission. Rockford boasts a record of 10-3-1-0 this season when leading after the opening frame but is just 9-11-0-2 when tied after one and 7-14-0-0 when trailing after one for a combined 16-25-0-2 when entering the first intermission tied or trailing.
JOHNNY BE GOOD
John Quenneville entered the 2019-20 campaign having never faced off against the Texas Stars in his career but has since racked up a team-leading four goals, six points and +5 rating through three meetings this season.
DYNAMIC DUO PT. I
Both Lucas Carlsson and Dylan Sikura had career-long point streaks snapped in Friday's defeat of the Rampage. Prior to being recalled by the Chicago Blackhawks on Saturday, Carlsson pieced together a seven-game point streak in which he tallied a goal and eight assists to tie Adam Clendening for the longest point streak ever recorded by an IceHogs defenseman in AHL history. Clendening previously set the record when he recorded a goal and eight assists across seven games from Feb. 24-March 15, 2013.
DYNAMIC DUO PT. II
Dylan Sikura assembled the fourth-longest point streak by an IceHog in AHL history when he notched 14 points (4g, 10a) in an 11-game span from Jan. 24-Feb. 18. Jeremy Morin was the last IceHog to bag points in 11 straight when he compiled 20 points (11g, 9a) in 13 games from Feb. 1-March 4, 2014.
---
Next Home Game: Friday, March 6 vs. Grand Rapids Griffins | 7 p.m.
Join the Hogs for Country Night at the BMO on Friday, March 6 at 7:00! The evening features performances by the Ethan Bell Band and a bandana giveaway to the first 1,500 fans in attendance, courtesy of Texas Roadhouse. Tickets can be purchased HERE, and with all Friday home contests this season, fans can pick up Bud Lights for just $2 at most concession stands on the concourse through the end of the second intermission.