WEEK 20 RECAP: ROCKFORD REMAINS IN DEAD HEAT ATOP CENTRAL DIVISION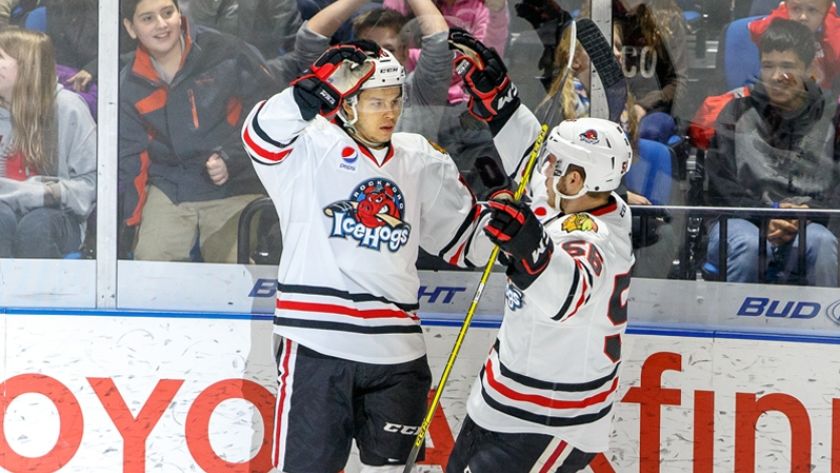 Week 20 Results:
Wednesday, February 17: Manitoba 5 vs. Rockford 2
Friday, February 19: Manitoba 3 vs. Rockford 2
Saturday, February 20: Rockford 4 at Chicago 2

Week 21 Schedule:
Wednesday, February 24: Rockford at Milwaukee, 7 p.m.
Friday, February 26: Rockford at Lake Erie, 6 p.m.
Saturday, February 27: Rockford at Lake Erie, 6:30 p.m.

Week 20 Recap:
Despite consecutive defeats to the Manitoba Moose at home, the Rockford IceHogs kept pace atop the Central Division in Week 20 by beating the Chicago Wolves on the road on Saturday. The victory marked the team's second consecutive Illinois Lottery Cup title and third in five seasons, as Rockford put the season series out of hand with three games left to play versus Chicago. Mark McNeill extended his goal streak to four games before seeing it broken in the second meeting with Manitoba.

Bacon Bits:
-Rockford collected its second-straight Illinois Lottery Cup championship on Saturday with a 4-2 win over the Chicago Wolves
-Saturday's win for Rockford gave them 14 head-to-head points in the series and put them out of range of Chicago's seven points with three games remaining between the teams this year
-Dennis Robertson scored his second goal of the season on Saturday night, striking 1:09 into the first period
-Both of Robertson's goals have been the first of the game, and the IceHogs have won each game
-Kirill Gotovets was credited with the game-winner on Saturday, his second game-winning tally of the season
-The IceHogs set a new season-high for shots in a single period when they fired 21 shots on goal in the third frame on Friday against Manitoba
-Rockford matched that count by opening up Saturday's game with 21 shots in the first period
-The IceHogs scored two goals in each of those 21-shot periods
-Rockford enjoyed their seventh sellout of the season on Wednesday, welcoming 6,304 fans for a 10:30 a.m. school-day game
-Mark McNeill stretched his goal-streak to four games with a tally on Wednesday before having his streak snapped on Friday
-McNeill registered an assist on Friday to extend his point-streak to five games (4g-2a), but was kept off the scoresheet on Saturday
-McNeill now owns a share of the team-lead in goals with 13 (tied with P.C. Labrie), and is tied with Ryan Hartman and Jake Dowell for the team-lead in points with 28
-Rockford saw their power play numbers dip in Week 20 as the team went 1-for-20 during the three games
-In the six games preceding Week 20, the IceHogs had previously knocked home seven power-play goals in 27 opportunities (25.9%)
-Tanner Kero put home his first shorthanded goal of the season on Wednesday, and he now leads the team with three points when down one skater (1g-2a)
-The IceHogs now rank tied for third in the AHL with nine shorthanded goals
-Rockford started a five-game road trip with a victory in Chicago on Saturday
-The five-game stretch on the road is tied for the longest of the season for the Hogs
-The IceHogs have scored the first goal of the game in only six out of their 23 road games this season, but have come out victorious in all six of those games
-Rockford allowed the fifth hat trick of the season by an opponent to Manitoba forward Patrice Cormier on Wednesday
-Three of the five hat tricks allowed by the IceHogs this season have occurred in the last seven games


Hot Hog: Week 20
Cameron Schilling Defenseman (3GP, 1G, 2A, 3 PTS, +2)

Cameron Schilling continued his strong season in Week 20, notching three points in the final two games of the week. Schilling picked up a power-play goal late in the third period to bring the IceHogs back to within a goal of Manitoba, and then assisted on the game-winning goal from Kirill Gotovets and empty net insurance goal by Dane Walters on Saturday against Chicago.

Upcoming Games:
Wednesday, February 24 at Milwaukee Admirals: Game starts at 7 p.m. The IceHogs and Admirals meet for the 10th time this season in a contest that will determine the first-place team in the Central Division. The teams will enter the game in a virtual tie for the top spot with .657 winning percentages.

Friday, February 26 at Lake Erie Monsters: Contest begins at 6 p.m. Rockford heads to Ohio for the first of back-to-back matchups versus the Monsters. The IceHogs have taken both of the two meetings between the two squads at the BMO Harris Bank Center this season.

Saturday, February 27 at Lake Erie Monsters: Puck drops at 6:30 p.m. The IceHogs wrap up a weekend set in Lake Erie with their fourth road contest of a five-game trip.

The IceHogs Broadcasting Network:
Catch every IceHogs game, home and road, in 2015-16 on WIFR's "Justice Network" on 23.3. The games can also be viewed on Comcast Cable channel 434, Charter Cable channel 194 or Mediacom 102 in the Rockford market and online through AHLLive.com. Every broadcast on WIFR will start with "IceHogs Warm Up" 30 minutes prior to puck drop. Fans can also listen to the action for free at WXRX.com. For a complete listing of TV stations carrying IceHogs games, visit IceHogs.com.

Tickets On Sale for 2015-2016!
IceHogs individual game tickets are now on sale! Call (815) 968-5222 to reserve your seats for any IceHogs regular season game during the 2015-16 season. Tickets can also be purchased online, in person at the BMO Harris Bank Center Box Office in downtown Rockford, or any Ticketmaster outlet, including Walmart.