WEEK 2 RECAP: THREE GAMES, THREE STRAIGHT WINS FOR ROCKFORD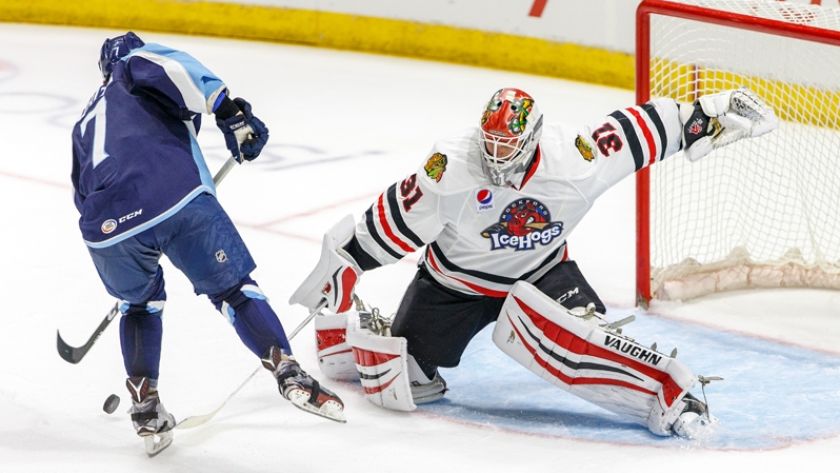 Week 2 Results:
Friday, October 21, Rockford 2 at Grand Rapids 1
Saturday, October 22, Milwaukee 2 vs. Rockford 3 SO
Sunday, October 23, Cleveland 2 vs. Rockford 5

Week 3 Schedule:
Friday, October 28 vs. Chicago, 7 p.m.
Saturday, October 29 at Chicago, 7 p.m.
Sunday, October 30 vs. Milwaukee, 4 p.m.

Week 2 Recap:
After dropping the first two games of the season on the road in Cleveland, the IceHogs won three straight games over the weekend. Rockford traveled to Grand Rapids where they beat the previously undefeated Griffins 2-1. The IceHogs traveled back home for Saturday's Home Opener against Milwaukee and Sunday's contest with Cleveland. Rockford outlasted the Admirals in shootout 3-2 before they beat Cleveland for the first time this season 5-2.

Bacon Bits:
-The IceHogs took three wins in a row, two against previously undefeated teams, in week 2 after dropping their first two games of the year
-Lars Johansson boasts a .944 save percentage and 1.64 goals against average after earning his second win in three starts so far this season
-Rookie defenseman Carl Dahlstrom is tied with Tanner Kero and Viktor Svedberg for the IceHogs lead with 3 points
-Dahlstrom potted his first career AHL goal Saturday night in Rockford against the Admirals and notched a goal and an assist on Sunday against Cleveland
-After Saturday night's contest against Milwaukee, Head Coach Ted Dent secured his 200th career AHL win, all with the IceHogs
-Saturday's contest marked the first shootout of the season for Rockford as they defeated Milwaukee 3-2

-Last season, the IceHogs went 2-4 in shootouts and scored just six times in 28 shootout attempts
-Rockford opened the home portion of the 2016-17 season to a near-sellout crowd of 5,465 fans
-Tanner Kero reached 50 career professional points on Sunday with an assist against the Cleveland Monsters
-Forward Mark McNeill picked up his first goal of the season Saturday night, his 67th career goal, placing him one goal behind Brandon Pirri for third most all-time in IceHogs history

-Mac Carruth saved 27 shots Sunday night and earned his 50th career professional win
-Martin Lundberg notched his first career goal in North America on Friday evening in the IceHogs 2-1 win at Grand Rapids
-Lundberg scored his second career AHL goal on Sunday in the 5-2 victory over Cleveland
-Rockford ends Week 2 tied for 11th in the AHL with a .600 winning percentage, and ranks third in the Central Division with three wins and two losses
-Rockford will look to extend their winning streak to four games at home against Chicago on Friday night, and hosts Milwaukee on Sunday afternoon

Week 2 Hot Hog:
Lars Johansson Goaltender (2GP, 2 W, 1.44 GAA, .952 SV%, 59 SVS, 3 GA, 124:40 Min)

Netminder Lars Johansson picked up his first two career AHL wins over the weekend in back-to-back games in Grand Rapids and at The BMO Harris Bank Center for the Home Opener against Milwaukee. Johansson allowed only three goals in 124:40 minutes on the ice. At The Van Andel Arena in Grand Rapids, he notched 27 saves in a 2-1 win over the Griffins. The Avesta, Sweden native also posted 32 saves and stopped both attempts in the shootout period the next day to lead Rockford to a 3-2 shootout victory on Saturday night.

Upcoming Games:
Friday, October 28 vs. Chicago Wolves: Game starts at 7 p.m. The IceHogs face the Wolves in the first Illinois Lottery Cup game of the season at the BMO Harris Bank Center. Rockford posted a 7-2-3-0 record against Chicago last season. It's time to vote at the BMO Harris Bank Center. The first 2,500 fans to the game will have the opportunity to choose between a bobblehead of Hillary Clinton or Donald Trump, compliments of Dental Dimensions. The first candidate to run out will be declared the unofficial winner!

Saturday, October 29 at Chicago Wolves: Face-off is at 7 p.m. The IceHogs travel to the Allstate Arena for the second Illinois Lottery Cup game of the home-and-home series against the Chicago Wolves.

Sunday, October 30 vs. Milwaukee Admirals: Puck drop is scheduled for 4 p.m. The Rockford IceHogs welcome the Milwaukee Admirals to the BMO Harris Bank Center for the second of 12 season meetings. The first 4,000 fans to enter the arena for the matinee game will receive a 2016-17 IceHogs Magnet Schedule courtesy of Rise Broadband. After the game, fans have the opportunity to Skate with the Hogs on the BMO Harris Bank Center ice. Fans are required to bring their own skates as there are no rentals available.

Bud Light Monthly Monday Hog Talk At Vintage 501:
Bud Light Hog Talk's second segment at Vintage 501 will be on Nov. 7 from 6-7 p.m. Vintage 501 is located in downtown Rockford at 501 E. State St. Fans can join Bob Mills and Kevin Peters from 6-7 p.m. on the first Monday of every month throughout the season as they chat with IceHogs players, coaches, and front office members. Take advantage of food and Bud Light specials at Vintage 501. For those unable to attend the show in person, Monday's show will be available streaming live on WXRX.com. "Bud Light Hog Talk" will also be available on www.icehogs.com following the live show. Fans can access the podcast through the "Audio Highlights" link in the "Multimedia" menu.

The IceHogs Broadcasting Network:
Catch every IceHogs game, home and road, in 2016-17 on WIFR's "Justice Network" on 23.3. The games can also be viewed on Comcast Cable channel 434, Charter Cable channel 194 or Mediacom 102 in the Rockford market and online through AHLLive.com. Every TV broadcast will start with "IceHogs Warm Up" 30 minutes prior to puck drop. Fans can also listen to the action for free at WXRX.com. A select number of games will be aired on Sports Fan 1330 AM throughout the season including on Sunday, Oct. 30. For a complete listing of TV stations carrying IceHogs games, visit IceHogs.com.
Tickets On Sale for 2016-2017!
IceHogs individual game tickets are now on sale! Call (815) 968-5222 to reserve your seats for any IceHogs regular season game during the 2016-17 season. Tickets can also be purchased online at IceHogs.com, in person at the BMO Harris Bank Center Box Office in downtown Rockford, or any Ticketmaster outlet, including Walmart.